New England Patriots tight end Rob Gronkowski scored twice Thursday by landing on the cover of "Madden NFL '17" and
GQ's June issue with model Hailey Clauson.
Surprisingly, not Tom Brady, but the 26-year-old spiker extraordinaire becomes the first Patriots player ever to adorn the Madden NFL jacket. Gronkowski also is the first tight end celebrated by the popular video game.
GRONK. #MaddenCover.@EAMaddenNFL 17.

YES! pic.twitter.com/xefhWhyhNi

— NFL (@NFL) May 12, 2016
Gronk called it a "dream come true, going into my seventh season and being on the cover." He added, "My rookie year [in 2010], it was just an honor to be in the game, just using yourself as a player, throwing yourself the ball every single time you can at home, just playing the game."
The various iterations of the Madden video game franchise enjoy total sales in excess of 100 million units sold. Launched in 1988, the Madden series owns four of the sports on the top ten bestselling home video games in U.S. history
Over the last six seasons with the Patriots Gronkowski caught 388 passes for over 5500 yards. In 2011 he led the NFL in pass receptions and four times selected as a first team All-Pro.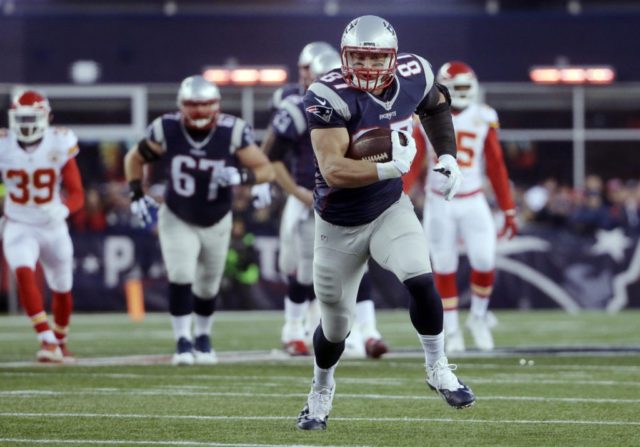 The former Arizona Wildcat told ESPN that he's not worried about the Madden curse. He points to the great years recent players had after being on the cover of Madden NFL.
"It's definitely reversed itself from back in the day," Gronk said. "You have to look at the players that were on it recently. You have Odell [Beckham], who had an unbelievable year last year. You have Richard Sherman, who went to the Pro Bowl the year he was on it. Calvin Johnson, who broke the receiving record when he was on the cover.
"It's the present now. It's the future of the cover. I feel like I've already went through all my injuries at that time, so I feel like I'm good. I'm blessed right now to be on it. I feel like everything is going to go smoothly."
Presenting GQ's latest cover stars: Rob Gronkowski and Hailey Clauson https://t.co/kNhzRt7wDq pic.twitter.com/0OSMiBEggd

— GQ Magazine (@GQMagazine) May 12, 2016
A shirtless Gronkowski dons white-shorts and holds gold bikini clad Hailey Clausen on his shoulders for the GQ cover. According to Patriots.com, readers of the magazine will get a chance to "Gronk up your life… to make the summer of 2016 one to remember."