Sports broadcaster Joe Buck lavishes so much praise on 23-year-old Chicago Cubs outfielder Kyle Schwarber during this year's World Series, it prompted one fan to open up a wedding registry for the two at Bed Bath and Beyond.
The much maligned Buck often criticized as detached and robotic in his announcing displayed enough flattery about Schwarber's performance during the Cubs-Indians contest, fans began mocking him, according to NBC Sports.
Purchased so far, a $10 sugar bowl, will serve as practical accouterments for the unlikely and certainly reluctant couple. For those who just can't decide on what to get them, flatware and some Riedel wine glasses are still available.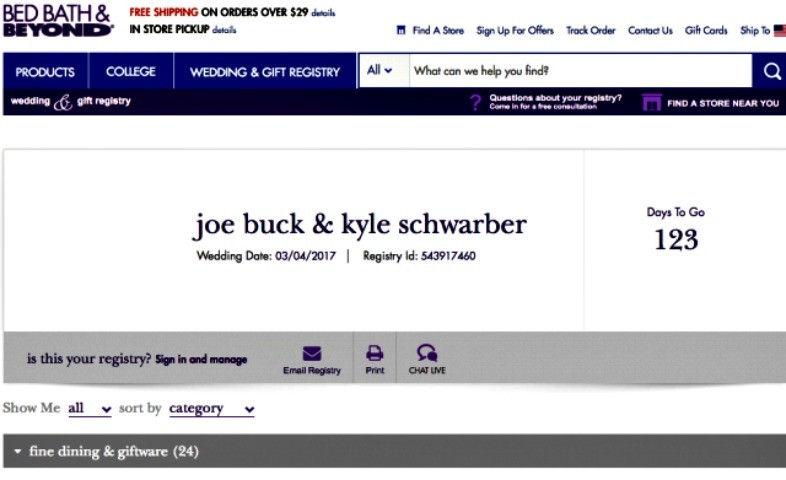 Actually, Schwarber deserves plenty of praise for his production so far in the series. Expected to be out for the year with two torn ligaments in his knee after playing just two games in April, the 2014 first-round pick became the first position player in baseball history whose first hit of the season came in the World Series. Serving as Chicago's designated hitter, Schwarber scorched a double off of Cleveland ace Corey Kluber in Game 1 and backed it up with two RBI and a walk in Wednesday's victory in Cleveland.
The outfielder and sometimes catcher has only four months of major league baseball under his belt but already enjoys monumental postseason accomplishments. Schwarber became the Cubs' all-time postseason home run leader in 2015 by hitting five homers in just 27 at-bats.
According to MLB.com, one of Schwarber's homers in last year's NLDS, was nominated for the Best Play, Offense for the Esurance MLB Awards. The four-bagger, according to Statcast, landed on top of Wrigley Field's right-field video board. The Cubs left the ball there, enshrined in plexiglass, for the remainder of the post season.