MIAMI GARDENS, Fla.—Miami safety Michael Thomas kneels during the national anthem before every Dolphins game to protest the police and supposed social injustice. Can anything make him stand?
Breitbart Sports posed this question to Thomas after Sunday's Dolphins win over the Jets at Hard Rock Stadium in Miami Gardens.
"I won't say that I will never stand for the national anthem," Thomas told Breitbart Sports. "To say if it's going to be this year, to say it's going to be next year—you know, for me, it's taking a stance for those who feel voiceless, who feel like what they are going through, people aren't hearing them."
Thomas joined the movement led by his former San Francisco 49ers teammate Colin Kaepernick. Thomas remains good friends with Seattle Seahawks receiver Doug Baldwin, a former Stanford teammate, who isn't kneeling, but recently stated the attorney generals of all 50 states need to retrain police officers. A few of the defensive back's teammates have also participated in the pregame protest.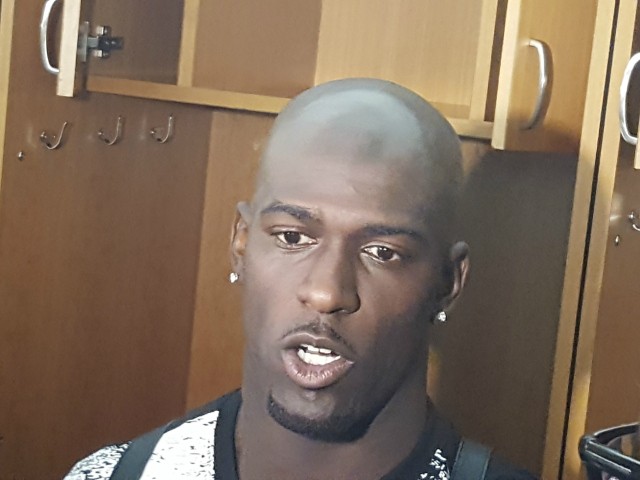 "It's not about me," Thomas insists. "It's not about my notoriety. For, it's going to be keep seeing positive change, keep seeing things go in the right direction, real change as far as our nation taking action towards actually trying to bridge the communication gap between low economic communities and our authorities, and once I see that, I see change like that. I see it with the RISE program here with the Dolphins and a couple of other organizations throughout our nation – once I start seeing that in our country, I will stand."
The RISE Program refers to the Ross Initiative in Sports for Equality started by Dolphins owner Stephen M. Ross.
According to its mission statement, the RISE Program "is a nonprofit organization dedicated to harnessing the unifying power of sports to advance race relations and drive social progress. Supported by an unprecedented alliance of sports leagues, organizations, educators, media networks, sports professionals and athletes, RISE uses sports as a vehicle to promote understanding, respect and equality. Through public awareness campaigns and educational programming. Rise aims to spark enduring action."
While RISE seems like a noble enterprise, it's unclear what this program has to do with the police, and the allegations made against them by the likes of Thomas, Baldwin, and Kaepernick.
And it remains unclear when Thomas, teammate Kenny Stills, Kaepernick, and a few other protesting players decide to stand again—Broncos linebacker Brandon Marshall stood for the anthem for the first time this regular season on Sunday—the NFL hopes it happens ASAP.  These players hurt the NFL brand, according to some recent polls and Nielsen ratings—to say nothing of the shield Roger Goodell talks about protecting.