On Twitter, it's one rule for celebrities and another for the plebs. An assistant on Community creator Dan Harmon's podcast was recently unsuspended by the social network despite repeatedly telling people he disagreed with to kill themselves.
This was a cut-and-dry violation of Twitter's rules against online abuse, which are strictly enforced against ordinary users on the platform.
Spencer Crittenden, who leads the Dungeons & Dragons segments on Harmon's podcast, Harmontown, was suspended from Twitter yesterday after telling a number of GamerGate supporters to kill themselves. However, after an intervention from the eponymous podcast's creator, Dan Harmon, a Twitter employee quickly reinstated his account.
Crittenden began tweeting about GamerGate during a conversation with British comedian Graham Linehan, whose own angry Twitter antics have been covered by Breitbart before. After repeatedly telling GamerGate supporters to kill themselves, Crittenden's account was suspended.

Twitter's rules explicitly forbid encouraging violence against other users, as well as encouragement of self-harm. Other users, such as former Daily Caller writer Chuck Johnson, have been permanently suspended merely for using violence as a metaphor. Crittenden, unsurprisingly, was quickly suspended from Twitter.
But his suspension did not last long. Despite his clear violation of Twitter's terms of service, Crittenden's podcast colleague, Community creator Dan Harmon, quickly intervened on his behalf, asking Twitter to reinstate his account. Harmon claimed that Crittenden's tirade followed 48 hours of back-and-forth with GamerGate supporters, although screenshots show that Crittenden began telling people to kill themselves just over an hour after he began discussing the anti-authoritarian gamers' hashtag.
https://twitter.com/danharmon/status/672264340213358592
>48 hours

Total time elapsed, from Spencer's first mention of #GamerGate to his first "kill yourself" tweet: 1h15m. pic.twitter.com/wPv6M4wrSP

— Best Mom Eva (@mombot) December 3, 2015
However, even fans of Harmontown objected to Crittenden's behaviour. The most popular post on the podcast's fan community on Reddit fanpage said Crittenden's tweets were "pretty immature" and suggested Twitter were within their rights to suspend him. "Telling someone to kill themselves is the intellectual equivalent of plugging your ears and going LALALALA" said another.
Crittenden himself was unapologetic. "If I honestly think someone should kill themselves, what's bad about voicing this?" he asked his fans on Reddit. "I hold the belief that souls so tortured that they contort reality and inflict their suffering on innocent people would be better served by peaceably ceasing to exist than they would be by continuing to live and suffer and make others suffer. I feel this way about hate groups like the kkk, terrorists and those who commit violent atrocities."
Despite this, Twitter reacted quickly and acquiescently to Harmon's demand that his colleague be reinstated. Despite being told that Crittenden had been telling other users on the platform to kill themselves, Twitter employee Ran Magen reassured Harmon that they would "get it fixed." Crittenden's account was reinstated shortly afterwards, although Magen set his own account to "protected" after facing a storm of criticism from GamerGate supporters and other Twitter users.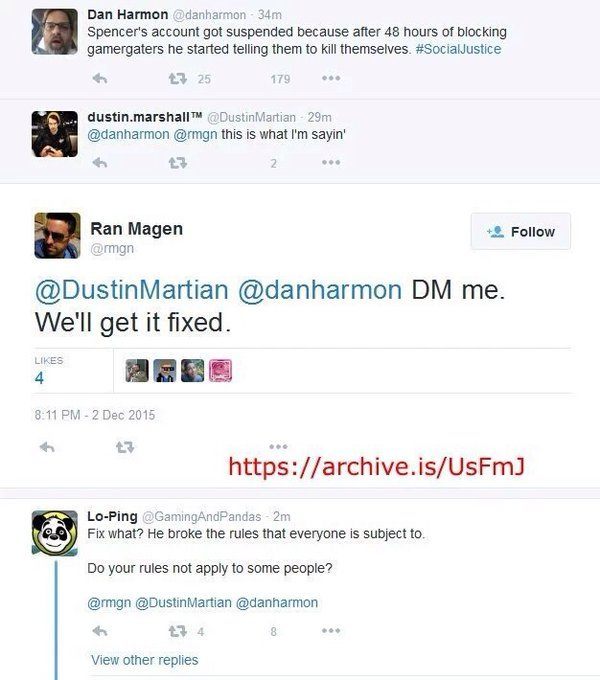 Under pressure from progressive "anti-abuse" activists, Twitter has ostensibly taken a stringent approach to online harassment on its platform in recent years. However, many have accused the social network of being one-sided. Blogging pioneer Andrew Sullivan noted last year that Twitter brazenly invited politically biased organisations to take a privileged position in its user suspension process, and took a heavier-handed approach to conservative rule violators than progressive ones.
Coinciding with the rapid reinstatement of Crittenden's account was the suspension of the 7-year old account of videographer Michael Deppisch, after an argument with pro-choice celebrity Margaret Cho. After Cho suggested abortions simply removed "clumps of cells," Deppisch contended, ""You're just a 'bunch of cells' too. Does that mean we should abort you next?" Soon after, he was suspended. His account has not been restored.
More recently, Twitter has has come under fire from users for its new mandatory content filter, announced in April. The filter automatically blocks 'abusive' tweets from reaching users, without their consent. Suspicions of hidden censorship were also stoked this October, when links to a leaked document containing information about a secret U.S. drone program were blocked on the platform, although a Twitter spokesperson claimed it was a bug.
Follow Allum Bokhari @LibertarianBlue on Twitter, and download Milo Alert! for Android to be kept up to date on his latest articles.