Google searches for "presidential candidate" on Wednesday morning only returned results for Hillary Clinton, Bernie Sanders, and Jill Stein in top-line results.
The situation was unchanged 6:27AM (EDT) today, when Breitbart tested the results.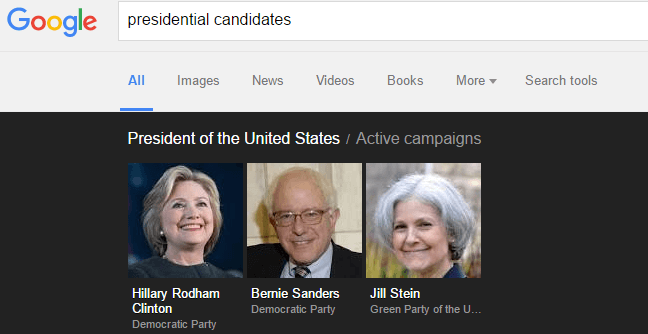 Despite the fact that Bernie Sanders' campaign is no longer active (it's been weeks since he endorsed Hillary Clinton), he appears on the list while Donald Trump does not.
Jill Stein of the left-wing Green party also appears on the list, even though she is polling a distant fourth behind both Trump and the Libertarian candidate, Gary Johnson — who is also absent from the list.
According to WCMH, the top-line results were removed at approximately 9:15 AM, and the same Google search now displays a standard ranking of results.
UPDATE.
A Google spokesperson provided Breitbart Tech with the following comment:
We found a technical bug in Search where only the presidential candidates participating in an active primary election were appearing in a Knowledge Graph result. Because the Republican and Libertarian primaries have ended, those candidates did not appear. This bug was resolved early this morning.
You can follow Allum Bokhari on Twitter, add him on Facebook. Email tips and suggestions to abokhari@breitbart.com.