Twitter CEO Jack Dorsey, perhaps for the first time ever, apologized to a conservative — Candace Owens, whose work was recently praised by rap icon Kanye West.
In a tweet to Owens, Dorsey apologized for an official Twitter moment which labeled her "far right." Dorsey said his team had "completed a full review of how this was published and why we corrected far too late."
Hi Candace. I want to apologize for our labeling you "far right." Team completed a full review of how this was published and why we corrected far too late (12 hrs after). There was a clear break in our curation process and understanding, and we're fixing. Thanks for calling out.

— jack (@jack) April 27, 2018
Candace Owens is currently communications director for Turning Point USA, a grassroots organization that organizes conservative students across the country.
Her videos, which criticize the politics of victimhood on the far left, regularly go viral on the web. She recently attracted praise from rap star Kanye West, who tweeted "I love how Candace Owens thinks."
I love the way Candace Owens thinks

— ye (@kanyewest) April 21, 2018
This was the first in a string of convention-defying tweets by the rapper, who went on to praise Donald Trump, criticize Barack Obama, and call out fellow celebrities for trying to pressure him into silence. The President subsequently praised Kanye for standing his ground.
After Kanye's initial tweet praising Owens, Twitter published a "Moment" which called her a "far-right media personality."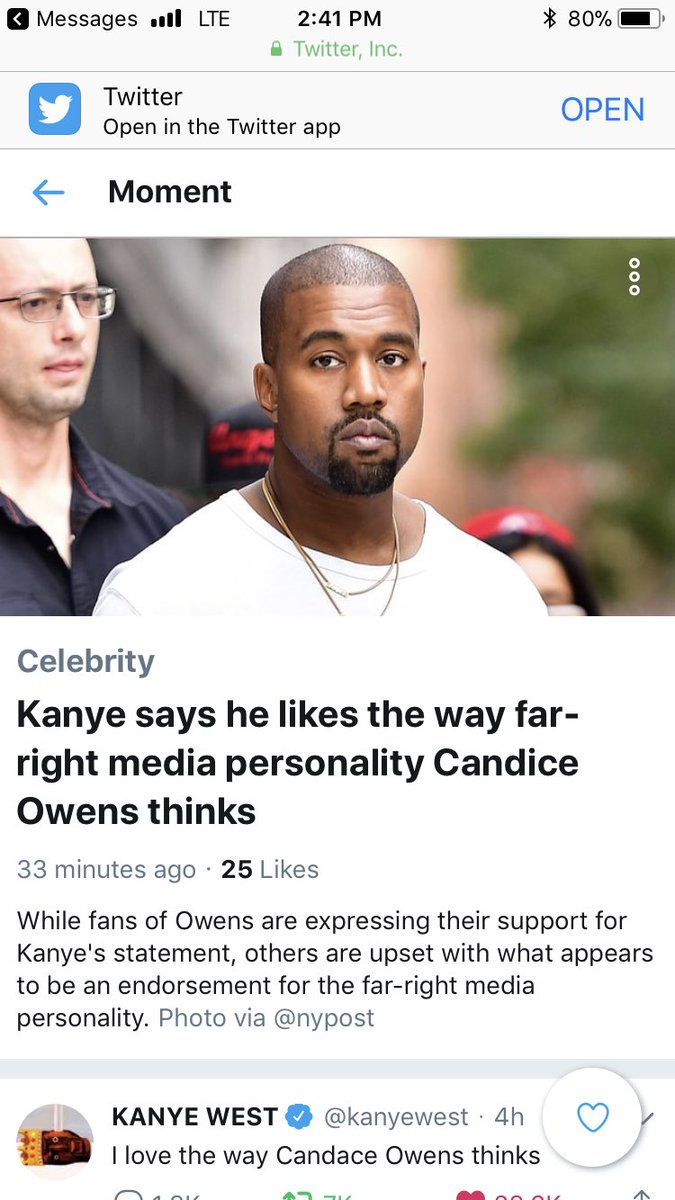 It's hard to remember the last time Jack Dorsey apologized to a conservative, but he apologized for this. He has yet to apologize for all the other instances of bias on Twitter, including the bans of journalist Chuck Johnson, political campaigner Roger Stone, Republican activist R.C. Maxwell, and Islam critic Tommy Robinson, none of whom clearly violated the platform's rules.
UPDATE: Candace Owens issued a statement to Breitbart News following Dorsey's apology. "Foremost, Jack did the right thing here," she said. "I think that's important to state, as I'm adamantly opposed to the perpetually dissatisfied, mob-mentality we see on the left. "
"I wouldn't go so far as to insinuate that this represents a turning point in the rampant hostility we see toward conservatives in Silicon Valley, but this is indeed a great show of respect, and one that I appreciate tremendously," she continued. "I think a very simple method to apply going forward is to let people identify their own political ideology, as opposed to forcing upon them a figurative Scarlett Letter."
Allum Bokhari is the senior technology correspondent at Breitbart News. You can follow him on Twitter, Gab.ai and add him on Facebook. Email tips and suggestions to allumbokhari@protonmail.com.