Free speech social media platform Gab has issued a statement about the account believed to belong to the man behind the shooting today at a synagogue in Pittsburgh.
Gab, the free-speech centered social media platform, has issued a statement on Robert Bowers, the man believed to be behind a shooting today in a synagogue in Pittsburgh. Bowers was believed to have had an account on Gab where he posted anti-semitic and anti-Trump comments.
In one anti-Trump post, Bowers said, "Trump is a globalist, not a nationalist."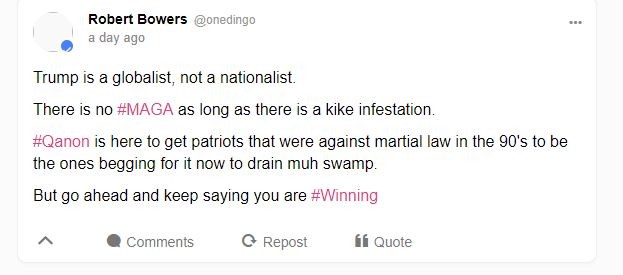 Although Bowers posted a number of anti-semitic sentiments, he did not appear to make any direct threats on the platform, although one post relating to the American non-profit HIAS appears to be an oblique threat. In the post, Bowers stated: "HIAS likes to bring invaders in that kill our people. I can't sit by and watch my people get slaughtered. Screw your optics, I'm going in."
Gab has now published a Medium post with a full statement on Bowers. "Gab.com's policy on terrorism and violence have always been very clear: we a have zero tolerance for it," the Medium post states. "Gab unequivocally disavows and condemns all acts of terrorism and violence. This has always been our policy. We are saddened and disgusted by the news of violence in Pittsburgh and are keeping the families and friends of all victims in our thoughts and prayers."
The statement from Gab then takes issue with the media's attempts to vilify the social network: "We refuse to be defined by the media's narratives about Gab and our community. Gab's mission is very simple: to defend free expression and individual liberty online for all people. Social media often brings out the best and the worst of humanity. From live streamed murders on Facebook, to threats of violence by bombing suspect Cesar Sayoc Jr. that went unaddressed by Twitter, and more. Criminals and criminal behavior exist on every social media platform."
Gab says in its statement that it is already working with law enforcement as part of the investigation into Bowers: "Shortly after the attack, Gab was alerted to a user profile of the alleged Tree of Life Synagogue shooter. The account was verified and matched the name of the alleged shooter's name, which was mentioned on police scanners. This person also had accounts on other social networks."
"Gab took swift and proactive action to contact law enforcement immediately. We first backed up all user data from the account and then proceeded to suspend the account. We then contacted the FBI and made them aware of this account and the user data in our possession. We are ready and willing to work with law enforcement to see to it that justice is served."
Gab later tweeted that the company had spoken with the U.S. Attorney's Office:
https://twitter.com/getongab/status/1056323997984387072?s=19
Gab has noted that anti-semitic and racist comment appears across all social media platforms. Breitbart News recently reported that Nation of Islam leader Louis Farrakhan faced no punishment from Twitter for his comments comparing Jewish people to termites, because he didn't single out a particular Jewish person.
Fararkhan stated in a video posted to Twitter: "To the members of the Jewish community that don't like me, thank you very much for putting my name all over the planet … I'm not mad at you, 'cause you're so stupid. So when they talk about Farrakhan, call me a hater, you know they do, call me an antisemite — stop it! I'm anti-termite! I don't know nothing about hating somebody because of their religious preference." Farrakhan said.
Breitbart News has been running a livewire on the situation in Pittsburgh, it can be found here.
Lucas Nolan is a reporter for Breitbart News covering issues of free speech and online censorship. Follow him on Twitter @LucasNolan_ or email him at lnolan@breitbart.com.