Independent journalist Laura Loomer was banned from Twitter on Wednesday, following a tweet in which she accused Congresswoman-Elect Ilhan Omar of supporting Sharia law and female genital mutilation.
Loomer, who had amassed more than 260,000 followers on the Twitter, said that the social media platform had permanently suspended her account, informing her that she had violated Twitter's rules against "hateful conduct."
Loomer shared Sean Campbell's Facebook post containing a screenshot of the message she had allegedly received from Twitter. Campbell is an independent journalist and filmmaker who has been known to collaborate with Loomer on video projects.
"You may not promote violence against, threaten, or harass other people on the basis of race, ethnicity, national origin, sexual orientation, gender, gender identity, religious affiliation, age, disability, or serious disease," read Twitter's explanation to Loomer, which included an image of her tweet.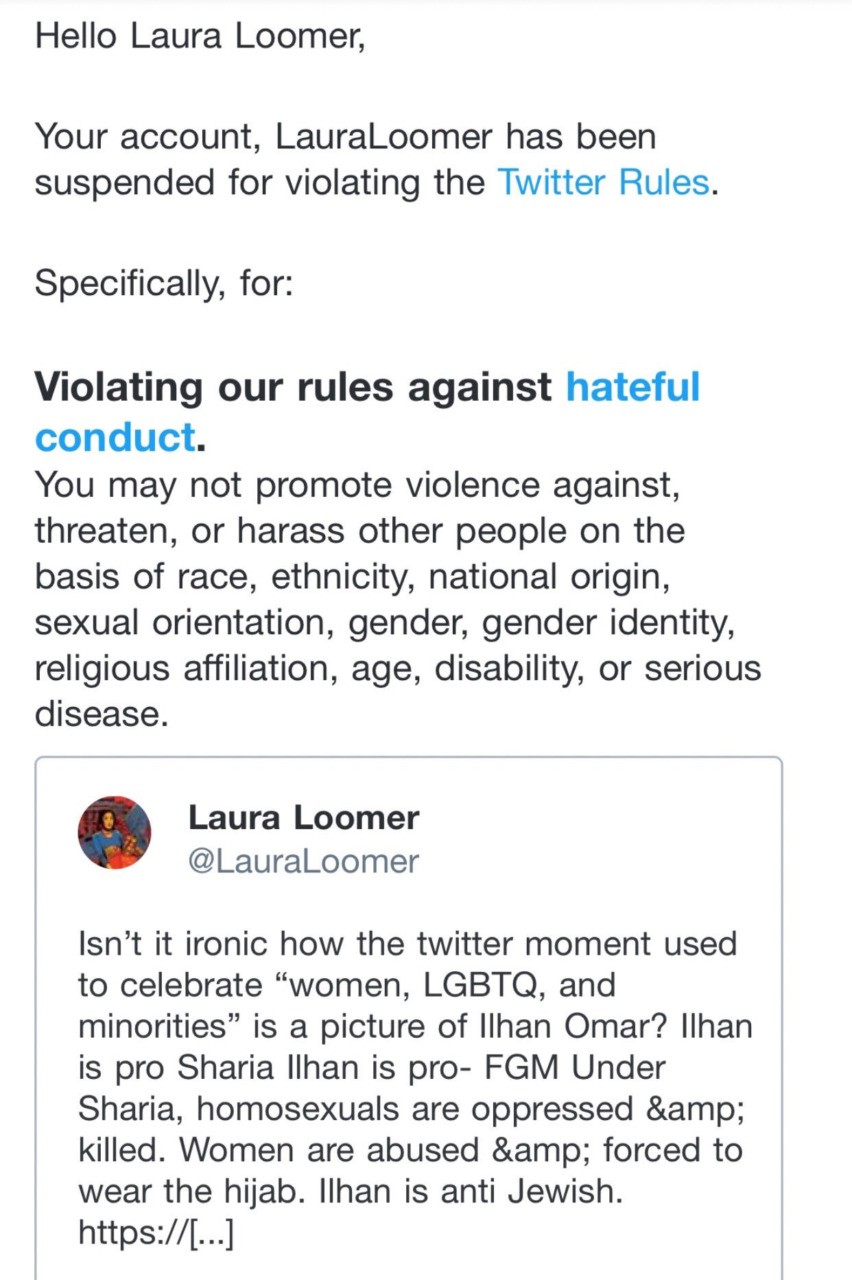 "Isn't it ironic how the twitter moment used to celebrate 'women, LGBTQ, and minorities' is a picture of Ilhan Omar?" began Loomer in her tweet, "Ilhan is pro Sharia Ilhan is pro- FGM Under Sharia, homosexuals are oppressed & killed. Women are abused & forced to wear the hijab. Ilhan is anti Jewish."
This wasn't Loomer's first incident with Twitter. In November 2017, the platform removed Loomer's blue verification badge amid the removal of badges belonging to several other accounts deemed overtly offensive by Twitter.
Last month, Twitter had also suspended Loomer's account for six days. It was not made clear as to what specifically prompted the temporary suspension, as Loomer stated that she was never given an explanation.
On Thursday, Facebook followed suit by suspending Loomer's account features on its platform as well, according to Campbell.
"You recently posted something that violates Facebook's policies," read Facebook's alleged message to Loomer, "You can't post, comment or use Messenger for 30 days."
Facebook did not appear to give Loomer further explanation or an example as to what she had posted that warranted her suspension.
"I have been silenced in America for simply telling the truth," said Loomer in a statement posted on the social media platform Gab. "Free speech is under attack by the Left and big tech companies in this country."
"I will not allow Leftists and Sharia advocates to oppress me in America," continued Loomer, "I refuse to be silenced, and I will not back down without a fight."
You can follow Alana Mastrangelo on Twitter at @ARmastrangelo and on Instagram.