PIEDRAS NEGRAS, Coahuila — Cartel kidnappings and murders continue to touch well known families in this northern city that sits immediately across the border from Eagle Pass, Texas–bringing a layer of uncertainty and concern to a society that has seen much crime and violence in previous years.
On Friday, authorities found a bound and gagged body in the rural community known as El Moral. Preliminary information provided to Breitbart Texas revealed that the body had been shot in the head twice. The victim who has since been identified Francisco Castillo Simon, had apparent signs of torture as well having been bound and his face covered with a bandana.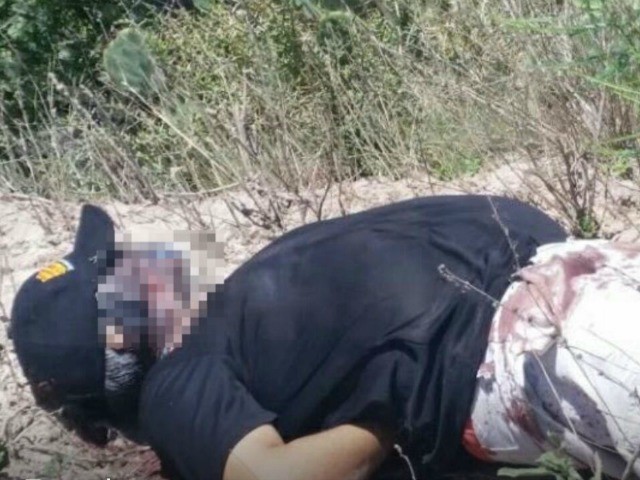 Castillo had previously been reported missing earlier in the week after he had been playing baseball at a local park. His body was discovered days later by a couple walking along a dirt road in the rural community. The individuals called authorities who arrived to the scene and recovered the body. Castillo, worked at the local office of the Mexico's power company but has been described as the nephew of local Baseball star Gerardo "El Mulo" Gutierrez.
Castillo's murder comes just days after a gunman shot into the home of a local businessman injuring him and killing his wife, Breitbart Texas reported.The businessman, 55- year-old Ricardo Moreno, owns a series of gas station in this city. In April, a group of gunmen had murdered his Adrian Ricardo Moreno along with another man in Monterrey, Nuevo León.
Another murder that has shaken up this border community is the kidnapping and execution of professional Bull-Rider Luis Alfonso Villarreal. As Breitbart Texas reported earlier this month, Villarreal had been traveling to Monterrey, Nuevo León to take part in a bull ridding event when he was kidnapped and shot four times in the head. Villarreal had been a nationally ranked competitor at the Professional Bull Riders (PBR) league.
The uncertainty brought about by the unsolved crimes continues to erode the public's trust in the Coahuila government following their inaction and attempts to cover up the kidnapping and incineration of more than 300 victims from rural communities between 2011 and 2013. Breitbart Texas carried out a three month investigation into how the Los Zetas drug cartel was able to carry out the mass execution without any resistance from government forces.  Since then, authorities have confirmed that 150 of the bodies were incinerated in the Piedras Negras prison.
Editor's Note: Breitbart Texas traveled to the Mexican States of Tamaulipas, Coahuila and Nuevo León to recruit citizen journalists willing to risk their lives and expose the cartels silencing their communities.  The writers would face certain death at the hands of the various cartels that operate in those areas including the Gulf Cartel and Los Zetas if a pseudonym were not used. Breitbart Texas' Cartel Chronicles are published in both English and in their original Spanish. This article was written by "J.M. Martinez" from Coahuila.