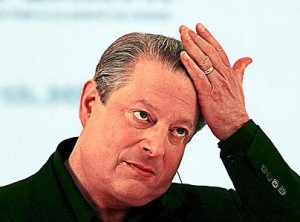 ***Updated

In a bombshell new development in the Al Gore sex scandal — broken exclusively earlier today by The ENQUIRER — the Oregon District Attorney says there's "the possibility of a criminal prosecution."
In a statement just released by Multnomah County (OR.) D.A. Michael D. Schrunk, the official reveals that "our office was notified by the Portland Police Bureau that further investigation of this matter had been conducted by it in 2009 and we were provided with the reports from that further investigation."
Schrunk goes on to add: "If the complainant and the Portland Police Bureau wish to pursue the possibility of a criminal prosecution, additional investigation by the Bureau will be necessary and will be discussed with the Portland Police Bureau."
The D.A. says the police first briefed his office in late 2006 and early 2007 on the allegations but was told "the woman was not willing to be interviewed by the Portland Police Bureau and did not want a criminal investigation to proceed."
Former Vice President Al Gore was accused of sexually attacking a woman in Oregon in 2006, according to police reports uncovered by The National Enquirer. Just as in the John Edwards scandal, the Enquirer's investigative team has alleged not only Gore's cheating but also possible criminal acts, and yet the mainstream media so far has refused to pick up the story. The Enquirer's story on Wednesday gives very specific details of the sexual assault allegations against Gore:

No criminal charges were brought against Gore, but the Portland police prepared a document marked "Confidential Special Report," which records the explosive allegations of "unwanted sexual contact" by Al Gore "at a local upscale hotel."

Secret police documents, a photo of the woman making the stunning charges and will reveal the shocking details about the pants she saved as evidence!

The 62-year-old former VP was in Portland at the time of the alleged incident – Oct. 24, 2006 – and we saw the $540 massage bill.
The Oregon sexual assault allegation comes days after other reports of Gore's cheating surfaced. The National Enquirer reported last week that the Gore divorce was caused by Tipper's jealousy over other women, including "an environmentalist named to a prominent cabinet position by Gore when he was vice president, a sexy Hollywood actress, a gorgeous massage therapist" and "a Tennessee Titans cheerleader."
Also, Star magazine reported that Al Gore had a two year affair with Laurie David, the ex-wife of Seinfeld creator Larry David. "The rumor is completely and totally untrue. I adore Al and Tipper and consider them part of my family," Laurie David responded in a written statement. Neither Al nor Tipper Gore has responded to any of these allegations.

To my knowledge, not a single reporter from a mainstream news outlet has investigated Gore's affairs or whether he broke any laws. Why not? With the sexual assault allegation in Oregon, the public deserves to know if Gore — like his former boss — has assaulted women.
Al Gore's extramarital affairs could also have federal legal issues, since some allegedly occurred while he was in public office. If Gore was having affairs while he was Bill Clinton's vice president, several important legal questions arise. Did the vice president's official White House staff set up his rendezvous? Who in the campaign or official staff knew of the affairs and covered up for Gore? Did Gore or his staff use official taxpayer funds or campaign funds for travel or payment to these women?
Since the day the Gores announced their split after 40 years of marriage, I've predicted that there is more to this story. And as I wrote last week, Gore's extramarital affairs have been long known in D.C.'s Democratic circles, but he was protected out of fondness for the family, his political allies' loyalty and the media's innate sympathy for Democrats. Had these same allegations – sexual assault, extramarital affairs in the White House–been made against a Republican public official, the mainstream media would have been all over the story.
Instead, the media elite is refusing to act, so the crack investigative team at the National Enquirer is holding Gore accountable. The Enquirer was in the running this year for a Pulitzer Prize for breaking the John Edwards affair which directly led to his being investigated by a federal grand jury, which no mainstream media outlet covered.
Once again, a major Democratic political figure is accused of cheating on his wife and possibly breaking the law — and once again, the mainstream media has thrown a complete blackout over the report.