Over the past two weeks, as the establishment media have accused him of being both a "Nazi" and a "traitor," President Donald Trump's job approval rating has held steady — and even improved a tad.
Below is a screenshot of the Real Clear Politics poll of polls graph that shows Trump's approval rating over the last 14 days. The red line is Trump's disapproval rating, the black is his approval rating. The two almost perfectly flat lines are superb symbols of the death of the media's influence on public opinion.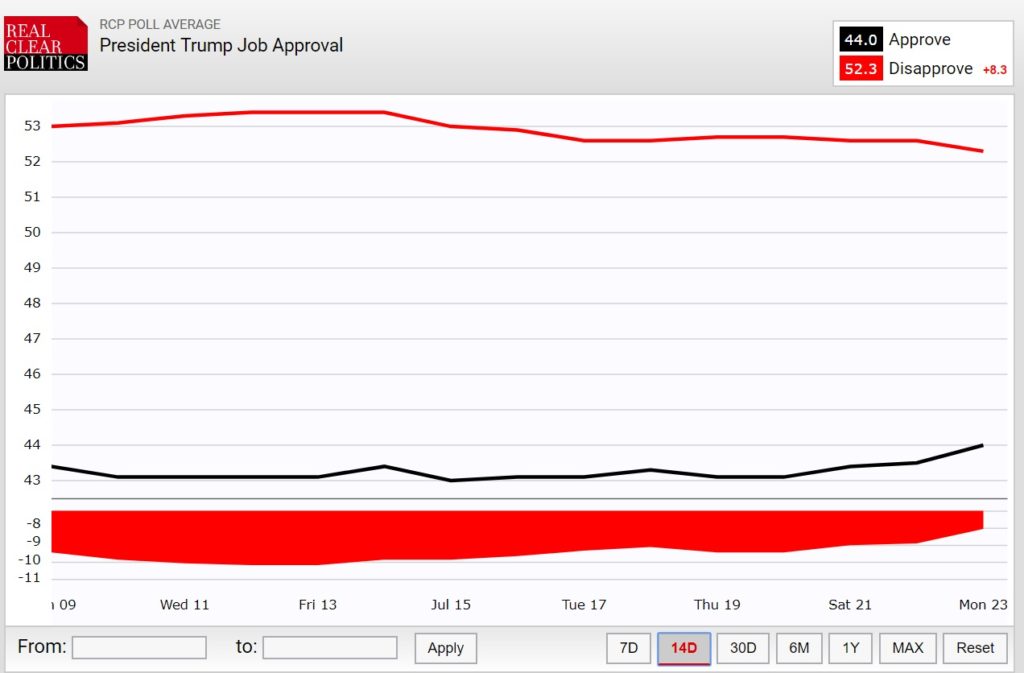 If you recall, two weeks ago, the media were calling Trump and his supporters Nazis because Trump, like his predecessors, separated illegal alien adults and children at the border.
And throughout last week, the media were freaking out even more with their attacks on Trump as a "traitor" because he did not violate diplomatic norms and publicly shame Russian President Vladimir Putin at a press conference in Helsinki — because he retains a healthy skepticism regarding the disgraced Intelligence Community's assessment that Russia meddled in the 2016 election.
If you were to go only by the media bubble, by the fabricated reality the media build within that bubble, you would assume Trump's approval ratings were being driven into the thirties, maybe even the twenties. But that is not happening for a number of reasons.
Most of all, as poll after poll proves, the public have (for good reason) lost faith in the media's credibility. Voters accurately see the media as the propaganda arm of the Democratic Party. A huge majority of Americans (an incredible 72 percent) have caught on to the fact that the establishment media are so hysterically biased against Trump and Republicans, they invent fake news, which of course, is true.
Voters are also sticking with Trump because his critics in the media and elsewhere are so over-the-top in their fevered hate, in their unhinged hyperbole, that by comparison, despite his mistakes and shortcomings, Trump remains the preferred alternative.
Finally, voters are much more interested in actions than words. While Trump can be crude and belligerent, his policies are working. The economy is thriving, North Korea is not firing off missiles and threatening nuclear war, ISIS is all but destroyed, and Russia seems a lot less adventurous than it was under Obama when Putin maneuvered unchecked into the Crimea and Middle East.
Basically, what we are enjoying under Trump, even as the media and Democrats lose their minds, is the beginning of an era of true peace and prosperity, something we have not enjoyed since September 11, 2001 — since George W. Bush launched his stupid wars, since Barack Obama ignored ISIS and strangled our economy.
In worse news for the media and Democrats, we now have two polls that show Trump enjoying record support. His approval rating in the Gallup poll is as high as it has ever been, and a recent NBC news poll undoubtedly broke a lot of spirits at NBC News.
What's more, in the Rasmussen daily tracking poll, Trump sits at a healthy 46 percent approval, which is three points higher than Obama's rating on this same day during his first term.
Rasmussen also reports that 41 percent of Americans believe the country is heading in the right direction and that this "finding has been running in the 40s for most weeks this year after being in the mid- to upper 20s for much of 2016, President Obama's last full year in office."
In other words, the number of Americans who feel the country is on the right track has boomed under Trump. That is a huge deal, a measurement about how people feel in Trump's America, and they are feeling much better than they did under Obama.
So while a media that have lost the faith and trust of the American people scream about Nazis and treason, Trump just keeps on keeping on, delivering on his promises, which is the smartest thing he can do.
The media remind me of Bruce Willis in The Sixth Sense, inasmuch as they have not yet realized they are dead, but they are. They have no moral authority, especially against a fearless president who understands that he will be judged on results, not a never-ending tantrum from a media institution with an approval rating just above that of a child molester.
Follow John Nolte on Twitter @NolteNC. Follow his Facebook Page here.