The United Nations Office in Geneva has allowed a Chinese government propaganda exhibit claiming ethnic Uyghurs in Xinjiang live in "religious harmony" under the Communist Party, a denial of overwhelming evidence China is undertaking a genocide campaign against the mostly Muslim minority.
The Geneva office is currently hosting the 43rd session of the U.N. Human Rights Council.
The Council notoriously allows some of the world's worst human rights abusers to serve as members. Currently, Libya, Sudan, Venezuela, Pakistan, Bahrain, and Qatar, among other repressive countries, are serving on this year's council.
Two separate reports published this week revealed extensive use of Uyghur concentration camp prisoners as slaves in factories otherwise shut down by the Chinese coronavirus outbreak and medical documentation indicating the preparation of large numbers of Uyghurs for live organ harvesting. China has for decades killed political prisoners by cutting them open alive and taking out their organs to sell on the black market, a practice prominently used against Falun Gong practitioners.
Uyghurs in Xinjiang, their native land and China's westernmost province, who are not enslaved or forced into concentration camps do not have the freedom to practice their Islamic faith openly. Like all religious populations, children are banned from attending religious services. Mosques in Xinjiang are forced to prominently feature communist propaganda and Communist Party officials have significantly curbed Muslims' ability to wear Islamic clothing, name their children traditional religious names, or engage in traditional burial rites, demolishing centuries-old cemeteries.
None of these facts made it to the Xinjiang exhibit in Geneva, sponsored by the permanent mission of the People's Republic of China to the United Nations. Instead, the exhibit, titled "Home: Glimpses of Life of People from Various Ethnic Groups in Xinjiang," featured videos of happy Uyghur people dancing in traditional costumes, singing, and playing with children.
Zumretay Arkin, Program & Advocacy Manager for the World Uyghur Congress, a global human rights advocacy group, shared photos she took of the exhibit on Thursday with Breitbart News. Arkin is in Geneva to expose the atrocities committed against Uyghurs by the Communist Party.
"Xinjiang enjoys sustained economic development, social stability, continuous improvements to people's livelihoods, and unprecedented cultural prosperity and religious harmony," a panel at the exhibit outrageously claimed. "The people of all ethnic groups in Xinjiang stick together, just like the seeds of a pomegranate. Xinjiang has entered into its best period of prosperity and development in its history."
The photos show Uyghurs enjoying local markets, banquets, and filling mosques. Some show celebratory groups of people in traditional clothing, while others appear to be showcasing the modern luxuries of life in Xinjiang, such as using mobile phones to pay at stores.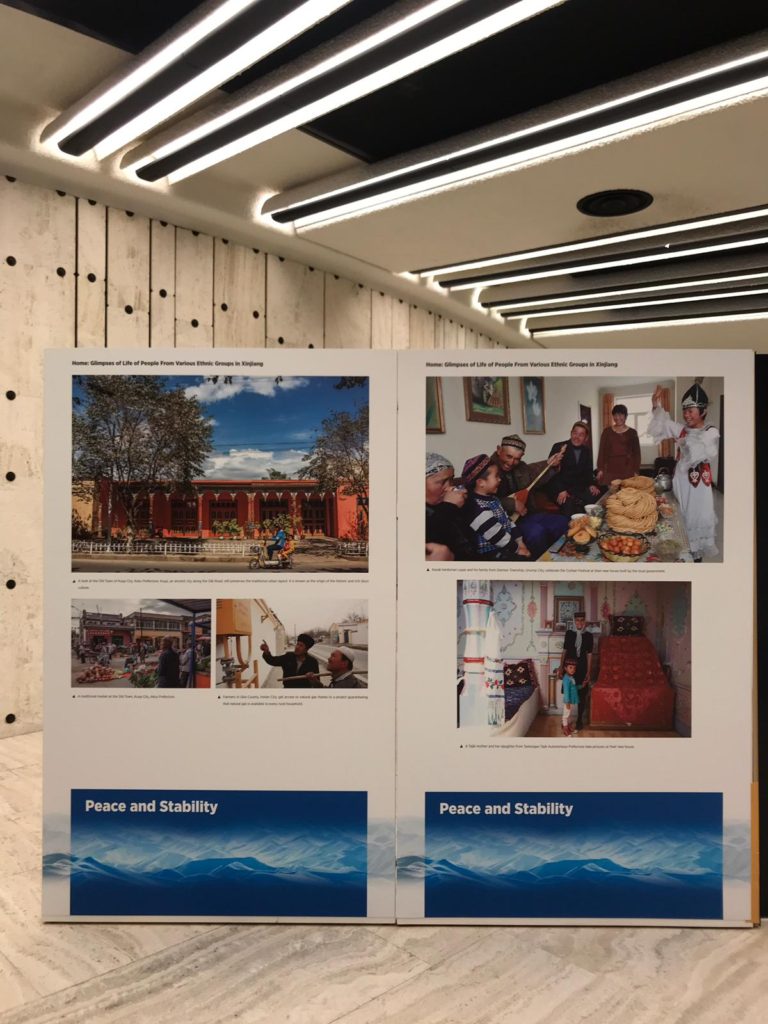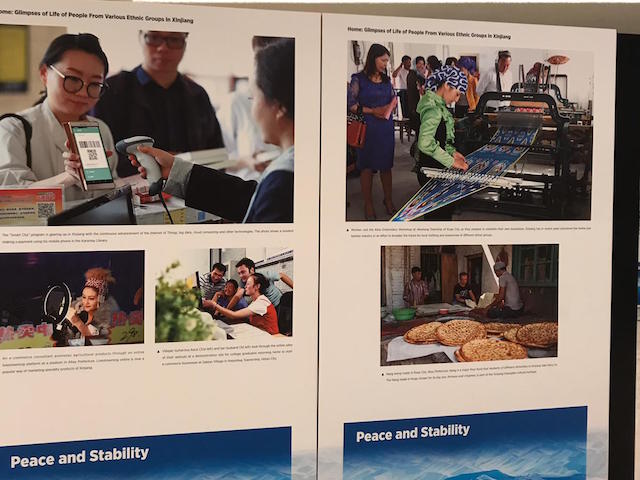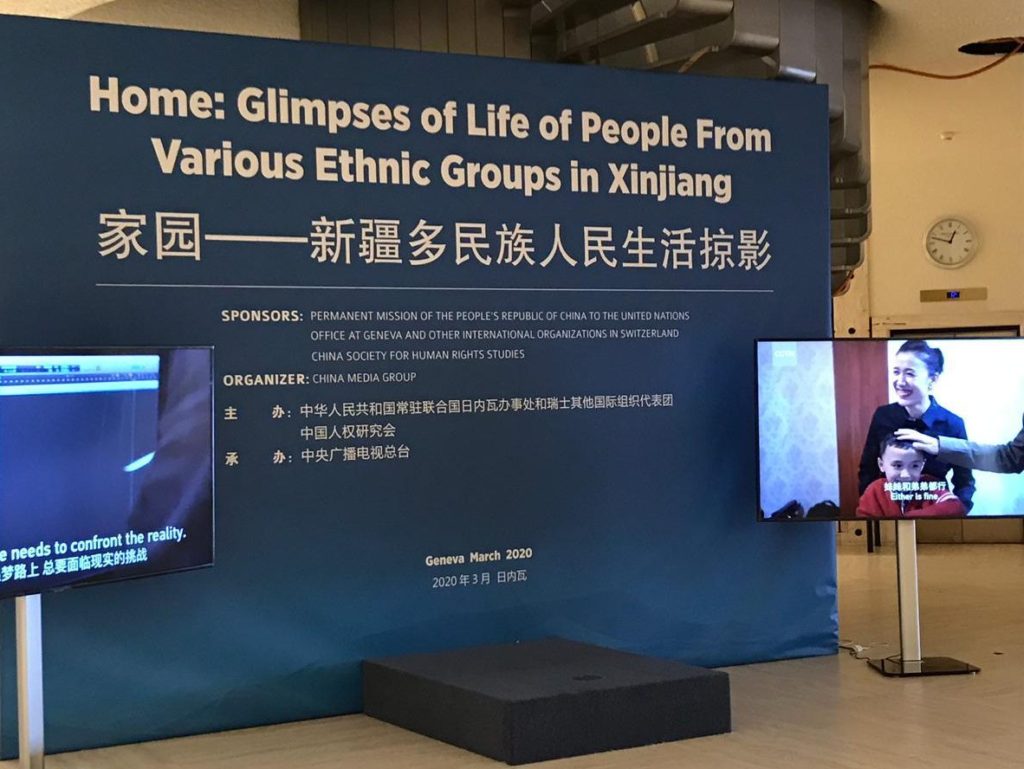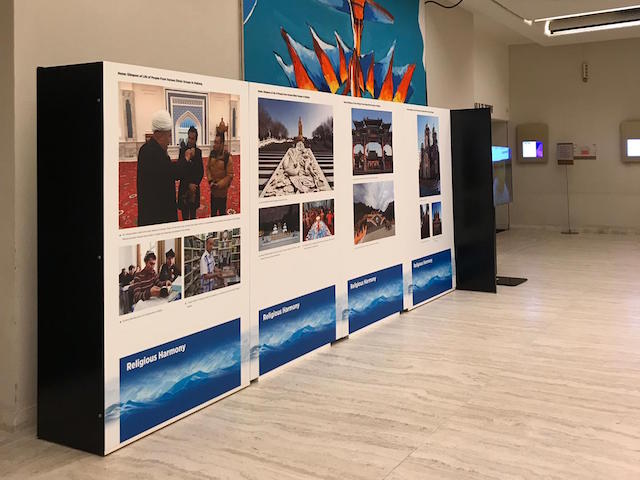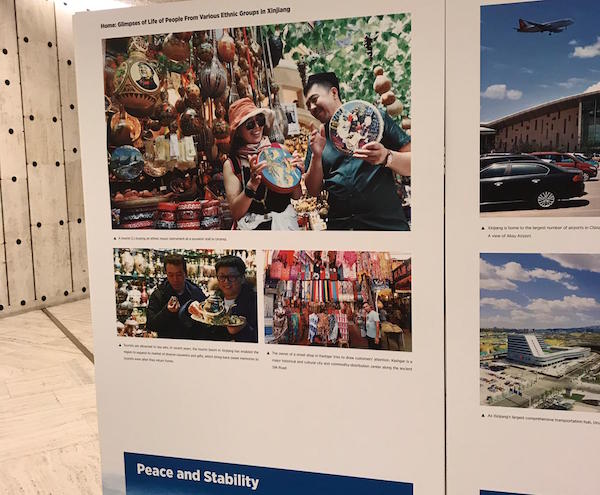 Video of the exhibit shared by members of Students for a Free Tibet, a region whose indigenous people are similarly oppressed by the Communist Party, showed that the exhibit featured footage of traditional dances from the region, which locals call East Turkestan ("Xinjiang" means "new frontier" in Mandarin).
Last month, @SFTHQ worked on an urgent campaign to get rid of Chinese sponsored propaganda at a public library in Queens, NY. This Chinese-sponsored propaganda exhibit about #Uyghur ppl is currently up in the UNO at Geneva. It is not an isolated incident; it's a global strategy. pic.twitter.com/jeU632Nbkw

— Students for a Free Tibet (@SFTHQ) March 4, 2020
"While we are advocating in this platform for the respect of Human Rights in China, especially in the Uyghur region, they are shamelessly carrying out their propaganda campaigns," Arkin told Breitbart News from Geneva. "China definitely uses up all the space in the international fora to try to spread misinformation and their propaganda. It's even more true at the U.N."
Arkin noted that Uyghur activists organized a display in front of the United Nations on the horrors of the Communist Party against Uyghurs and suggested that the current display inside the office building was a form of "counter-photo exhibition" to respond to the allegations.
As Students for a Free Tibet noted on Twitter, Tibetans in New York City were similarly ambushed last month by Chinese government propaganda in a public learning space. Tibetan activists protested for days against a propaganda display at the Queens Public Library in Elmhurst that used similar language and imagery to assert that Tibetans are free to live as they wish, speak their native language, and pursue an existence autonomous from Beijing. Particularly offensive to Tibetan New Yorkers was an image showing children studying the Tibetan language, which is illegal.
As in Xinjiang, Tibetans face severe repression, forced to learn Mandarin and banned from practicing traditional Tibetan Buddhism or following their religious leader, the Dalai Lama. Only Buddhism that also worships Chinese dictator Xi Jinping, what Beijing refers to as "patriotic" religion, is allowed.
The current Communist Party chief in Xinjiang, Chen Quanguo, served for years as the head of Tibet's party, using state violence to eradicate Tibetan culture before importing his violence to the Uyghur autonomous region.
China has used the United Nations with increasing frequency in the past year to silence reports of its murder, rape, enslavement, and torture of ethnic Uyghurs and other Muslims in Xinjiang, such as ethnic Kyrgyz and Kazakhs. After a U.S.-led campaign to condemn concentration camps in Xinjiang attracted the attention of several free states, China mobilized dozens of dictatorships to issue a letter at the United Nations proclaiming that Uyghurs now enjoy a "stronger sense of happiness" under totalitarian communist rule.
Former United Nations employees have also accused the world governing body of exposing human rights activists to violence by the Chinese state, offering names and contact information of Uyghur, Tibetan, and other anti-Communist Party activists. Some of those targeted later testified to China intimidating and abducting family members, according to a U.N. whistleblower.
In May 2019, the Pentagon estimated that China had moved as many as 3 million ethnic minority Muslims, most Uyghurs, into concentration camps throughout Xinjiang. Survivors of the camps have testified to witnessing routine rape, electroshock torture, sleep deprivation, starvation, and other horrors, as well as being subject to incessant communist indoctrination, being forced to learn Mandarin, and to commit acts against the Islamic faith, such as eat pork, to prove they were no longer Muslim. China has regularly denied these claims, referring to the concentration camps as "vocational centers" used to teach unskilled Uyghurs job skills.
China announced in December that most Uyghurs had "graduated" from the concentration camps. A study published this week revealed that "graduating" appears to mean being relocated to factories throughout the nation to endure forced labor. The study revealed that factories manufacturing products for 83 major international corporations – including Nike, Google, Nintendo, and Apple – were using Uyghur slaves.
The China Tribunal, an independent legal body convened to investigate live organ harvesting, also published a report this week concluding that "forced organ harvesting has happened in multiple places in the PRC [China] and on multiple occasions for a period of at least 20 years and continues to this day."
"Medical testing of groups, including Falun Gong and Uyghurs, was related in some way to the group concerned because other prisoners were not tested. The methods of testing are highly suggestive of methods used to assess organ function. The use of ultrasound examinations further suggests testing was focused on the condition of internal organs," the report asserted.