For the first time in its 144 year history, Texas' San Jacinto County is now a red county.
San Jacinto Republican Party Chair Dwayne Wright's slogan is "Results, not Excuses." Elected in the Republican Primary in 2014 when he ran against the sitting Republican Party Chair, Wright was true to his campaign promise to work hard, and work smart, and Republicans dominated in November's elections. Carl Tepper, President of the Texas Republican Party County Chair Association (TRCCA), told Wright that he "just might be the best county chairman in the state of Texas right now."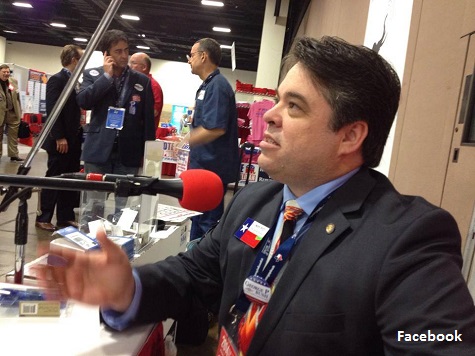 San Jacinto County elected Republicans in district court, district attorney, county judge, sheriff, and county clerk and treasurer races. The margins of victory ranged from 6 to 37 points. The precinct races were tight, and Republican loses were by 95 to 399 votes. County Judge-Elect John Lovett defeated the 12-year incumbent by 6 points, and County Clerk-Elect Dawn Wright defeated the 28-year incumbent by 17 points. Dawn Wright is Dwayne Wright's wife. The couple moved to the county in 2003, the year after they got married.
San Jacinto County is named after the 1836 Battle of San Jacinto. The battle fortified independence from Mexico and established Texas as a republic. Republican grassroots leaders and activists in the county, similar to the brave men in the Texian army, were committed to break the cycle of dominance. This writer has seen first-hand their resolute and skilled execution of their battle plan, and also attended the San Jacinto County Republican Club meeting in fall 2013 when fellow Breitbart Texas writer Bob Price was the keynote speaker. Price brought its members a can of red paint and encouraged them to "Paint the County Red!"
County Chair Wright brought the county party into this century with a new website, and Facebook and Twitter accounts. Twitter followers now number over 9,400 individuals and organizations. He utilized online marketing. The new website contrasts Republican and Democrat views on gun control, Obamacare, tax cuts, a balanced budget, domestic oil exploration, abortion, and school prayer.
Wright created political campaign signs that resonated with county voters.  The signs included his website and contained captions like "Had Enough?  Vote Republican! ", and "Vote Republican: We can't afford anymore change! " Another sign bearing the caption "Proud Member of the Obama Team " and an arrow, was strategically placed next to yard signs of Democrat candidates with the arrow pointing at their signs.
The Republican Party of Texas has utilized Wright to teach social media in Senate District 3. The local Party is now able to hold these events in its new headquarters. The organization has outgrown two offices since June. The new one has separate classroom and conference areas.
The County has four constables, two of which have famous namesakes (no relation known) – Sam Houston and Roy Rogers.  Constable Rogers, whose term ends on December 31st, 2016, officially switched parties and joined the Republican Party on November 19th.
The Democrat reign that has existed since 1870 has ended in San Jacinto County. The Republican County Chair and his determined soldiers set strategic goals and through faith, creativity, and hard work were successful. Every county, Republican or not, can be inspired by their decisive battle. Breitbart Texas will continue to cover Texas counties and their efforts to stay, be, or turn red.
Lana Shadwick is a contributing writer and legal analyst for Breitbart Texas. Follow her on Twitter @LanaShadwick2.