As the Gulf Cartel continues their almost month long internal war that has turned various Mexican cities into warzones, a series of gruesome executions and mutilations appear to point to a major shift in tactics. Where open gunfights were the norm, now the targeting of individual enemies and gruesome mutilations are occurring. The intent appears to be an effort to strike terror into anyone who works against cartel faction.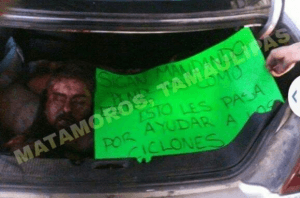 As Breitbart Texas previously reported, since the start of the month two factions of the Gulf Cartel, one from the border city of Reynosa called Los Metros, and one from the border city of Matamoros called Los Ciclones, went to war. The internal conflict set off a series of fierce firefights along Mexican border highways and at times in those cities main boulevards. The conflicts have caused chaos for tourists and the hundreds of manufacturing plants that move goods between Mexico and the U.S. each day.
The almost daily firefights have left dozens of gunmen dead, yet Tamaulipas state officials and the Mexican federal government continue to claim that the region is safe. As the fighting escalated, Mexican officials flooded the cities of Matamoros and Reynosa with Mexican soldiers, marines and federal police officers who patrol the cities in convoys of armored trucks and personnel carriers.
As Breitbart Texas previously reported, the Los Metros faction appears to have gone on the offensive and has been actively kidnapping rival members in order to execute them in a gruesome fashion and leave their remains with a narco-message. The messages warn the Ciclones and their supporters about meeting a similar fate if they continue with their affiliation.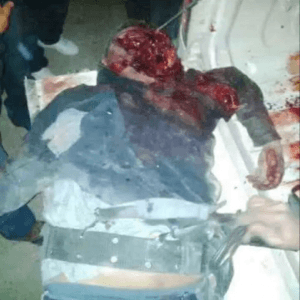 The gruesome executions continued this past weekend when authorities found the severed body of an unidentified man stuffed in the trunk of a car on the outskirts of Matamoros. While Mexican authorities have not released any information on the find, the citizen journalist group Matamoros Zona De Peligro (MZP) provided Breitbart Texas with photographs.
The group provided Breitbart Texas with a photograph of a second execution where, according to the respected citizen journalist group, a mutilated cartel gunman had his face blown off and his remains were stuffed in an ice chest and along with a narco-message.
Breitbart Texas spoke with a Tamaulipas law enforcement officer who asked to not be identified citing security reasons. The official confirmed a third execution where a body was also mutilated and left with a message.
"They changed their tactic, instead of fighting each other they are resorting to a sick way of trying to scare off their rivals," the official said in Spanish.
While gruesome cartel executions are not new, the cities of Matamoros and Reynosa had not seen such gruesome activity since 2010 when the Gulf Cartel went to war with their former enforcers Los Zetas, the Mexican cop said.
Follow Ildefonso Ortiz on Twitter and on Facebook.
Editor's Note: This article is part of Breitbart Texas' Cartel Chronicles. Ildefonso Ortiz and Breitbart Texas Managing Director Brandon Darby traveled to the Mexican border cities of Reynosa and Matamoros to recruit citizen journalists willing to risk their lives and expose the cartels silencing their communities.  The writers would face certain death at the hands of the Gulf cartel if pseudonyms were not used. Breitbart Texas' Cartel Chronicles are published in both English and in their original Spanish.