Two Texas cities — Austin and Houston — are among the top ten metropolitan areas in the United States that had the highest percentage increases in rental prices last year. San Francisco and San Jose, California were ranked first and second, both with median rent prices of over $3,000 per month. Austin was ranked sixth and Houston eighth.
The information comes from a study by the real estate website Zillow, which reported that overall rents in the United States increased 3.3 percent over the past year, with a median monthly rent of $1,350.. Zillow calculates their "Zillow Rent Index" by taking the median of the value of all single-family residences, condominiums, cooperatives, and apartments in their database for each geographic area, regardless of whether or not they are currently listed for rental, and measuring the increase from January 2014 to January 2015.
Here are the top ten metropolitan areas that had the highest rent increases, and the current median rent and percentage increase from January 2014 to January 2015 for each, according to Zillow:
San Francisco, CA
Median rent: $3,055
Increase: 14.9%
San Jose, CA
Median rent: $3,190
Increase: 13.4%
Denver, CO
Median rent: $1,827
Increase: 10.2%
Kansas City, MO
Median rent: $1,214
Increase: 8.5%
Portland, OR
Median rent: $1,587
Increase: 7.2%
Austin, TX
Median rent: $1,657
Increase: 7%
Charlotte, NC
Median rent: $1,235
Increase: 6.1%
Houston, TX
Median rent: $1,497
Increase: 5.9%
Phoenix, AZ
Median rent: $1,225
Increase: 5.3%
Detroit, MI
Median rent: $1,096
Increase: 5%
The rent increases in Austin are due in no small part to the city's exponential growth. Last year, the Austin Business Journal reported that over one hundred people a day on average were moving to Austin — a "net arrivals per day" calculation that included any people who were leaving the city.Rising rental prices can create additional challenges for prospective first-time homebuyers struggling to save for a down payment. DS News reported that rental prices have continued to increase even as home prices have slowed, and in a recent survey, 51 percent of real estate experts said they expected that rental affordability would not improve for at least another two years.
Zillow's chief economist, Stan Humphries, acknowledged the pressure that rising rent prices caused, but still advocated against government intervention, instead preferring to allow the market to correct on its own.
"Solving the rental affordability crisis in this country will require a lot of innovative thinking and hard work, and that has to start at the local level, not the federal level," said Humphries. "Housing markets in general and rental dynamics in particular are uniquely local and demand local, market-driven policies. Uncle Sam can certainly do a lot, but I worry we've become too accustomed to automatically seeking federal assistance for housing issues big and small, instead of trusting markets to correct themselves and without waiting to see the impact of decisions made at a broader local level."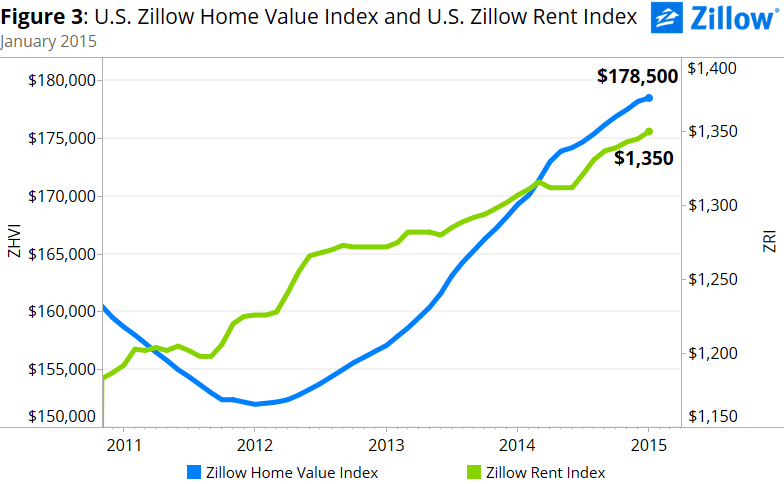 As a comparison, median U.S. home values rose  5.4 percent during the same one year period, with a median home value price of $178,500. Zillow's report noted that while housing prices took a nosedive during the recession, rental prices have been on a fairly steady upward trajectory since 2000. Rental demand continues to be affected by former homeowners who have returned to renting after losing a home in a foreclosure or short sale, and younger renters who are delaying buying their first home.
[Note: If you are wondering about the gentleman in the photo accompanying this article, and what he has to do with rental prices, his name is Jimmy McMillan, and he is best known for running for political office on a platform of the rent being "too damn high."]
Follow Sarah Rumpf on Twitter @rumpfshaker.