HOUSTON, Texas — The Canton Ohio Police Department cop who lost his K9 partner was in Texas on Monday and he selected a new K9 that was donated from a Houston-based nonprofit, K9s4COPS.
As previously reported by Breitbart Texas, his German Shepherd, badge number #60, was shot three times when he and Canton PD Officer Ryan Davis responded to a burglary alarm at a food store. Jethro, the K9, was shot in the face, shoulder, and neck.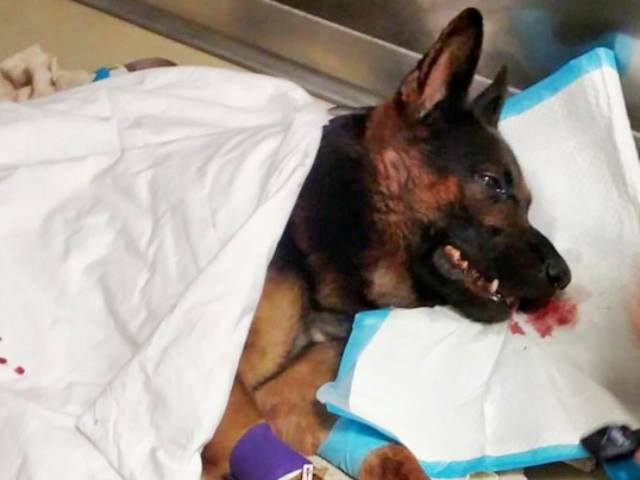 A memorial service for Jethro was held at the Canton Civic Center in Canton, Ohio. It was broadcast live on Fox8 News and hundreds came from all over to attend the service. Over 100 K9 officers walked alongside their partners. Ohio Governor John Kasich ordered flags to fly half-staff in honor of the K9.
Philantropist Kristi Schiller of K9s4COPS immediately reached out to the Canton Ohio Police Department to offer condolences and to ask about what her foundation could do to supplement the K9 unit, as reported by Breitbart Texas.
Officer Davis arrived in Houston on Sunday to start the process of selecting his new K9 partner. He visited the Houston K9 Academy where he met three highly trained K9s.
Davis joined Harris County Sheriff"s Deputy Ted Dahlin. Dahlin lost his own K9, Blek, and it is this loss that was the reason K9s4COPs was established says its founder, Kristi Schiller.
Since 2011, K9s4COPS has granted over 100 K9s to 28 states and eleven schools. K9s4COPS K9s have also been responsible for taking $100 million in contraband off the streets. The trained dogs cost between $10,000-$15,000.
Davis and his new K9 partner Tuko, headed back to Ohio early Tuesday morning. Houston-based United Arlines donated the cost of the airfare.
As previously reported by Breitbart Texas, a $5 million bond has been set for 22-year-old Kelonte Demorious Barefield, the man accused of killing K9 police officer Jethro.
Lana Shadwick is a writer and legal analyst for Breitbart Texas. Follow her on Twitter @LanaShadwick2