EDINBURG, Texas — A fugitive accused in a Texas home invasion shootout that left two men dead has been arrested in Mexico. The shootout began when the suspect and a group of gunmen allegedly stormed a rural home to steal a load of drugs.
The Hidalgo County Sheriff's Office confirmed to Breitbart Texas that earlier this week, the U.S. Marshals Service along with Mexican authorities were able to arrest 50-year-old Ramon Aguilar. Authorities brought the suspect back into Texas for prosecution on the charges. Once at the Hidalgo County jail, authorities took him before a local judge who formally charged him with capital murder.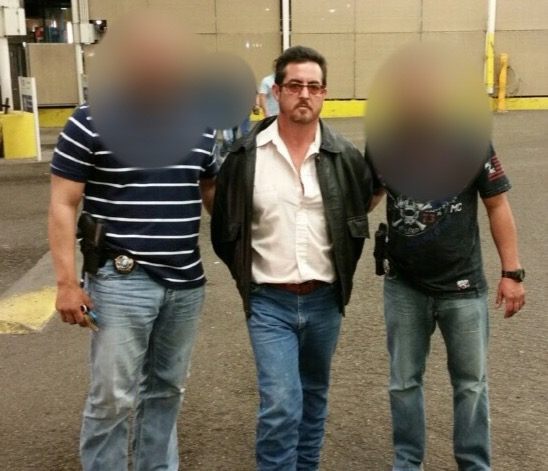 Aguilar is accused of having taken part in a failed home invasion on December 26, 2015 where a team of gunmen stormed a rural home in the border city of Mission in order to steal bundles of marijuana and cash, Breitbart Texas previously reported. Days after the shootout authorities provided Breitbart Texas with a copy of the surveillance video that shows multiple gunmen storm the home shooting their weapons.
Rodrigo Villanueva Alvarez, 24 and 19-year-old Jose Ricardo Chavez had been outside of the house when the gunmen stormed in. In the video they can be seen running towards the house where a gun battle ensued. During the shootout both Villanueva and 43-year-old Juan Camorlinga Torres where killed. Camorlinga was identified by authorities as one of the gunmen who along with Ramon Aguilar and others tried to rob the home. At the house, Sheriff's investigators seized 37 bundles of marijuana and $50,000 in cash that they believe were the motive for the shootout.
In the rural areas just north of the Texas border, cartel linked drug smugglers collect the loads at the Rio Grande and move them to stash houses before smuggling them to northern cities. In recent years, the stash houses in this area have become targets for home invasions where rival groups of heavily armed gunmen try to steal the drugs or cash inside.
Ildefonso Ortiz is an award winning journalist with Breitbart Texas you can follow him on Twitter and on Facebook.