HOUSTON, Texas – One year ago, Harris County Deputy Sheriff Darren Goforth walked out of a convenience store to his patrol car and was gunned down in cold blood by a man who snuck up behind him in the dark. Police say there appears to be no other motivation for the shooting than he was wearing a uniform and a badge.
"It is one of the most disturbing videos I have seen in more than forty years of police work," Sheriff Ron Hickman told Breitbart Texas in an interview on Saturday. "As Deputy Goforth walked out of the store, the man we now know as Shannon Miles walked up behind him and shot him in the head and back."
"Looking back a year ago," Sheriff Hickman said, "We saw a disturbing trend in anti-police sentiment. This has proven to be the case in this shooting and all across the country. No other motivation has been found for Goforth's execution."
Shannon Miles has been charged with capital murder of a police officer, according to court records obtained by Breitbart Texas. He is currently being held in a mental facility, having been ruled incompetent to stand trial.
The indictment states that Miles "while in the course of committing and attempting to commit RETALIATION AGAINST HARRIS COUNTY SHERIFF'S DEPARTMENT DEPUTY D. GOFORTH, FOR AND ON ACCOUNT OF THE SERVICE AND STATUS OF D. GOFORTH AS A PUBLIC SERVANT, INTENTIONALLY CAUSED THE DEATH OF D. GOFORTH BY SHOOTING D. GOFORTH WITH A DEADLY WEAPON, NAMELY A FIREARM."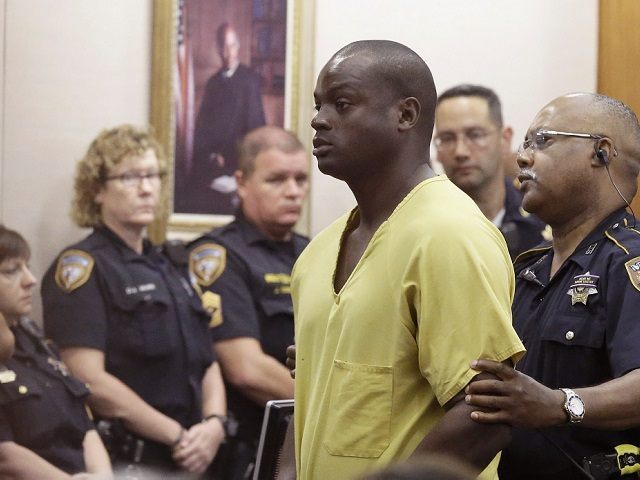 Miles was an alumnus of Prairie View A&M University (PVAMU). The shooting occurred approximately six weeks after PVAMU graduate Sandra Bland committed suicide in the Waller County Jail. It also followed several protests in Waller County and at PVAMU where Black Lives Matter activists and members of the new Black Panther Party called for the killing of whites and white police officers.
Members of the armed New Black Panther Party stood across from a line of Harris County Sheriff Mounted Patrol deputies at the Waller County jail. The group chanted "We will start creeping up on you in the darkness." They also yelled "Off the pigs," and "Oink oink, bang bang."
Although it is presently unknown whether there is a correlation between these events, racial tensions in the area were very tense at the time. Deputy Goforth was executed just 31 miles from the Waller County jail. As reported by Breitbart Texas, Micah X. Johnson, the killer of the five Dallas police officers during a Black Lives Matter protest, was a member of the Houston New Black Panther Party. He was a member for about six months a few years ago.
Breitbart Texas was present at an armed march carried out by the Houston New Black Panther Party in Waller County last summer. This writer took photos and video of the armed marchers at that time. One of the members holding an AR-15 style rifle appears to be Micah Xavier Johnson.
Sheriff Hickman said there is no evidence that Miles ever met or had any contact with Goforth before the shooting. He did not say anything to the deputy as he snuck up behind him and coldly opened fire.
"Law enforcement officers now have to be aware of conflict all around them," Hickman explained. "This incident and the shootings in Dallas, Baton Rouge, and other locations around the country tell us the conflict is not just what is in front of us."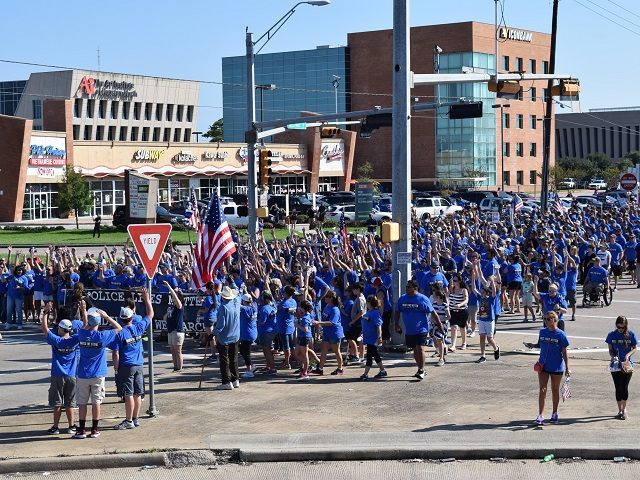 Across Harris County, memorial remembrances for Deputy Goforth are being held to show respect to the fallen officer. On Saturday, family and friends of the slain deputy gathered in the county park that now bears his name, Goforth Park.
"Darren was a good man with a big smile and a big heart," Andre Reynolds, one of Goforth's friends, told Click2Houston.com.
Cleveland Police Chief Rex Evans told KTRK ABC13, "He was just one of those guys, he always had your back. If you were ever on a call all you had to do was look around and Darren would be there."
Since Goforth's execution one year ago, fifty-two other law enforcement officers have been shot and killed in the line of duty, according to the Officer Down Memorial Page. Many of those shootings were done in an ambush or execution style.
Breitbart Texas was on the scene of the shooting within one-hour of Goforth's murder. During overnight coverage of the shooting, Breitbart Texas followed deputies to the home of Shannon Miles where his mother was overheard telling deputies, "My son would never do this."
Following the murder, Breitbart Texas continued to provide extensive coverage of the investigation of Deputy Goforth's murder, his funeral and the outpouring of community support expressing appreciation to all law enforcement officers.
Lana Shadwick is a contributing writer and legal analyst for Breitbart Texas. She has served as a prosecutor and an associate judge. Follow her on Twitter @LanaShadwick2.
Bob Price serves as associate editor and senior political news contributor for Breitbart Texas. He is a founding member of the Breitbart Texas team. Follow him on Twitter @BobPriceBBTX.