SAN PEDRO, Nuevo León — A team of cartel gunmen executed one of the highest ranking police officers in this metropolitan area. The police chief had previously been threatened by Mexican cartels and had lost a brother to a similar attack.
A surveillance video obtained by Breitbart Texas revealed the moment when a white SUV and a black car surround a police vehicle and unleashed a barrage of gunfire. A gas station employee can be seen crawling across the floor in an effort to avoid being struck.
Body armor was not enough to save the life of San Pedro Police Commander Cesar Daniel Camacho Rodriguez and his driver, Officer Orlando Robledo Castillo. Camacho had previously been threatened by drug cartels a year before. The crime scene was a well-known gas station that is just a few blocks from the San Pedro city hall.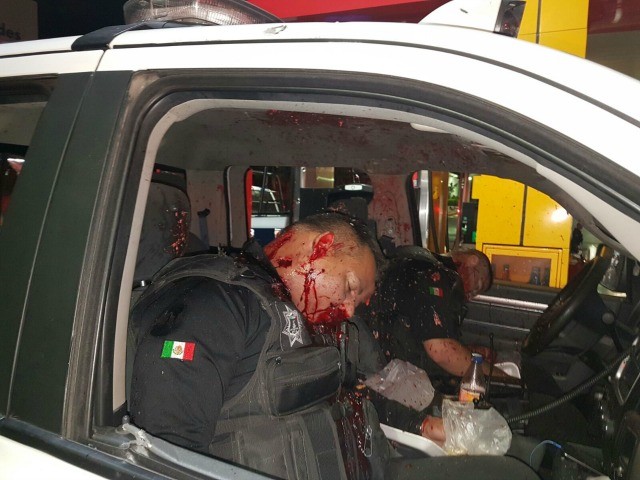 In a matter of minutes, municipal and state police officers rushed to the scene to help the officers who died in the the patrol car. Law enforcement officials who spoke with Breitbart Texas revealed that Commander Camacho Rodriguez was working his regular shift as the San Pedro Police General Supervisor when the attack happened. A little more than a year before, a cell of the Beltran Leyva Cartel led by Eleazar "El Cochi or El 19" Palomo Castillo had threatened his life. As Breitbart Texas reported, El Cochi was recently arrested by the Mexican Navy in Nuevo León.
The police source revealed that Camacho, who used the police badge numbered 378, was considered to be an honest cop. The commander had previously requested protection for him and his family in 2016 after he led a series of raids targeting the street distribution of drugs in the area and the murder of his brother in San Pedro. Local distribution of drugs is controlled by the Beltran Leyva Cartel. 
Among citizen journalists, the likely motive for the execution points to a reprisal for the recent execution of three operators tied to a faction of the Sinaloa Cartel led by Damaso "El Licenciado" Lopez. Breitbart Texas previously reported on this execution which also took place in San Pedro.
Editor's Note: Breitbart Texas traveled to the Mexican States of Tamaulipas, Coahuila, and Nuevo León to recruit citizen journalists willing to risk their lives and expose the cartels silencing their communities.  The writers would face certain death at the hands of the various cartels that operate in those areas including the Gulf Cartel and Los Zetas if a pseudonym were not used. Breitbart Texas' Cartel Chronicles are published in both English and in their original Spanish. This article was written by Tony Aranda from Monterrey, Nuevo León.