At least 28 inmates died with five beheaded during a fierce prison riot in the Mexican state of Guerrero–the same day that U.S. Department of Homeland Security Secretary John Kelly visited the region to discuss cartel violence.
The riot took place early morning at the Las Cruces state prison near the beach resort town of Acapulco, Guerrero. According to government officials, the fighting was due to rival criminal organizations' struggle for control.
Soon after the riot started, prison guards reported hearing gunshots inside the compound. Moments after, in the maximum security area they discovered the remains of five beheaded inmates left outside in the yard, a kitchen, and a hallway.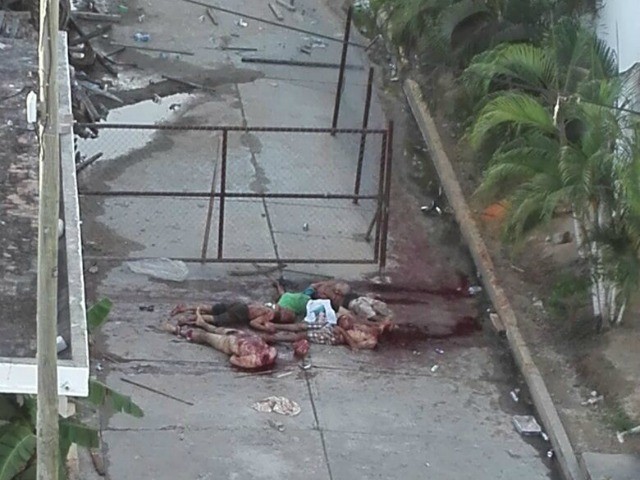 The fighting continued during the morning until state law enforcement, with the help of federal police officers and military personnel, were able to surround the compound and force their way in. Authorities spent the day raiding the facility and investigating prison staff to determine if any were complicit.
The deadly riot took place hours before DHS Secretary John Kelly was slated to visit the military installations in Acapulco as part of a three-day tour where he is expected to meet with Mexican government cabinet members to discuss the country's lack of security conditions.
As Breitbart Texas reported, the once quiet beach resort town of Acapulco has become a hotbed of cartel violence with frequent shootouts and beheadings as rival criminal organizations continue to fight for control. The state is not only a lucrative shipping port to smuggle drugs, but the large mountain regions also provide prime conditions for the production of marijuana and poppy plants. Mexican cartels use poppy sap to manufacture heroin. 
Editor's Note: Breitbart Texas traveled to the Mexican States of Tamaulipas, Coahuila, and Nuevo León to recruit citizen journalists willing to risk their lives and expose the cartels silencing their communities.  The writers would face certain death at the hands of the various cartels that operate in those areas including the Gulf Cartel and Los Zetas if a pseudonym were not used. Breitbart Texas' Cartel Chronicles are published in both English and in their original Spanish. This article was written by Tony Aranda from Monterrey, Nuevo Leon, "M.A. Navarro" from Ciudad Victoria, Tamaulipas and Jose Luis Lara, a former leading member who helped start the Self-Defense Movement in Michoacán.