SAN FERNANDO, Tamaulipas — In two separate firefights in as many days, Mexican soldiers found themselves overwhelmed by Gulf Cartel forces, resulting in three killed by cartel gunfire and seven others injured. Troops did manage to kill three gunmen and seized weapons.
The most recent gun battle took place when soldiers responded to a call from Mexico's state-owned company, PEMEX, about the theft of fuel taking place in a rural community along the highway that connects Valle Hermoso with the border city of Matamoros. When authorities arrived, the gunmen opened fire. While some of the soldiers were in an armored assault vehicle, it rolled over and landed in an irrigation canal. The gunmen managed to flee, leaving behind two dead soldiers and five others who were seriously injured.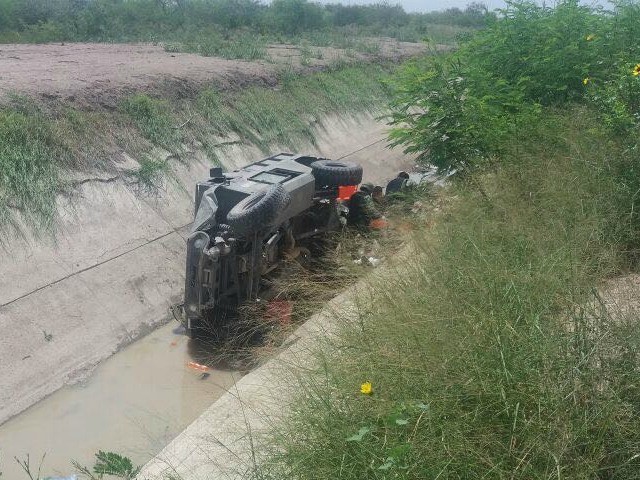 One day before, a separate gun battle took place nearby. Military forces and cartel gunmen clashed along the highway that connects the rural community of San Fernando with Matamoros, law enforcement officials revealed to Breitbart Texas. A convoy of Mexican soldiers were conducting routine patrol and came across a squad of cartel gunmen in a Chevrolet Suburban and a Chevrolet Silverado.
The soldiers tried to stop the vehicles but gunmen began firing, setting off a fierce battle where one soldier and two gunmen died. Two others were injured and had to be taken to a hospital in Matamoros for treatment. Authorities were able to seize a .50 caliber rifle, grenades, a machine gun, and tactical vests.
Editor's Note: Breitbart Texas traveled to the Mexican States of Tamaulipas, Coahuila, and Nuevo León to recruit citizen journalists willing to risk their lives and expose the cartels silencing their communities.  The writers would face certain death at the hands of the various cartels that operate in those areas including the Gulf Cartel and Los Zetas if a pseudonym were not used. Breitbart Texas' Cartel Chronicles are published in both English and in their original Spanish. This article was written by Tamaulipas' "J.A. Espinoza", "A.C. Del Angel" and "Francisco Morales"