MISSION, Texas — Multiple civil rights, church, and nature organizations staged a march along the banks of the Rio Grande to draw attention to President Donald Trump's proposed border wall. The groups are expected to hold a second march for the same purpose on Sunday.
A little over 200 activists gathered on Saturday morning at the Our Lady of Guadalupe Church for the "Save the Mission, Save the River, Resist the Wall" event.
"Trump's walls are a manifestation of hate, and would damage our communities and natural areas and cut off our access to the river," event organizers wrote on a Facebook page.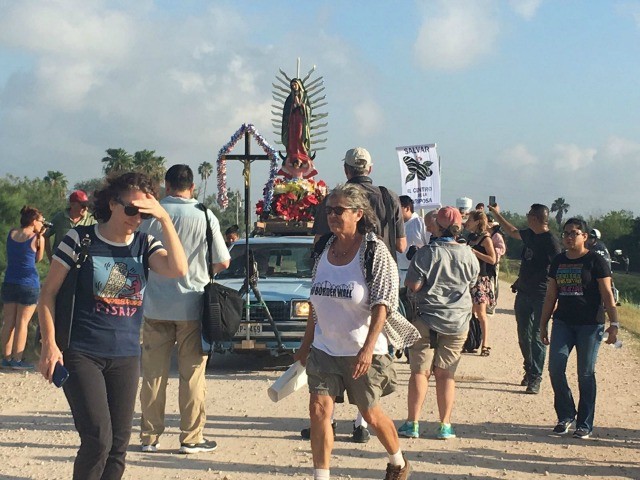 A short rally followed the march where organizers voiced their opposition to the proposed border wall. A similar march is expected to take place on Sunday at a federal wildlife refuge. The protest is called "Protect Santa Ana Protest Hike" referencing the name of the refuge.
According to an online statement by event organizers: 
The Trump Administration is planning to wall off long stretches of the Rio Grande Valley, including important sites like the Historic La Lomita Chapel, which was built in 1865. A wall on the levee next to the Mission could damage the structure and block access to the site. Walls elsewhere would cut off people's homes, strip farmers of their land, close our parks and devastate our ecologically sensitive wildlife refuges. Walls do not stop people from crossing, but they do funnel them into remote areas where they are at risk of dying from dehydration and exposure.
The event is meant to draw attention to the impact that the wall would have in the area and to give a voice to vulnerable groups, organizers claimed.
The Trump administration, Congress, and the Texas Legislature have made statements and crafted policies that malign, scapegoat, and abuse the border region and those who live here. Proposals such as new border walls would inflict real and lasting harm, and they demonstrate a fundamental ignorance of the reality of the border. We will not stand for immigrants, people of color, those living in poverty, members of the LGBTQ community and others being targeted. We demand that federal, state, and local elected officials cease attacks on our community, repudiate the false narratives driving bad policy, and advocate on our behalf.
In the case of the wildlife refuge, organizers of that event claim that the area is home to more than 400 bird species that are at the heart of the ecotourism industry in the region.
"We cannot let the Trump administration's false border war narrative and their hostility toward federally protected public lands devastate and close Save Santa Ana National Wildlife Refuge, and we need your help to stop them!"
Ildefonso Ortiz is an award-winning journalist with Breitbart Texas. He co-founded the Cartel Chronicles project with Brandon Darby and Stephen K. Bannon.  You can follow him on Twitter and on Facebook.
Brandon Darby is managing director and editor-in-chief of Breitbart Texas. He co-founded the Cartel Chronicles project with Ildefonso Ortiz and Stephen K. Bannon. Follow him on Twitter and Facebook. He can be contacted at bdarby@breitbart.com