Mexican military forces repeatedly engage violent drug cartels operating south of the Texas border with Mexico, often uncovering large stockpiles of combat-grade weapons and explosives.
Following are examples of military engagements and weapons caches seized by Mexico's armed forces operations near the Texas border.
1: Landmines Discovered in Gulf Cartel's Possession in Mexican Border City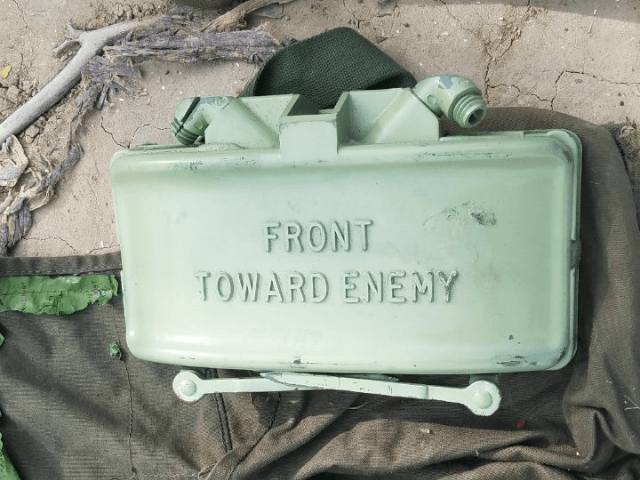 A series of raids conducted by soldiers in the Mexican Army in February 2018 led to the discovery of several weapons caches buried in the border state of Tamaulipas, south of McAllen, Texas. Soldiers made the discovery of military grade Claymore landmines, a grenade launcher, two Barrett .50 caliber rifles, 17 AK-47s, ballistic plates, ammunition, and magazines buried in the countryside.
Breitbart Texas' Editor-in-Chief Brandon Darby and reporter Ildefonso Ortiz reported this was an early discovery of the military-style landmines. The find followed months of violent Gulf Cartel operations in the region.
2: Los Zetas Cartel RPG, Military-Style Arsenal Found near Texas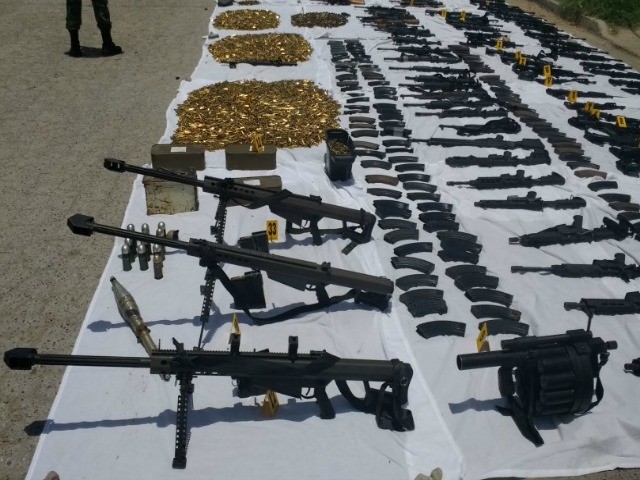 Members of the Mexican Army's 8th Military Region seized an arsenal of military-grade weapons immediately south of the Texas border in Nuevo Laredo, Mexico on July 11, 2017, Breitbart Texas' Cartel Chronicles reported. The weapons consisted of Russian-manufactured RPGs, .50 caliber rifles, grenade launchers, machine guns, and thousands of rounds of ammunition. The soldiers found the cache inside a home controlled by Los Zetas.
"According to the Mexican army, they seized a Russian-made RPG, five grenade launchers, three .50 caliber Barrett rifles, two G3 H&K rifles, 91 other rifles including AR-15s and AK-47s, and 13 .40mm grenades," the article states.
3: Mexican Military Engages in Cartel Gun Battle near Texas Border
Soldiers in the Mexican army engaged members of the Gulf Cartel near the town of Rio Bravo, Mexico, located just south of Donna, Texas.
A video taken in August 2017 by a citizen journalist captured the skirmish.
The soldiers can be seen taking cover as they come under machine gun fire. Cartel Chronicles reported these types of battles between the military and cartels occur on a near-daily basis. In this incident, one civilian was injured and one was arrested.
4: Mexican Marines Use Minigun on Cartel near Texas Border
In this February 2017 video, Mexican Marines used a minigun mounted on a helicopter to engage cartel members in Reynosa, Mexico. Reynosa is located just south of the U.S.-Mexico Border near Mission, Texas. The minigun fires at a rate of nearly 100 rounds per second.
The attack by the Mexican Marines on Gulf Cartel members occurred in support of a raid being carried out in the city. A citizen journalist captured the sounds of the fierce gun battle.
5: Cartel Gunmen Overwhelming Mexican Military near Texas Border
Mexican cartel members struck back against the Mexican Army near San Fernando, Mexico, Cartel Chronicles reported. In two battles that occurred in as many days, Mexican soldiers found themselves outgunned. The result–three soldiers were killed with seven others wounded.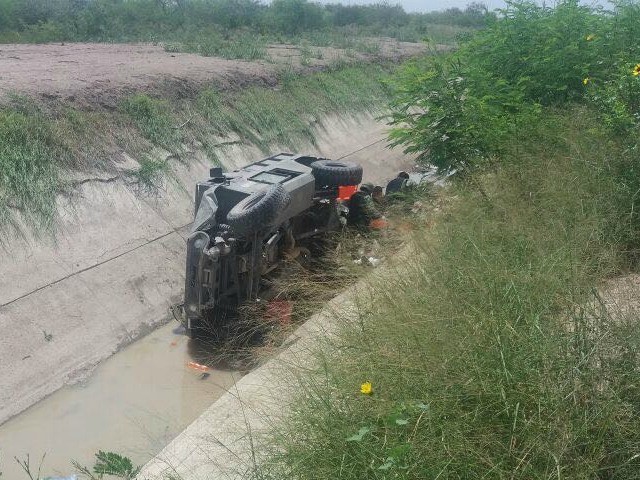 Soldiers managed to kill three of the cartel members as well. The military came under fire when they responded to a call for assistance from PEMEX, the state-owned oil company. Cartel members were in the process of stealing fuel at the time.
Following one of the shootouts, authorities seized a .50 caliber rifle, grenades, a machine gun, and tactical vests.
6: Mexican Soldiers Rescue Cartel Gunman After Gun Battle near Texas Border
Following a November 2016 gun battle with Gulf Cartel members near Miguel Aleman, Mexico, soldiers rushed to help rescue the gunmen firing on them only moments before. In a video leaked to a Chronicles citizen journalist, soldiers can be seen pulling the gunmen from a wrecked vehicle. The SUV rolled over during the battle, trapping the gunman inside.
Once freed, the soldiers provided emergency medical assistance.
7: Mexican Army Seizes Armored Truck, Grenade Launcher near Texas Border
Mexican military personnel seized an armored vehicle and other military-grade weapons following an engagement with Gulf Cartel gunmen in the town of Miguel Aleman, just south of the Texas border near McAllen in March 2015.
During a chase, cartel members lost control of the makeshift armored vehicle and crashed. The gunmen escaped, but Mexican military authorities seized the cache of weapons that included a grenade launcher, three grenades, six assault rifles, 1,400 rounds of ammunition, and 101 magazines loaded with ammunition, Ortiz reported.
Other seizures of weapons caches took place that year.
Bob Price serves as associate editor and senior political news contributor for Breitbart Texas. He is a founding member of the Breitbart Texas team. Follow him on Twitter @BobPriceBBTX, GAB, and Facebook.