Unless otherwise noted, these are reviews of Blu-ray copies and it goes without saying that Blu-ray picture and sound is a stunning improvement over standard DVD.
In no particular order and with links to Amazon….
The Grey (Two-Disc Combo Pack: Blu-ray + DVD + Digital Copy + UltraViolet) (2012)
A legitimate achievement in every respect and a long-awaited coming out party for the talents of director Joe Carnahan, who already has some features under his belt but none that so far have won him much respect. Those days are over. "The Grey" is not only a hypnotizing story that grabs hold and never lets go, it's also an exciting, perfectly directed action film with big, existential themes about death, God, and what life really means (and doesn't).
The story also drives these themes in the best way movies can: through an exciting plot filled with taut suspense and well-defined characters you quickly come to care about. Classic films such as Robert Aldrich's "Flight of the Phoenix" (1965) and near-classics like William Wellman's "Island In the Sky" (1953) have, in the past, effectively explored disparate characters and their relationships after a plane crash plops them in the middle of an impossible situation — and "The Grey" is deserving of a place among them.
One of the very best films I've seen in long time.  
—–
John Carter (Two-Disc Blu-ray/DVD Combo) (2012)
Though most famous for its box office collapse, that doesn't mean you should disregard this old-fashioned epic ramped up with all kinds of modern CGI. John Carter is a Civil War veteran disillusioned with life and only interested in becoming rich. This search leads him to Mars, gives him a handy superpower, and lands him in the middle of an inter-planetary war where he will be forced to finally take a side and fight for something bigger than his own self-interest.
Thematically and in the arena of romance and heroism, "John Carter" is as old-fashioned in execution as something from Hollywood's Golden Age, and while the non-stop CGI and mythological mumbo-jumbo is overbearing at times, you're still in for a very good time and a story that ends so well you tend to forgive its other flaws.
—–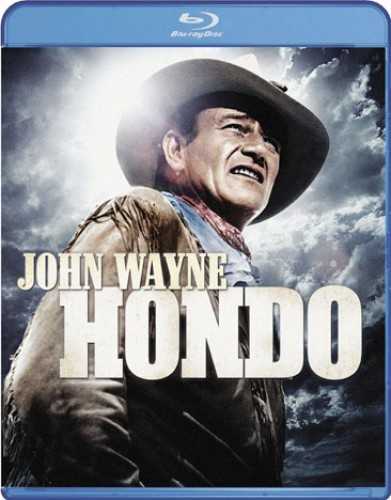 John Wayne's classic Western that used to be seen as rarely as patriotism in our current White House, is now available in glorious Blu-ray and for the first time in widescreen. Directed by the underrated John Farrow (father or Mia); all kinds of story, character development, and relationship complications are stream-lined into an exciting and very tight 83-minutes.
"Hondo" is one of many cinematic documents that lays bare the lie that Wayne was some kind of simplistic actor who appeared in simplistic films surrounding the relationship between 19th century America and the American Indian. "Hondo" presents that relationship in a more mature, nuanced, and realistic way than anything politically-correct Hollywood has delivered in the last twenty years.  
—–
Journey 2: The Mysterious Island (Blu-ray 3D / Blu-ray / DVD / UltraViolet Digital Copy) (2012)
Like the wildly popular "National Treasure" franchise, "Journey 2" (there was a "Journey 1"?) builds a ridiculous but fairly entertaining adventure from a beloved source material. Nic Cage romped around American artifacts and Dwayne "The Rock" Johnson romps around the mythology-come-to-life created by Jules Verne and other legendary storytellers of his era.
Johnson plays the dreaded stepfather eager to make a connection with his stepson, Sean (Josh Hutcherson). He indulges the boy with a trip out in the middle of the ocean where the boy's charming but irresponsible grandfather (Michael Caine) has supposedly discovered a mysterious island 50,000 satellites have apparently overlooked.
Vanessa Hudgens is the love interest/eye candy, Luis Guzman channels his inner Lou Costello, and the result is dumb, inoffensive fun that for once portrays Dad (Johnson not Guzman) as a mature and responsible man and not some bumbling, out-of-touch clown.
—–
Joyful Noise (Blu-ray / DVD / UltraViolet Digital Copy Combo Pack) (2012)
Writer/Director Todd Graff envisions what the television show "Glee" might look like if it was produced by patriotic, tolerant Christians as opposed to intolerant Christian bigots.
A game Queen Latifah and Dolly Parton play rival members of a small town church choir that can't stop losing a regional choir competition or coming close enough to make that loss all the harder to swallow.  
Parton's a recent widow, the wealthy patron of the church, and dealing with a troublesome teen-aged grandson. Latifah's all alone, as well. Her estranged husband is in the military fighting the War on Terror and she's been left with a lot of unpaid bills, a few charming kids, and dealing with Parton — who is not at all happy her rival has just been put in charge of the choir.
The driving element of the plot is the budding young love between Parton's grandson and Latifah's stunning teenage daughter, and I can't tell you how nice it is to see an inter-racial romance that doesn't make race an issue. Were also informed, for among other reasons, that Latifah's husband joined the military "to serve his country." Nice touch.
The music is catchy (Latifah has a lovely solo moment at a piano), the love for Jesus and faith is presented with sincerity and without irony, and the overall film is imperfect and kind of silly at times. But the story's heart is in the right place, the pacing is tight, Latifah's showdown with her spoiled daughter is a thing of moral beauty, and you will enjoy yourself.
—–
Glenn Close won a Best Actress nomination for her passion project, the story of a woman forced by financial and other circumstance to pose as Albert Nobbs, a man struggling to get a head in 19th century Ireland. Nobbs survives as a servant at an upscale hotel and has saved a small fortune built from years of accumulated tips beneath the floorboard of her single, barren room. She has dreams of someday owning her own business, even though she apparently has never heard of a bank.  
Close is okay in the lead role, but never really comes off as man or woman. The character is disturbingly asexual and the creepy quotient hits the red-zone when Nobbs begins to court a young, vulnerable maid with the intent to marry. Nobbs' master plan is to wait to reveal her true identity on their honeymoon night.
What makes this story element so creepy is that the movie itself doesn't seem to understand that Nobbs horrific act of Crying Gaming this poor unsuspecting girl is immoral and wrong. In a plot turn impossible to swallow, Nobbs hatches this plan after learning that the result of this same creepy deceit resulted in domestic bliss for a woman disguising herself as a male housepainter.
Throughout all of this, the filmmakers expect us to remain sympathetic to the poor, oppressed, eternally pinched Nobbs — which is not only a bridge too far but the kind of immoral myth-making that only fuels the unfair charge that homosexuals are predators desperate to convert the weak and unsuspecting.
—–
While it's almost impossible to believe 17 years have passed since its release, time has in no way diluted the humor and heart in director Amy Hecklerling's loosely based adaption of Jane Austen's "Emma."
In an early, star-making role, Brittany Murphy still shines, which adds a bittersweet tinge to her best moments. Knowing the ultimate fate of all that charm, energy, talent, and beauty is impossible to ignore.
Like her feature debut, the now iconic "Fast Times at Ridgemont High (1983)," Clueless" manages to perfectly capture a time and place but does so with such wit and insight that it never feels dated.
—–
Disney-eyed Amanda Seyfried is Jill, a young woman haunted by a harrowing kidnapping she barely escaped from. The police don't believe it ever happened, but Jill is certain her abductor is still watching her and determined to finish off his grisly murder plans.
While it's always nice to see interesting actors like Nick Searcy and Michael Pare' in anything, that unfortunately doesn't change the fact that what we have here is a middling 45-minute "X-Files" television episode (including look and feel) stretched to an unnecessary 94 minutes.
—–
Get a load of this cast: Sam Worthington, Elizabeth Banks, Ed Burns, Ed Harris, Kyra Sedgwick, Anthony Mackie, Jamie Bell,  and William Sadler. And this is a case where the cast does help to elevate a high-concept heist film that only at times feels inspired — one of those heist films that relies on contrivances as much as smarts.
Without all the CGI that buried Worthington in the films that made him a star ("Avatar," "Clash of the Titians"), he does prove himself a promising leading man.
Perfect Redbox rental, and not just because it feels a bit direct-to-videoish.  
 –
Follow John Nolte on Twitter @NolteNC