From Gaza, Hamas has fired more than 3000 rockets directly aimed at Israeli civilians. The terrorist group has also used humanitarian aid meant for Palestinian civilians to build terror tunnels into Israel. The tunnels are designed to allow Hamas terrorists to pop up in surprise attacks with the express purpose of murdering and kidnapping Israeli civilians.
As a result, Israel has justifiably and righteously waged war against Hamas in Gaza — the same Hamas using schools and hospitals to store its war weapons. And in keeping with the character of the barbaric savages they are, Hamas also uses Palestinians as human shields and intentionally puts military targets in crowded civilian neighborhoods as a way to up the count of dead innocents.
Hamas believes the Western media, especially here in America, will focus on the dead Palestinian civilians while ignoring the context of how Hamas is responsible for those deaths. Hamas has good reason to believe that because that is exactly what the American mainstream media is doing.
Those are the facts. Israel could use all the moral support it can get.
One place where you won't hear much about Israel — where talk of the war in Gaza is conspicuously mum, is in Hollywood.
Well, not everyone. 
You do have Oscar winners like Javier Bardem and Penelope Cruz accusing Israel of genocide.
But where are Israel's vocal supporters in Hollywood this time around?
Back in 2006, a mere 8 years ago, many of those sitting in silence today were as full-throated in their support for Israel as they were in their condemnation of Hamas. This is from a full-page ad in the Los Angeles Times published in August of 2006:
We the undersigned are pained and devastated by the civilian casualties in Israel and Lebanon caused by terrorist actions initiated by terrorist organizations such as Hezbollah and Hamas," the ad reads.
"If we do not succeed in stopping terrorism around the world, chaos will rule and innocent people will continue to die.
"We need to support democratic societies and stop terrorism at all costs."
A who's who of Hollywood heavyweights joined Kidman on the ad.
The actors listed included: Michael Douglas, Dennis Hopper, Sylvester Stallone, Bruce Willis, Danny De Vito, Don Johnson, James Woods, Kelly Preston, Patricia Heaton and William Hurt.
Directors Ridley Scott, Tony Scott, Michael Mann, Dick Donner and Sam Raimi also signed their names.
Other Hollywood powerplayers supporting the ad included Sumner Redstone, the chairman and majority owner of Paramount Pictures, and billionaire mogul, Haim Saban.
—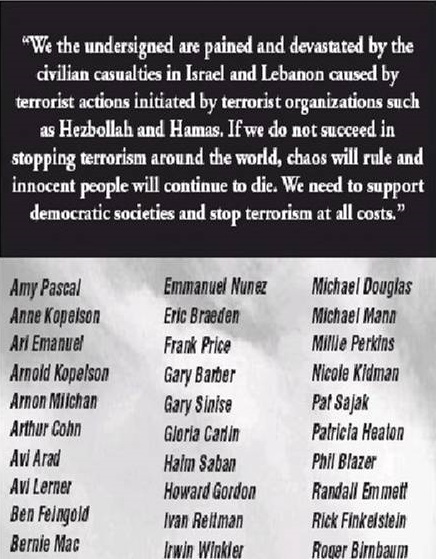 —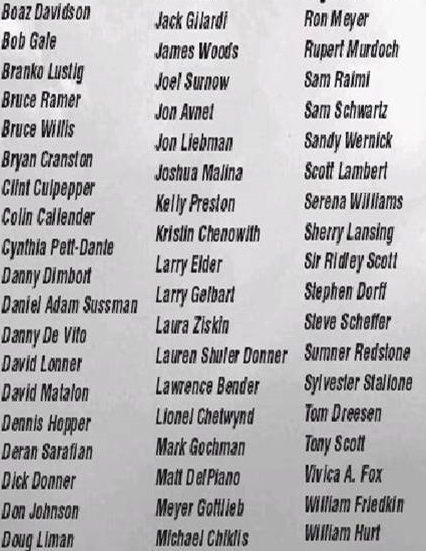 —
To be fair, not everyone's been silent. At the risk of losing an Emmy, The Mighty Jon Voight is out there fighting for the Jewish State. Using his Twitter account, actor James Woods is no wilting flower when it comes to condemning terrorists. Though they didn't sign the original 2006 letter, actors Adam Baldwin and Nick Searcy have also been outspoken in their support of Israel.  
Follow  John Nolte on Twitter @NolteNC