As famous as "The Man From U.N.C.L.E" is, and as prolific as my television viewership has been for going on 50 years now, until I received a review screener of the just-released DVD collection of series' debut season, I had never seen even one episode of one of the most durable and beloved television series ever made.
What makes this even odder is that "The Man From U.N.C.L.E." is right in my wheelhouse. Action and adventure shows from the stylish sixties ("Mission: Impossible," "Star Trek," and especially "The Wild Wild West") are about as good as escapist television gets. Of course, a number of shows that enthralled us as children have aged horribly.
I bring good news: Fans of Napoleon Solo and Illya Kuryakin have nothing to worry about.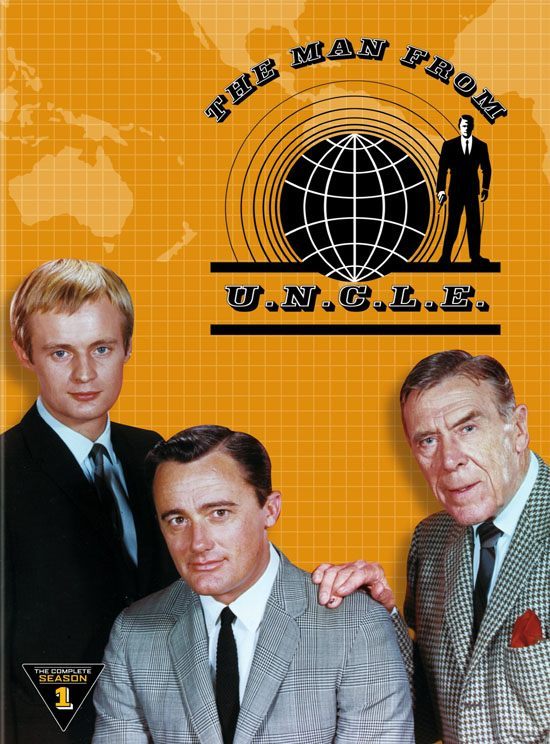 Launched in 1964, and one of countless James Bond rip-offs of its time, "The Man From U.N.C.L.E." would run for four seasons and 105 episodes on NBC. For a while, the show was such a pop culture sensation that episodes were edited together into no less than 8 feature films released all over the world. The first season contains 29 of those episodes and is the only season filmed in black and white.
The American Napoleon Solo (Robert Vaughn) and Russian Illya Kuryakin (David McCallum) are globe-trotting super agents working for U.N.C.L.E., which stands for United Network Command for Law and Enforcement. The common enemy that has brought American and Russian together at the height of the Cold War is THRUSH, a worldwide crime organization.
The formula for each episode primarily involves an exotic locale, a guest star playing an exotic THRUSH operative up to something devious, and an innocent bystander (oftentimes an attractive woman) caught in the middle. Solo and Kuryakin arrive on the scene looking an awful lot like secret agents working undercover, are eventually caught, and eventually escape to save the day.
Gadgets, girls, and guns — God bless America.
Solo is our Bond stand-in: impeccably dressed, deadly, a ladykiller and quip master. Kuryakin is every bit as capable as Solo, but as a true blue Communist and Russian patriot, he's a tad constipated.
I watched a total of 10 episodes, and it took more than half of those for me to catch on to what the excitement is all about. The sometimes clumsy action and obvious back-lots standing in for exotic foreign cities initially turned me off. The production values, stunt work and cinematography pale, for example, in comparison to "The Wild Wild West," which also opened with a black and white season.
The real appeal of "The Man From U.N.C.L.E" is Vaughn and McCallum, who are nothing short of superb in their respective roles and share a truly unique screen chemistry. Although they are two entirely different men with two entirely different worldviews, without ever getting mushy or on-the-nose, the affection Solo and Kuryakin have for one another is obvious and their West vs. East dialogue is both intelligent and hilarious.
On top of that you have some nifty gadgets and a bevy of ridiculously beautiful women who are charitable enough to turn up in every episode.
The best review I can give "The Man From U.N.C.L.E." Season One is that I am now a fan looking forward to seeing the remaining 95 episodes, and even more curious about next week's upcoming big screen version.
"The Man From U.N.C.L.E: Season "1 is available at Amazon.com.
Follow John Nolte on Twitter @NolteNC