Richard Simmons filed a libel lawsuit Monday against the National Enquirer and Radar Online over a 2016 story that claimed the reclusive fitness guru was undergoing a sex change to transition into a woman.
The suit — filed in Los Angeles Superior Court Monday — alleges that the tabloid publication relied on a former friend and associate of Simmons as the sole source for a series of stories that claimed the 68-year-old fitness star was undergoing breast implant surgery and taking hormones for a planned transition into a woman.
In the complaint, Simmons' attorneys claim the Enquirer's source for the stories, an individual named Mauro Oliveira, "has blackmailed, extorted, and stalked Mr. Simmons for several years with the intention of destroying" his career and reputation.
On June 8, the Enquirer published a cover story with the title, "Richard Simmons: He's Now A Woman!" The story purported to reveal the "real reason" the fitness star had not been seen in public for nearly three years, and claimed Simmons had undergone or was looking into obtaining a "secret boob job" and "castration surgery."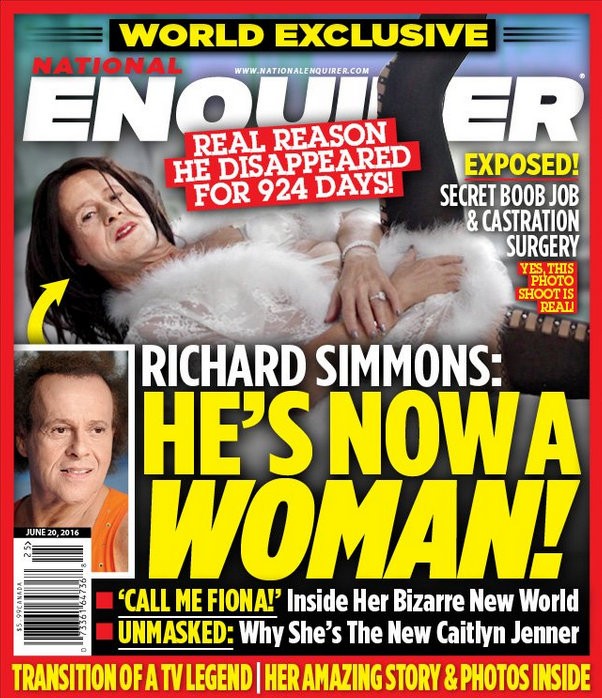 Tom Estey, a representative for Simmons, categorically denied the report in a statement to Breitbart News shortly after the publication of the story.
"The story is not true and a complete fabrication," Estey said at the time.
In the suit (seen below), Simmons said he struggled with whether to file a complaint because a libel lawsuit might insinuate that there was something inherently negative or shameful about transitioning into a woman. But ultimately he decided to file suit because, "like every person in this nation, [he] has a legal right to insist that he not be portrayed as someone he is not."
"The National Enquirer and Radar Online have cheaply and crassly commercialized and sensationalized an issue that ought to be treated with respect and sensitivity," Simmons' attorneys wrote. "Principles of freedom of speech and press may protect their prerogative to mock and degrade the LGBTQ community. But freedom to speak is not freedom to defame."
The suit claims the tabloid's headlines and articles "are flat-out false under any reasonable meaning."
"Mr. Simmons is not a woman; he has not undergone or contemplated sex-change surgery; or any surgery whatsoever to change from a man to a woman; he has not slowly transformed, or transformed in any way, into a female; he has not had breast implants; he has not had hormone treatments; he has not had medical consultations on castrations," the complaint states.
In a statement, a spokesperson for Enquirer parent company American Media, Inc. claimed the company stood by its report.
"Should he choose to proceed with his lawsuit, we will defend it vigorously, and we look forward to the public vindication of our reports," the spokesperson told the Hollywood Reporter.
Simmons is reportedly seeking unspecified damages and a retraction and apology from the outlet.
The fitness star's disappearance from public life in recent years has sparked much speculation in the media, and was the subject of a hit podcast titled Missing Richard Simmons.
Simmons libel lawsuit by gmaddaus on Scribd

Follow Daniel Nussbaum on Twitter: @dznussbaum