Kathy Griffin said in a statement Tuesday afternoon that she does not condone violence of any kind following the massive backlash generated by the release of a photograph in which she posed with the fake bloody, severed head of President Donald Trump.
The shocking photo, first posted Tuesday by TMZ, was part of a photo shoot the comedian conducted with L.A.-based artist Tyler Shields, who is known for his provocative artwork.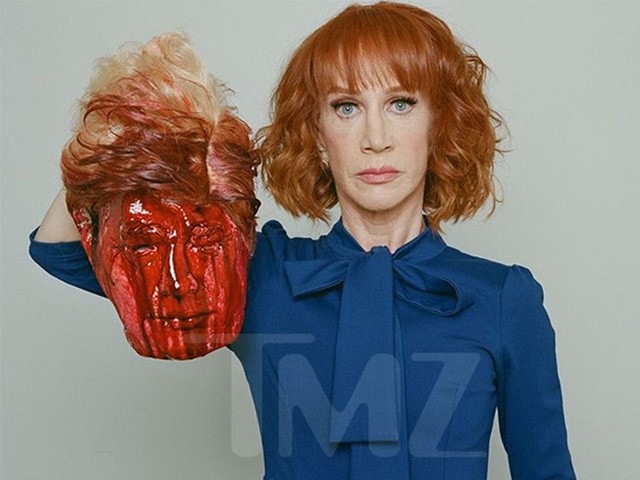 "I caption this "there was blood coming out of his eyes, blood coming out of his…wherever" Also @tylershields great Photog/film maker," the 56-year-old My Life on the D-List star wrote in a message on her Twitter account Tuesday.
"OBVIOUSLY, I do not condone ANY violence by my fans or others to anyone, ever!" she added. "I'm merely mocking the Mocker in Chief."
https://twitter.com/kathygriffin/status/869654650844098562
https://twitter.com/kathygriffin/status/869655312239697920
The photograph generated a significant uproar on social media and on Griffin's own accounts when it was posted Tuesday morning, with users flooding the comedian's Facebook page with calls to boycott her upcoming concert tour.
Representatives for CNN, where Griffin co-hosts New Year's Eve festivities with Anderson Cooper, did not immediately respond to Breitbart News' request for comment, nor did representatives for Griffin.
The Secret Service has not yet responded to Breitbart News's request for comment, but the agency's Twitter account sent out this message Tuesday afternoon:
Threats made against @SecretService protectees receive the highest priority of all of our investigations. #ProtectionNeverRests

— U.S. Secret Service (@SecretService) May 30, 2017
Follow Daniel Nussbaum on Twitter: @dznussbaum