The "negative heat" that the legacy media and Hollywood continually direct at President Donald Trump may be helping him, according to MSNBC analyst Steve Kornacki, who pointed out that Trump is "central" to all of American popular culture unlike any other president before him.
"If you look on paper, the poll numbers are terrible. But the position Donald Trump occupies not just in the media landscape but in all of culture … he is central to all … of American popular culture—he has been since before the election and he's gonna be as far out as we can see," he said on Thursday's MTP Daily. "We haven't had that with other presidents before."
He added that there is "so much negative heat coming in … from the media, from popular culture" that "it raises the question" whether those who voted for Trump in 2016 even though they had low opinions of him did so as a reaction to the media and "all of culture pushing so hard against Trump."
Kornacki, the numbers-cruncher who is one of the left-wing network's more underrated personalities, added that Trump was so successful in the 2016 GOP primary because he was not a "factional" candidate. He noted that Trump got "broad" support from various "anti-establishment" parts of the GOP coalition and not just from one narrow corner.
Like Breitbart News has noted many times, guest-host Katy Tur wondered if Trump actually has "all the right enemies."
Breitbart News recently pointed out that Axios criticized Trump for having alienated in just seven months "Mitch McConnell (voters hate Congress), Democrats (the rudderless party is having a tough time winning elections at all levels), the media (their approval ratings are at near-record lows—so why should virtue-signaling Republicans take their cues from an institution everyday Americans do not trust?), CEOs, world leaders (doesn't hurt Trump to be disliked by the "Party of Davos"), Europe, [radical] Muslims, ["salad-bowl"] Hispanics, [self-appointed leaders of] black Americans, military leaders and intelligence officials [many of whom support former President Barack Obama or the nation-building foreign policy of Allen's favored neoconservatives in the GOP establishment], his own staff [of globalists, Democrats, and establishment Republicans]."
"It turns out Trump may be alienating mostly all of the right types of groups and people," Breitbart News wrote.
Kornacki and the panel also did not discuss that these polls may be off because of strong "social desirability bias," which is something Breitbart News, unlike nearly every other media outlet, thoroughly discussed during the 2016 election and was one of the reasons why Breitbart News covered the 2016 election better than any other outlet.
Breitbart News has also pointed out how Trump's celebrity helped him during the 2016 campaign and was the reason why the Access Hollywood tape, which "would have been devastating for a conventional politician," wasn't "fatal" for Trump:
Because of his success on reality television, Trump understood how to be a politician in the reality-tv era just like Ronald Reagan's past as an actor allowed Reagan, with Michael Deaver's help, to master being a candidate and president in the broadcast television era.

In addition, because Trump played everybody's favorite boardroom executive on The Apprentice, regular Americans already envisioned him as president just like 24's fictional black American president David Palmer allowed voters to see a black man as president.

…

Trump's over-the-top reality star personality may have ameliorated the fallout from his infamous Access Hollywood tape in which he talked about grabbing women by their private parts. What would have been devastating for a conventional politician wasn't fatal for Trump because the "outrageous factor" was already baked into the cake when voters were considering whether to vote for him.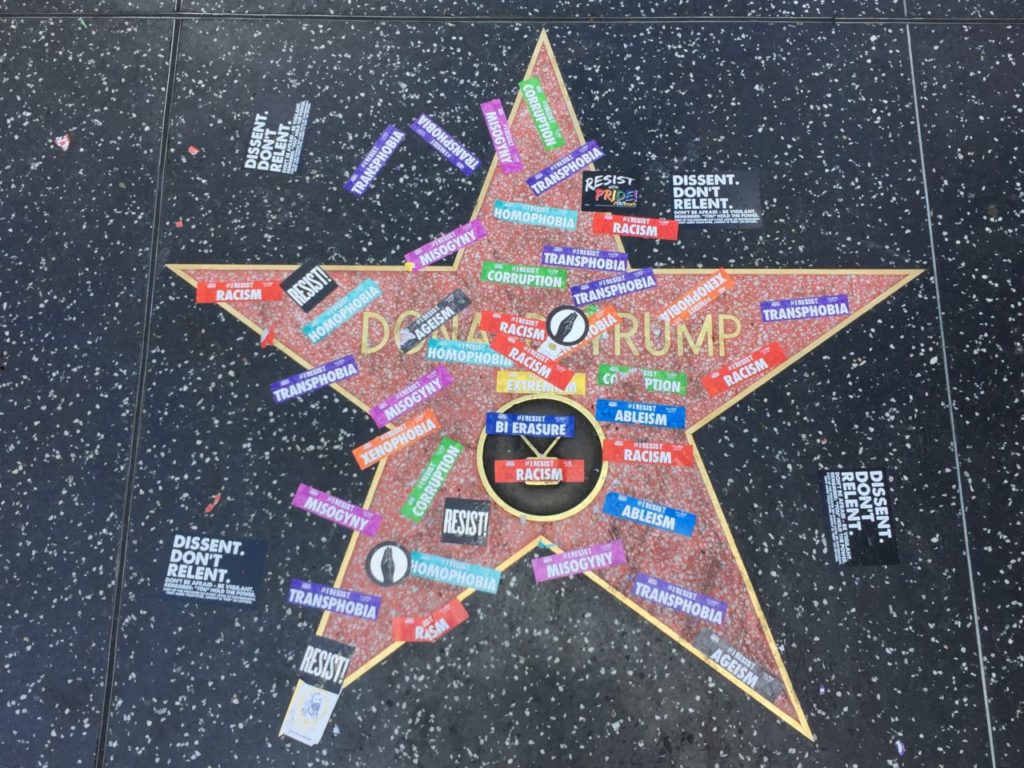 (Photo Credit: Joel Pollak/Breitbart News)