The new film is the most comprehensive attempt by the Islamic State yet to portray itself as a established, successful nation with fully functioning public services and private industry that flourishes in the face of coalition air-strikes.
Cantlie, who voluntarily returned to the Islamic State after being freed from captivity 2012 appears to have now shed all pretence at being held against his will, speaking and walking freely in cities within ISIS territory, a distinct departure from the scripted, somewhat stilted earlier videos. In the film he describes in bucolic terms the thriving agriculture sector within the Islamic State: "tilled land stretches as far as the eye can see, sewn not to feed just the people of Halab [A city in the Islamic State], but also it's thriving economy.
"Grain silos are packed to the rafters with wheat reserves which are then bagged and delivered, at bottom-low prices. Livestock leisurely graze on the lush-green grass, a beautiful beginning to a delicious end here in Halab's vibrant and colourful market".
After spotting what Cantlie claims is an American drone hovering over the city, the film cuts to the scene of what he describes as a market place just bombed by Syrian aircraft. This too is used as an opportunity to emphasise the advanced state of the Islamic government there, as Cantlie speaks of the "Islamic State Fire Brigade" who can be seen working in the background, wearing modern uniforms and helmets with what appears to be a European-built fire engine.
The film is clearly aimed at people living in the Western world who might be considering emigrating to the Islamic state. Describing life for those who move to join ISIS, Cantlie speaks about the variety of leisure activities available, talking over shots of smiling men going fishing on the Euphrates and drinking tea.
Cantlie winds up the film with an interview with a French Jihadists living and fighting in the Islamic State. With an AK-47 slung over his shoulder, the 'mujahideen' speaks in fluent French about his delight at the Charlie Hebdo attacks last month, describing the terrorists who killed staff at the French left-wing satirical magazine "brothers".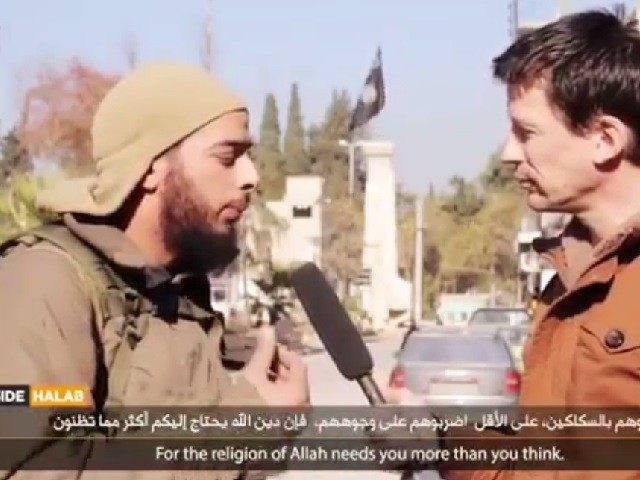 Speaking to Cantlie, the fighter said: "We heard about other brothers who did the same and carried out the attacks… and emboldened all my brothers in France, all my brothers in the West to defend their religion.
"Presently, Allah has not facilitated your hijrah [journey] to our state. No problem. Defend it where you are. Kill them with knives, at the very least strike them in the face, for the religion of Allah needs you more than you think.
"You are sitting on your sofa while Muslims are being slaughtered in every corner of the world. What will be your excuse before Allah? What will be your excuse when an orphan loses her family, and you did not get up to defend her? So I call you to either come here, or to defend your religion where you are.
"To all my brothers in France, I say to them carry out individual attacks. Be wolves on the earth, for each man can be the equivalent of an entire army. And I say to all the nations in the West that have already resolved to attack us, we have already come to strike you. We are already there to attack you. There are millions of Muslims in the West, and they are capable of inflicting mass carnage".
Cantlie's sister revealed in an interview last year that even before his capture, he often spoke to his family about matters of politics and morality and appeared to have sympathy with the Islamic State in a number of areas. Breitbart reported in October last year that Jessica Cantlie said: "He believes at least two-thirds of what he is saying, he's a very principled man".