UKIP's candidate for Rotherham, Jane Collins, has spoken out as a Pakistani-born father of five was convicted of child sex offences against girls in Peterborough, saying that although child sexual exploitation was carried out by men and women of all races, it was a bigger problem amongst British Muslim men.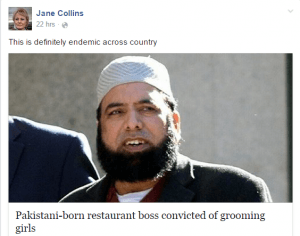 The Yorkshire woman, who won her seat in the European Parliament while receiving treatment for breast cancer, is already being targeted by the three Rotherham MPs from Labour who say she is guilty of defaming them in her speech to UKIP conference last year.
The latest to be convicted, Mohammed Khubaib, a restaurant owner, is facing a lengthy jail sentence after a jury heard how he befriended girls, some as young as 12 and then 'hooked' them with alcohol to make them more 'compliant' as he made sexual advances on them, the Daily Mail reports.
The 43-year-old married businessman used his restaurant as a 'focal point' for the grooming of under age girls, usually from a vulnerable or unsettled background.
The jury at the Old Bailey took less than a day to find him guilty of the charges, including forcing a 14 year old girl to perform a sex act on him and nine counts of trafficking for sexual exploitation involving girls aged between 12 and 15.
Cambridgeshire Police and Peterborough City Council launched a 'victim-led' inquiry after a girl came forward after being frightened by Khubaib's behaviour towards us. The girl, who was a witness in the trial, said she was targeted by him when she was just 14.
She saw him three times and although he never touched her she grew scared when he had an argument over the phone after taking her to McDonald's and decided to tell her parents. The jury were told he had a 'persistent and almost predatory interest' in teenage girls'.
The joint investigation was proactively initiated in response to the Rotherham and Rochdale child abuse cases with a police spokesman saying, "We have made great efforts to safeguard these young people, win their confidence and explore what they told us.
"As a result of the information given to us, we launched a number of investigations. A police investigation formally began in early January 2013."
So far, nine Asian men from Rochdale, Greater Manchester, were jailed for a total of 77 years for raping and abusing up to 47 girls, some as young as 13, Two years earlier, five men from Rotherham – the heart of the CSE scandal – were jailed after being found guilty of grooming girls as young as twelve.
And a  serious case review found last month that up to 373 children may have been targeted for sex by gangs of men in Oxfordshire in the last 16 years.
Ms Collins, who is an MEP for Yorkshire and the Humber, wrote on her facebook page that the problem was "endemic". She later told Breitbart London that the councils which seemed to have the biggest problems with Muslim men grooming white girls were Labour run councils.
Rotherham Council was branded 'not fit for purpose' after two reports found around 1,400 had been abused by men in the town, mainly from a Muslim background. Earlier this month, the council revoked two taxi licenses after police investigated allegations against the two men involving under age girls.