After Theresa May had pinched Nigel Farage's lines, and after the Prime Minister had delivered one of the most Blairite speeches of his career, the delegates filtered out of Conservative Party conference in Manchester, boarded their trains, and headed home, mostly to London.
And so too did the party's backdrops, lecterns, marketing materials, and excess wine. And Breitbart London just so happened to be there to snap some exclusive pictures of the wine bottles piled up outside Tory HQ on Matthew Parker Street in London.
And what we discovered was something really quite awkward and thoroughly entertaining: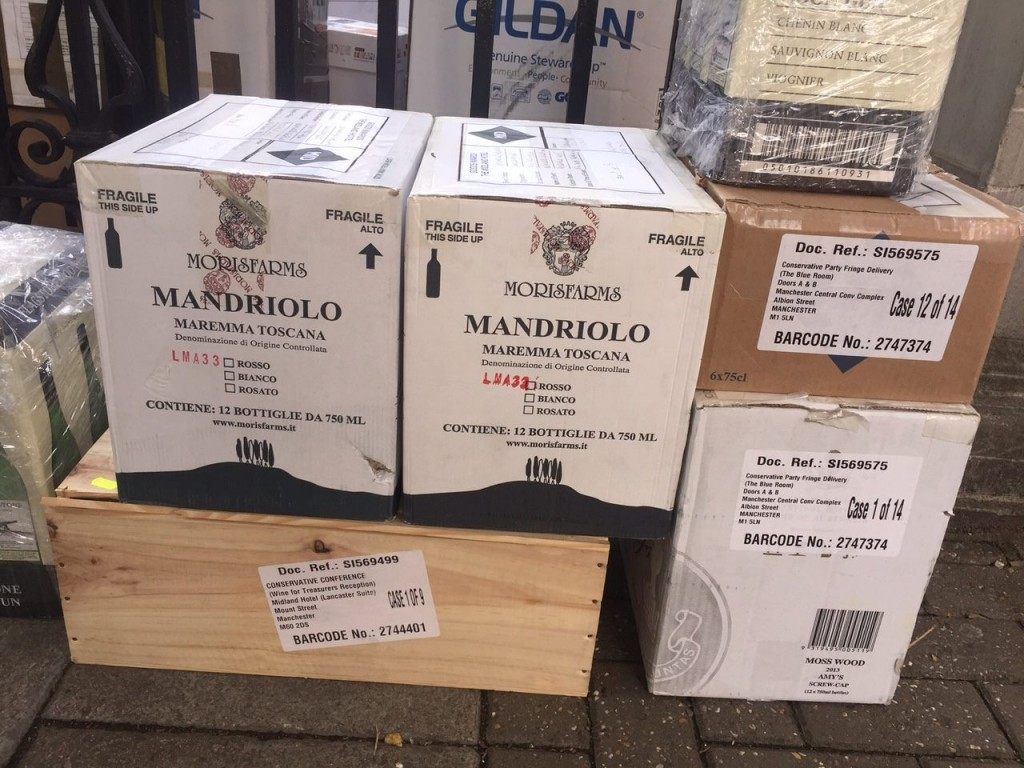 The bottles of Mandriolo Rosso plonked (geddit?) by the side of the road are from a vineyard in Italy which holds an EU flag at the bottom of its website, with the words, "A Campaign Financed According to Regulation EU 1308/13".
Maybe not a huge surprise, given that most things are now regulated by the European Union. But the legislation that applies to Moris Farms just happens to be some of the most onerous around and makes clear the provisions for EU subsidy.
One hundred and eighty four pages of EU legislation dictate how certain, geographically determined producers can promote their products, with no fewer than 419 references to wine. Some of the legislation in question includes phrases such as:
It is important to provide for support measures in the wine sector which strengthen competitive structures. While those measures should be defined and financed by the Union, it should be left to Member States to select an appropriate set of measures to meet the needs of their regional bodies, taking into account their particularities, where necessary, as well as integrate them into national support programmes. Member States should be responsible for the implementation of such programmes
No, we don't know either. How about this:
The decision to end the transitional prohibition on planting vines at Union level is justified by the attainment of the main objectives of the reform of the Union wine market organisation in 2008, in particular by the end of the long-standing structural surplus of wine production and the progressive improvement of competitiveness and market orientation of the wine sector in the Union.
Nope. We've got nothing. But what's clear is that the vineyard has special status, as designated by the European Union, and the regulation makes repeated references to subsidy from EU (including British) tax payers to assist marketing and distribution of Italian wines.
And the Tories were happily quaffing the kool-aid during the Treasurer's Reception.
A pretty good metaphor for where the Conservative Party stands on the EU as of late.