Figures released today by global polling company YouGov have confirmed what many across Europe were already begin to realise through Germany political polling: Angela Merkel's migration policies are killing her government, with the new numbers showing her government's approval rating dropping off a cliff as pro-mass migration policies begin to bite.
The -51 per cent approval rating mirrors a decline in her party – the Christian Democratic Union's – popularity, and is the lowest approval rating for the German government since September 2012.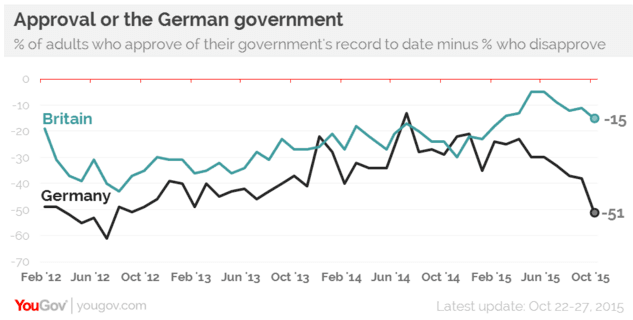 YouGov reports:
Angela Merkel's doors-open approach to the European migrant crisis may have received praise from abroad, but there are now signs of deep divisions among German conservatives – in particular, a rift has opened between the ruling CDU and the Christian Social Union (CSU), its allied sister party in Bavaria. The CSU Bavarian finance minister Markus Söder has called the political situation a "coalition crisis", "the most difficult situation since 1976". Amid political tension there is also social unrest, as attacks on accommodation for asylum seekers increase significantly and the far-right Pegida movement continues to attract support. Anti-immigration protests are on the rise.

On a monthly basis YouGov tracks opinion across seven northern European countries on government approval, the European Union and the state of the economy. In our data for October, Germany's government approval rating is at its lowest since September 2012, which makes this the lowest rating of the current parliament, elected in 2013.

At -51 Germany's government approval ranks among the lowest for the countries tracked, virtually tied with Sweden (-52), whose government is on the brink of collapse, and above only France, whose rating is persistently low.