A report published today by think tank Open Europe has found that Britain's Prime Minister, David Cameron, has a chance securing a moderate level of support for the non-controversial "demands" in his ongoing renegotiations with European leaders. 
Mr. Cameron's "demands", to be put before European Union (EU) leaders on Tuesday, have been described by UKIP leader Nigel Farage as "more like a schoolboy going to see the Headmaster". Mr. Farage told Breitbart London this morning that Mr. Cameron, "didn't ask to do this himself, he's being forced to do it".
And the Open Europe report entitled, "EU reform heat-map: Where do EU countries stand on the UK's EU reform demands?" seems to confirm the fact that Mr. Cameron can expect little support for any ideas that are more controversial that statements of intent for the EU. Real, firm changes are likely to be resisted.
His demands are expected to include:
Safeguarding the rights of non-Eurozone countries
End 'ever closer union' for all EU members
Limiting EU migrants' access to welfare
A 'red card' for national parliaments
Deepening the single market, boosting free trade and cutting red tape
The plans have been roundly mocked by anti-EU campaigners, who claim that he's demanding very little and still won't get it. Open Europe states:
"Changing the rules on EU migrants' access to benefits is likely to be the single most difficult item on David Cameron's agenda. While the UK is far from isolated, several countries are wary that the Prime Minister is looking to undermine the fundamental principle of free movement and discriminate against their citizens living in the UK. Discussions on this issue stalled somewhat due to the Polish elections, but will now resume in earnest and remain top of the agenda.
"Securing stronger safeguards for euro 'outs' is second in order of difficulty. The largest Eurozone countries – Germany, France and Italy – all agree with the principle, but the devil will be in the details. Any mechanism that comes across as standing in the way of closer Eurozone integration, or granting special protection to the UK's financial services sector, will be less likely to fly.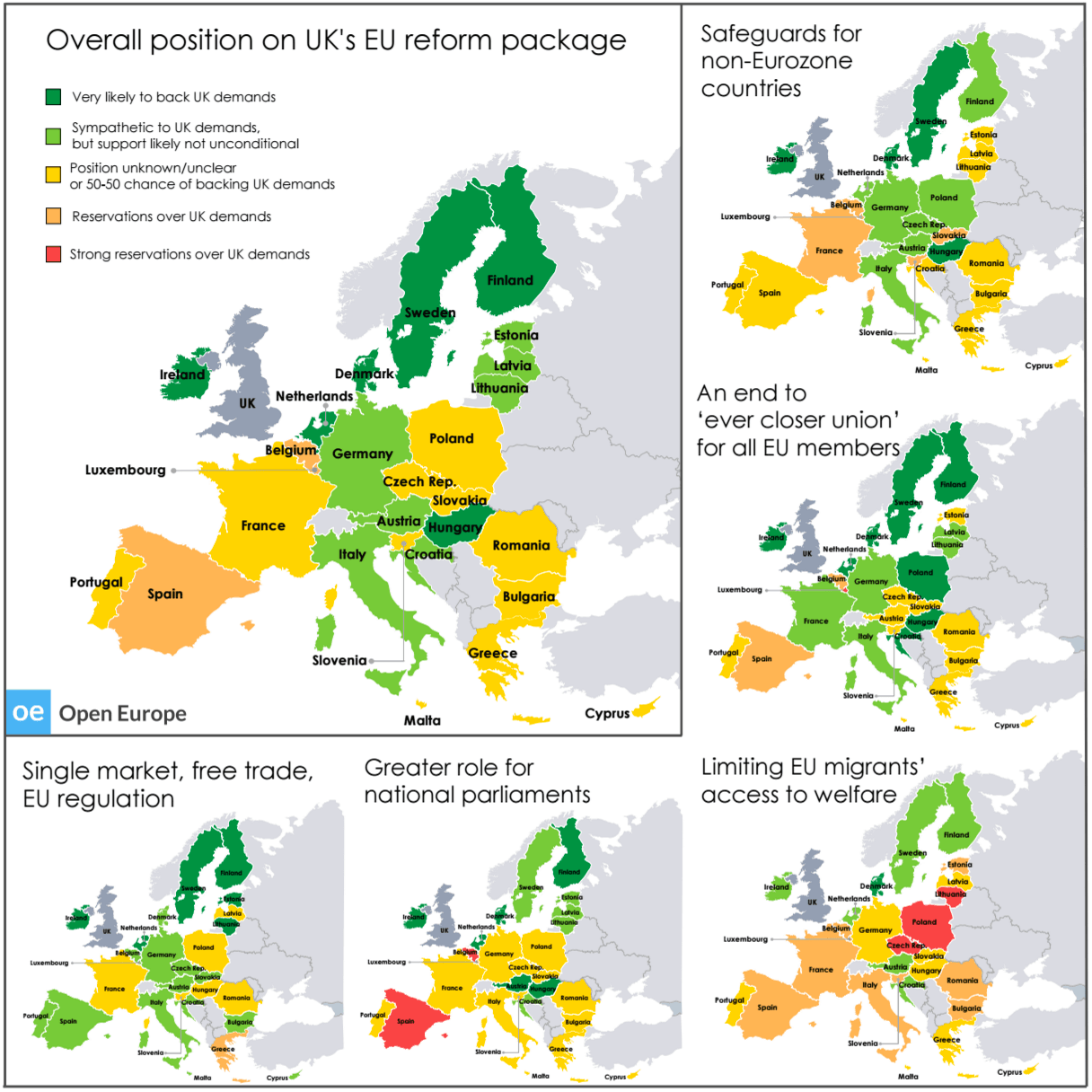 They conclude that "along with Denmark, Ireland will be the most helpful country throughout the renegotiation, as it would be the most negatively affected by a Brexit."
"The Netherlands is also broadly supportive of Cameron's EU reform agenda. However, the Dutch government remains suspicious of further integration at the Eurozone-only level and could therefore take a more cautious approach on safeguards for euro 'outs' – as it would prefer a more devolved EU but at the level of EU-28."
But Belgium, Luxembourg and Spain could be among the hardest to deal with, they claim. "These countries continue to have a particularly strong emotional attachment to European integration, and tend to view with scepticism any proposal that is perceived as going in the opposite direction to 'ever closer union'."
The organisation has produced "heat maps" (above) to show where support for the renegotiation may come from.