Migrants who arrived unannounced at an RAF base on Cyprus have been told they could be deported to their country of origin if they do not accept asylum on the island. The 115 Syrians came ashore in four boats at the RAF's Akrotiri base last month and have one week to persuade authorities why they should not be sent back to their port of departure.
The warning of forced repatriation comes after officials stressed the British base will not be allowed to become a "new migrant route" to the UK or Germany.
A government spokesman told the Daily Express: "We have said that those migrants who do not claim asylum could face removal to their place of origin.
"We have been clear with the migrants on the options open to them and they have also had advice from the UNHCR (the UN High Commissioner For Refugees)."
However, the spokesman said just 38 of the 115 migrants have handed in written applications for asylum in Cyprus.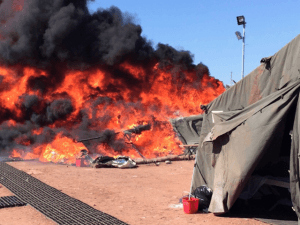 The government push for the migrants to announce their intentions comes after violence on the island last week. As Breitbart London reported, the arrivals staged a series of dramatic protests, demanding to go to Germany or the UK. The 'refugees' burnt their tents (picture right), self-harmed and threatened to kill themselves because they are being asked to claim asylum in peaceful Cyprus.
Ministers said the UK Government has an agreement with Cypriot officials to hand over the travellers after many of them fled the bloody civil war in Syria.
The Ministry of Defence has previously acknowledged the situation was "frustrating" for those who are housed at a temporary camp near the Dhekelia military base.
A series of disturbances have been reported recently as they wait for decisions on their status.
Mobile phone footage purportedly filmed inside the camp (see below) showed a man apparently trying to hang himself, another being given treatment after an act of self-harm, and protesters claiming "we are people, not animals".
Last month the UN waded into the discussions between Cyprus and the UK over who should be responsible for migrants, telling Britain they should shoulder the cost.
However, the British are insisting on adherence to a 2004 agreement between the two countries, which stipulates that asylum seekers that come to the base from Cyprus should claim asylum on the island or return to their country of origin.
Follow Simon Kent on Twitter:

Follow @SunSimonKent

or e-mail to: skent@breitbart.com