"Do not feed the migrants, or more will come". The words of a Belgian governor who is worried his region may be the next destination for massive numbers of migrants.
It's a phrase that reminds someone of ducks or geese in a public park, but for the Governor of West Flanders – Carl Decaluwé – the reality is far less pleasant. Having observed the so called "refugee helpers" in Calais and Dunkirk, he has warned Belgians not to follow in their actions by bringing food to migrant camps.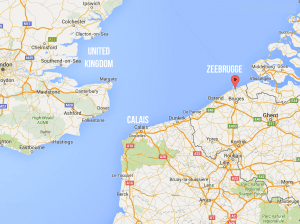 He told the people of Zeebrugge over the radio that he was not interested in seeing similar "jungles" popping up in his towns, noting that migrants may get the false sense that conditions may be easier there rather than where they currently reside.
Belgian newspaper Het Laaste Nieuws has ridiculed the Governor for his comments, claiming that it is fortunate he has been counterproductive and that volunteers had given hot meals to at least 35 migrants.
But the governor has every right to be worried about jungles forming outside Zeebrugge, if Calais is any indication. The migrant camps bring with them high levels of violence, drugs and sexual assaults. It has been reported by Breitbart London that the same kind of "helpers" that likely are delivering food in Zeebrugge are the same ones who stoke the flames of anarchy, violence, drugs and more that has made the Calais jungle something resembling hell on earth.
Zeebrugge also runs ferry lines to the United Kingdom, and if the security there is more lax, migrants may see it as an ideal place from which to smuggle themselves on board ships heading to Britain.
While according to Belgian media there are only a few dozen migrants at most around the port and in front of a local church, the worry remains that Zeebrugge could quickly transform into a new Calais. The Belgian minister of the interior Jan Jambon said last month, "I will not tolerate settled tent camps like in Calais at Zeebrugge."
Belgian non-governmental organisation (NGO) Coordination of Initiatives for Refugees and Foreigners (CIRE) replied to the governor saying, "migrants do not want another Calais," and echoed the ideas of other organisations like the infamous "No borders" group when they said, "the best way to avoid jungles is to allow migrants to travel safely and legally between France, Belgium and Britain."
They didn't state whether this might lead to jungles forming in Britain, or who should pay for the housing of the migrants, merely that they should be allowed to choose wherever they want to go.