Allegations of bullying are swirling around the 'Young Labour' party conference taking place this weekend, after an activist accused a Unite union boss of intimidation.
Fellow activists, political pundits and Members of Parliament have been moved to respond to accusations of bullying and intimidation at the Young Labour 2016 conference.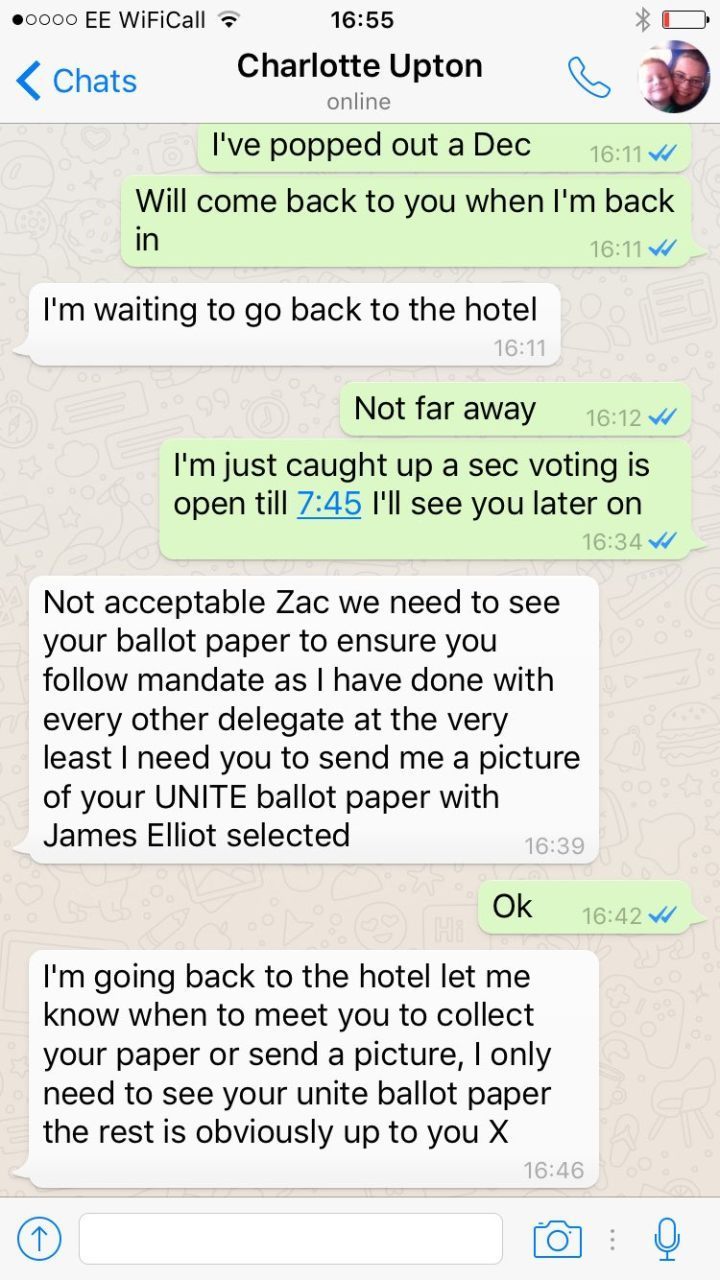 Accounting student and Welsh Young Labour committee member Zac Harvey tweeted a screenshot of what purports to be a WhatsApp messaging conversation he had with Unite Young Members vice chair Charlotte Upton, a 24 year old shop steward from Scunthorpe.
Responding to Mr. Harvey's message stating he was in no hurry to vote in a ballot at the conference , Ms. Upton apparently responded:
"Not acceptable Zac we need to see your ballot paper to ensure you follow mandate as I have done with every other delegate at the very least I need you to send me a picutre of your UNITE ballot paper with James Elliot Selected".
Accompanying the mobile phone screenshot Mr. Harvey stated he was "really upset" to have been intimidated in this fashion.
A fellow conference-goer, Jade Botterill, later tweeted that the young man was forced to hide in his hotel room until friends could go and pick him up because he felt "unsafe", that she had left the conference early because of the intimidation, and that she and her friends had been called "Blairite nonces".
This whole weekend has been awful – last night I was told all my friends were 'blarite nonces' #YL16

— Jade (@JadeBotterill) February 27, 2016
And now there are people intimidating candidates, following them into toilets, threatening them! Absolutely vile #YL16

— Jade (@JadeBotterill) February 27, 2016
The Young Labour candidate being pushed by the shop steward, James Elliot, is one of the Oxford Labour figures named in the recent anti-Semitism scandal at the university.
The Daily Telegraph has reported accusations that an internal investigation into the 22-year-old candidate and a 25-year-old colleague was withheld by the Labour party to protect the pair in the run up to the Youth elections. The paper described Mr. Elliot as "Jeremy Corbyn's favoured candidate" for the ballot.
Factionalism and bitter-infighting have clearly become rife among the Young Labour movement, with a former member of the Labour National Executive Committee even being moved to pen a Times Red Box article this morning defending the organisation and calling for an end to the "reflected that divisive atmosphere" caused by divisions between old new Labour (Blairite) and new old Labour (Corbynista) factions within the party.
I have lots of volunteers & activists who are young labour & labour students. I will kick off momma style if they come back from #YL16 upset

— Jess Phillips (@jessphillips) February 27, 2016
"Both sides are claiming foul play. The truth is this: no member should feel intimidated or unsafe at a Young Labour event", remarked the author.
The matter has apparently been referred to Jeremy Corbyn himself.
Follow Oliver Lane on Twitter:

Follow @Oliver_Lane

or e-mail to: olane@breitbart.com