Glasgow Police have threatened social media users, ordering them to be "kind" and not "hurtful" unless they want to "receive a visit… this weekend".
Think before you post or you may receive a visit from us this weekend. Use the internet safely. #thinkbeforeyoupost pic.twitter.com/xNiDMf3jPA

— GreaterGlasgPolice (@GreaterGlasgPol) April 1, 2016
Using the witty acronym 'THINK', and the hashtag #thinkbeforeyoupost, they cautioned people to consider whether something is true, hurtful, illegal, necessary or kind before sending.
Responding to the tweet, users took to their keyboards, mostly expressing ridicule at what they considered the force's ludicrously wide scope.
Picking up on the 'THINK' acronym's warning over "unnecessary" activity, one user queried what action the force will take if a tweet is thought to be "unnecessary". Another quipped that, if "unnecessary" social media activity is inadvisable, then the police force's Facebook and Twitter accounts should be shut down.
@GreaterGlasgPol What action do you take re unnecessary tweets please.

— Ian Flynn (@IFFlynn) April 1, 2016
@GreaterGlasgPol can you pass on the "is it necessary" bit to all cop social accounts and then close them all please. Tia

— Waldorf Sixpence (@WaldorfSixpence) April 1, 2016
The ominously totalitarian tone of the tweet will come as little surprise to those familiar with Scottish police who have form on the matter.
Just weeks ago columnist Katie Hopkins was investigated by the force. A Scottish nurse had been treated for Ebola and the television personality joked: "Sending us Ebola bombs in the form of sweaty Glaswegians just isn't cricket".
Police Scotland received a series of complaints and thousands of people signed an online petition calling for action to be taken over the "racist tweets". However, a spokesman later declared: "An investigation has been carried out and on this occasion no criminality has been established".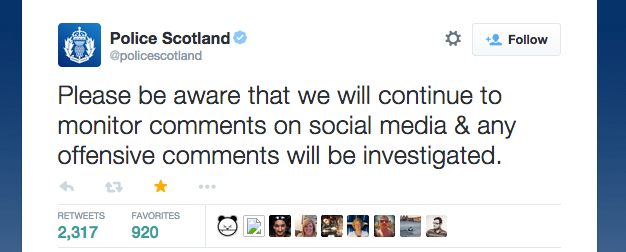 In February this year Scottish Police arrested a 41-year-old man under the Communications Act after receiving a report of a supposedly "offensive" comment made on Facebook regarding Syrian migrants.
The man was from the tiny Isle of Bute in the Firth of Clyde, which has a total population of just 6,498 and was expected to take in around 1,000 Syrian migrants. Commenting on the sudden and massive change is now all but impossible for locals.
A police spokesman was unequivocal, that any harsh criticism of the Muslim influx would not be "tolerated". Inspector Ewan Wilson from Dunoon police office told the Guardian following the arrest:
"I hope that the arrest of this individual sends a clear message that Police Scotland will not tolerate any form of activity which could incite hatred and provoke offensive comments on social media."
But the force's heavy handedness may be viewed as hypocritical, as their most recent retweet at the time of going to publish was about them failing to take any further action against an Imam who had shared approving messages about a Pakistani murderer.
Statement in relation to social media comments attributed to an Imam at Glasgow Central Mosque https://t.co/tLBgOrMKfJ

— Police Scotland (@policescotland) April 1, 2016
Imam Maulana Habib Ur Rehman (Glasgow Central Mosque) reportedly used WhatsApp to show support for Mumtaz Qadri, a murderer who was hanged after killing a Pakistani politician for opposing Islamic blasphemy laws. Mr. Rehman called Mr. Qadri a "true Muslim" because of his actions, though he latter insisted the comments were taken "out of context".
Police Scotland said it had reviewed the messages but said "no criminality has been established".
It is unclear as to whether or not sharing this article would constitute an "unnecessary" post. But it may be worth finding out.
Liam Deacon and Raheem Kassam contributed to this report