The eyewitness who insists Jo Cox's killer shouted "Britain First" before murdering the MP was on the leaked British Nationalist Party (BNP) membership and contacts list. Britain First and the BNP are known to be openly hostile toward one another.
As a result of eyewitness Clarke Rothwell's claims, the media have been quick to link the Labour MP's murder to Britain First, a hard line nationalist group. Much of the press has also linked the killing to Britain's European Union (EU) referendum, and Germany's Chancellor Merkel has claimed the Leave campaign is to blame for the murder, for using "radical" language.
Mr Rothwell, who witnessed the brutal attack on the mother of two, told BBC Newsnight: "The words I heard [Cox's attacker] say were Britain first, or put Britain first,
"I can't say exactly what it was but definitely Britain first is what he said, what he was shouting. He shouted it at least twice."
Gas fitter Mr Rothwell, who was working near to the murder scene yesterday, appears on the leaked BNP membership and contacts list. Britain First was founded as a splinter group of the now effectively defunct, far right BNP and there is known hostility between the two groups.
It appears a spat between the BNP and Britain First may be clouding Jo Cox murder. https://t.co/Iz0yVt2Xro pic.twitter.com/51eFXzZtat

— Peter Thompson (@P_G_Thompson) June 17, 2016
The gunman, named locally as Thomas Mair, has a history of mental health problems. His brother, Scott, told reporters: "My brother is not violent and is not all that political."
The original claim for the "Britain First" shout was local dry cleaner Aamir Tahir. In the following hours, however, Mr. Tahir has told other news outlets that he "wasn't there [at the scene]" and simply heard the allegation as second-hand information. Another witness, Hicham Ben Abdallah, has said that he heard no such claim.
There is no record of the last witness named in the Guardian – Graeme Howard – living in the area, though they claim he lived on Bond Street, just minutes away from the site of the murder. Breitbart London visited Bond Street – a tiny road – last night, and could not find Mr. Howard.
A sign in a shop window close to where Mrs. Cox was killed insists that "no one shouted Britain First" at any time.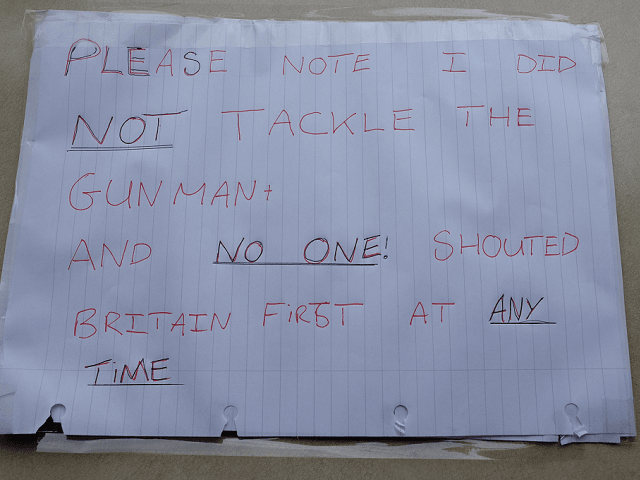 Other eyewitnesses also denied hearing it:
Eyewitness tells reporters he didn't hear anyone shout "Britain first", saying: "Never heard that". pic.twitter.com/DWhzqe7ayi

— Ben (@Jamin2g) June 16, 2016
Britain First spokesman Jayda Fransen distanced her organisation from the attacks, which she called "absolutely disgusting". She told LBC radio that Britain First have "a very strict code of conduct" and that there is "no violence tolerated at all".
"We're a registered political party and we hold legal protests. We absolutely condemn this kind of behaviour. We think it is disgusting in fact. Attacking an MP is an attack on democracy."