A former British Cabinet Member who left the government over her hatred towards the State of Israel said on Monday that those campaigning for Britain to leave the European Union are spreading lies, hate and xenophobia.
Baroness Warsi – an unelected peer who is known in Westminster as "Baroness Token" – said she was switching to the "Remain" camp.
Britons will cast their votes on Thursday in a referendum on whether to quit the 28-member bloc, a choice with far-reaching economic and political consequences for Britain and the rest of the continent.
Sayeeda Warsi, a former minister and ex co-chair of Conservative Party, accused "Leave" campaigners of wrongly suggesting that staying in the EU would lead to vast numbers of Turks and Syrian refugees coming to Britain in the near future.
"Are we prepared to tell lies, to spread hate and xenophobia just to win a campaign? For me that's a step too far," she told The Times newspaper.
"I don't want the Leave camp to be running this country and I don't want the messages coming out of that camp to form the basis of the kind of Britain that I want to live in and to bring my kids up in," she said.
But her comments were overshadowed by her own divisive statements.
Ironically, Baroness Warsi's top, "pinned" tweet is accusatory, divisive, and a somewhat bizarre allusion to criminality on behalf of other global politicians and even her own party members. Her second tweet is a claim to be above "divisive" politics.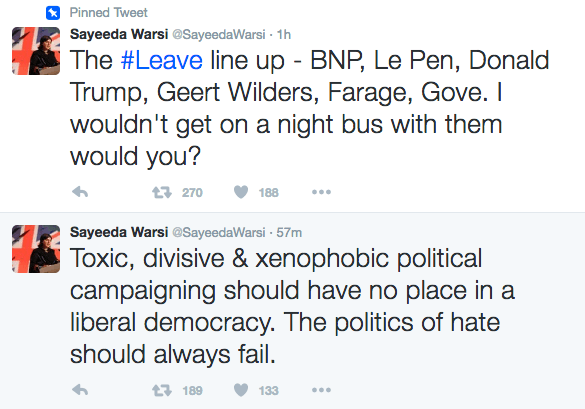 And Vote Leave, the officially designated campaign, was dismissive, with a spokesman saying they did not remember Warsi joining their campaign and were puzzled by her announcement. Warsi had not played a prominent role in the "Leave" campaign but said she had long made the case for quitting the EU.
The "Leave" camp's key argument has been that Britain would be unable to control immigration levels as long as it was in the EU, while the "Remain" campaign has focused on the economic risks a Brexit, or British exit, would pose.
Baroness Warsi has previously been linked to Hizb ut-Tahrir extremists and resigned from the British government over its position on the State of Israel.