Top advertising agencies hired by the Prime Minister's official anti-Brexit campaign have released "unapproved" posters mocking supposedly selfish older voters and "small island" Britain, as well as depicting Nigel Farage as Adolf Hitler.
The images were commissioned by Stronger In, the official campaign to keep Britain in the European Union (EU), who hired some of the country's most prestigious strategists and agencies, including Adam & Eve/DDB, M&C Saatchi, and Saatchi & Saatchi.
Although the posters were ultimately rejected and never revealed to the public during the campaign, the Goldman Sachs funded propaganda likening a man who spends his time drinking, smoking, and advocating in favour of democracy to one of the most brutal dictators in world history gives telling insight into the thinking of the people who failed to win over the British public.
It is widely thought that the Remain camp's attempt to depict more than half the nation as bigoted and nativist largely backfired, and it is likely that the posters were held back for this reason.
Despite the campaign now being over, one agency boss said he was releasing the images now because he is personally behind the Ramin campaign and wants to continue pushing its messages. Moray MacLennan, chief executive of M&C Saatchi, told Campaign Live:
"We never normally release work that we produced on behalf of a client but that hasn't run… But this time is different. We are still emotionally engaged, the issue is – and will remain – of vital importance and it might help to air some of these ideas."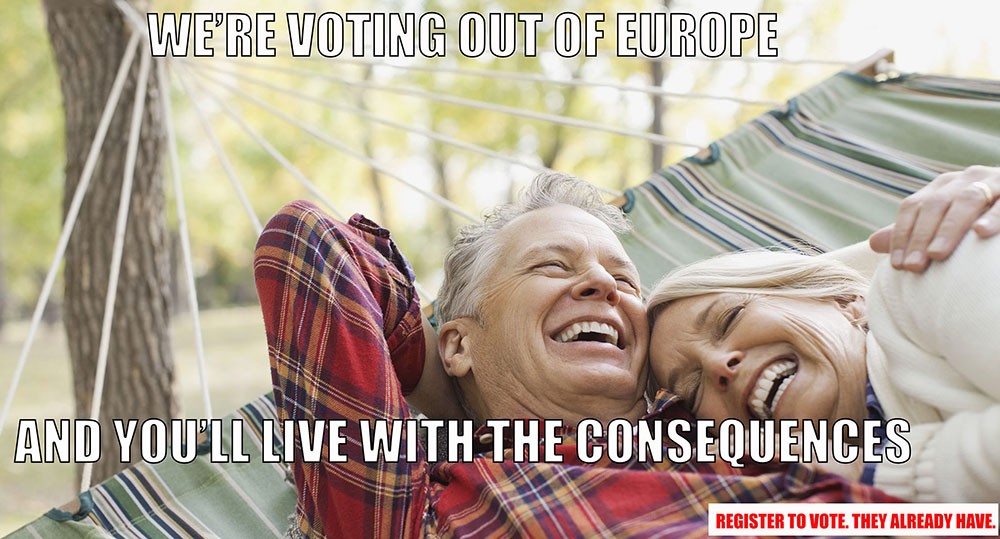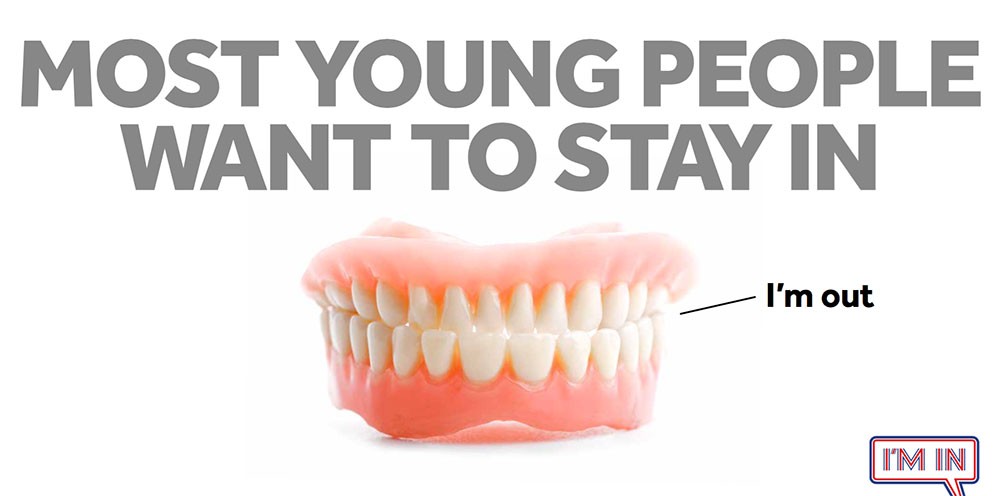 One depicts the UKIP leader with a distinctive moustache associated with the Nazi leader Adolf Hitler, a man responsible for the deaths of 85 million people.
Another depicts Britain as a shrinking nation made "smaller" by Brexit, asking if voters want to be "left alone on a small island" with various Tory and UKIP politicians.
Others picture older people laughing about making the young "live" with the "consequences" and "unemployment", as well as mocking them with images of dentures.
"The more you have to live for, the more you want to live in Europe", reads another, implying older people have fewer democratic rights because of their age – a perverse argument used by many in the Remain camp since the vote.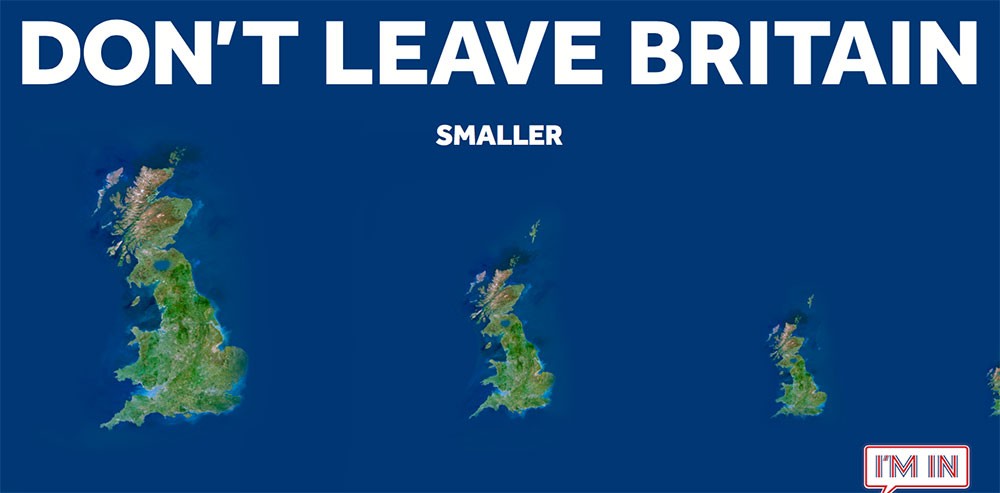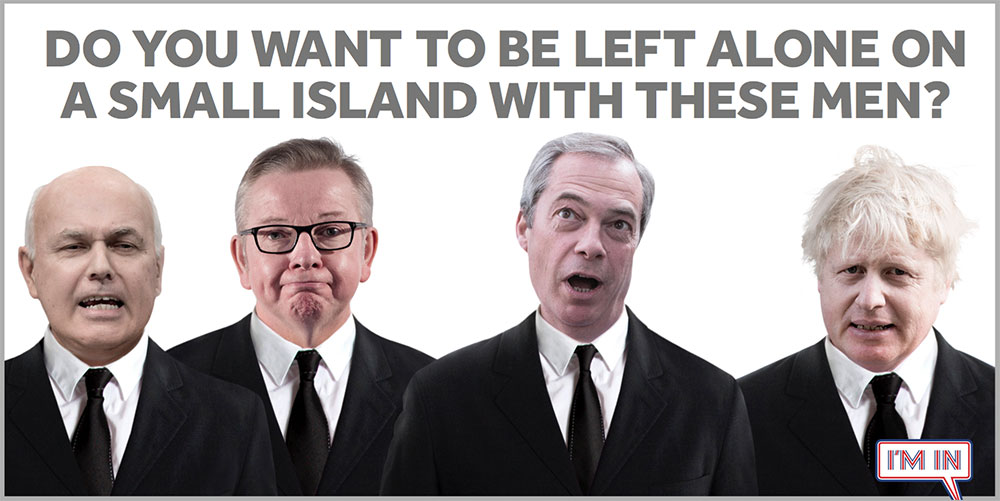 M&C Saatchi is an advertising agency who have worked for Mirror Group Newspapers and the Conservative Party, for whom they made the infamous New Labour, New Danger adverts and the image of Labour leader Ed Miliband in the pocket of the Scottish National Party's Alex Salmond.
Chief executive Mr. MacLennan revealed that, "we came up with a strategy based around 'Don't leave it, lead it' but they didn't run with it", before slamming so-called "project fear".
James Murphy, chief executive of Adam & Eve/DDB, also claimed his agency  wanted to focus on positive messaging. "But that didn't fit with the prevailing feeling in the camp that the Scottish referrendum and the general election had been won by emphasising risk", he said.
Another agency executive explained: "Some of the Stronger In task force were recently unemployed Liberal Democrat policy wonks and New Labour heavyweights who'd been sidelined by Jeremy Corbyn. They basically had nothing to do but throw themselves into interfering with the campaign."
The result, according to one creative involved, was "too many opinions. It was a complete clusterfuck", he told Campaign Live.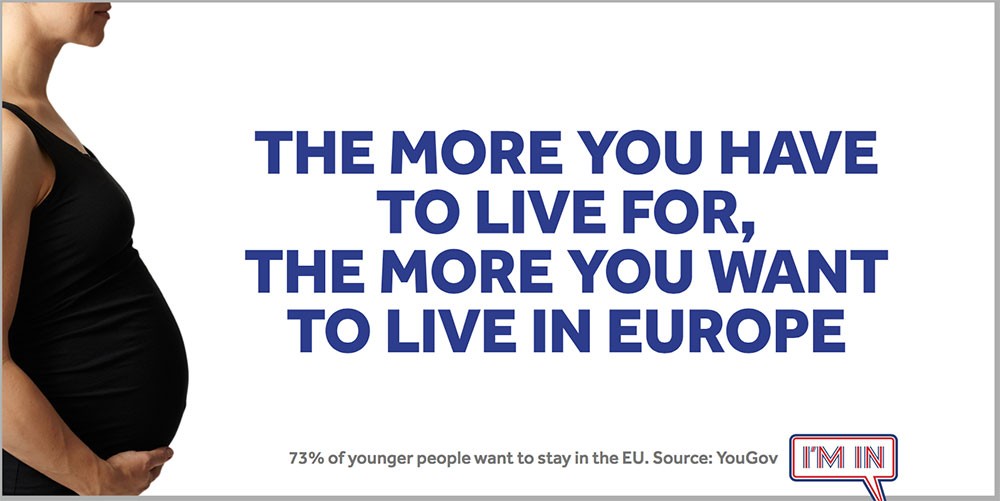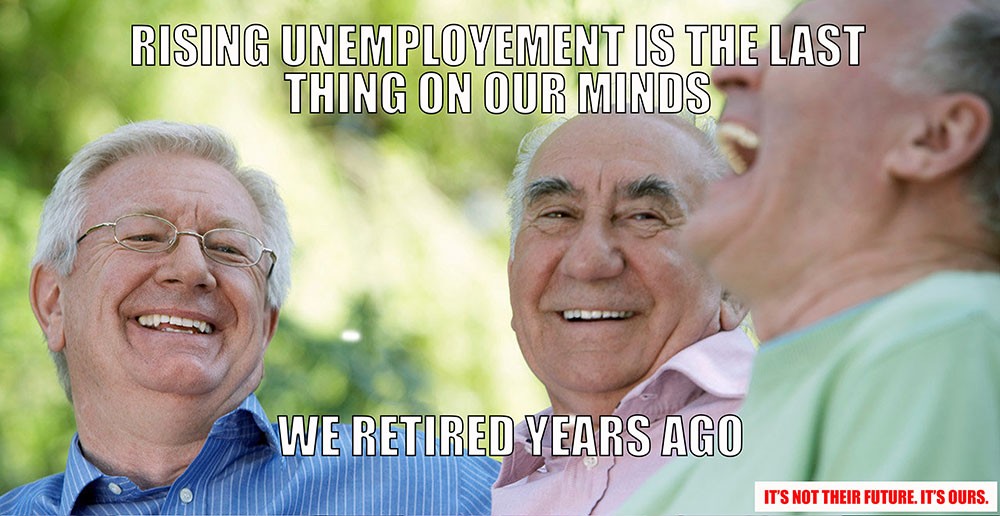 "It was like student-union politics," another to one agency chief added. "The Labour politicians were queasy about working with the Tories and the Tories were reluctant to endorse blue-on-blue bashing – so any ideas we had that involved attacking senior members of the Tory party were nuked."
One agency strategist sums it up bitterly: "It was like the worst client relationship – dealing with un-unified people who weren't really in the driving seat, not being allowed to help shape strategy, only colour in pictures. It's bad enough when a brand's fortunes are at stake; it's disastrous when it's the country's future."