A union protest outside Byron Burgers in Holborn, London, on Monday night has been described as a "huge demo" by organisers despite attracting fewer than one hundred protesters to the site. A second demonstration took place outside the Shaftesbury Avenue branch in central London on Tuesday evening.
The demonstration was organised to protest the detention last week of 35 illegal immigrants from Albania, Brazil, Mexico, Nepal, and Egypt, who had been working in branches of the upmarket burger restaurant across London. Twenty-five of those arrested have already been deported by the Home Office.
Gathering under the banner: "SHAME on BYRON – No one is Illegal", the protest was co-hosted by "the Unite Hotel and Restaurant Workers Branches, the United Voices of the World Union, London Latinxs, Black Dissidents, London IWW [Industrial Workers of the World], Lesbians and Gays Support the Migrants, South London Solfed, War On Want and Global Justice Now", among others.
But although more than 1,300 people indicated on Facebook that they would be going and a further 2,200 that they were interested in attending, in the end fewer than 100 people actually showed up.
Both the Holborn and Shaftesbury branches were closed earlier this week due to activists releasing cockroaches and locusts within the restaurant during a separate protest. The police had further barricaded the area around the restaurant criminal damage, leaving protesters shouting at a police line.
Those who did attend therefore contented themselves with waving banners and chanting the usual slogans – "no borders, no nations", and "no-one is illegal" for around two hours before drifting away.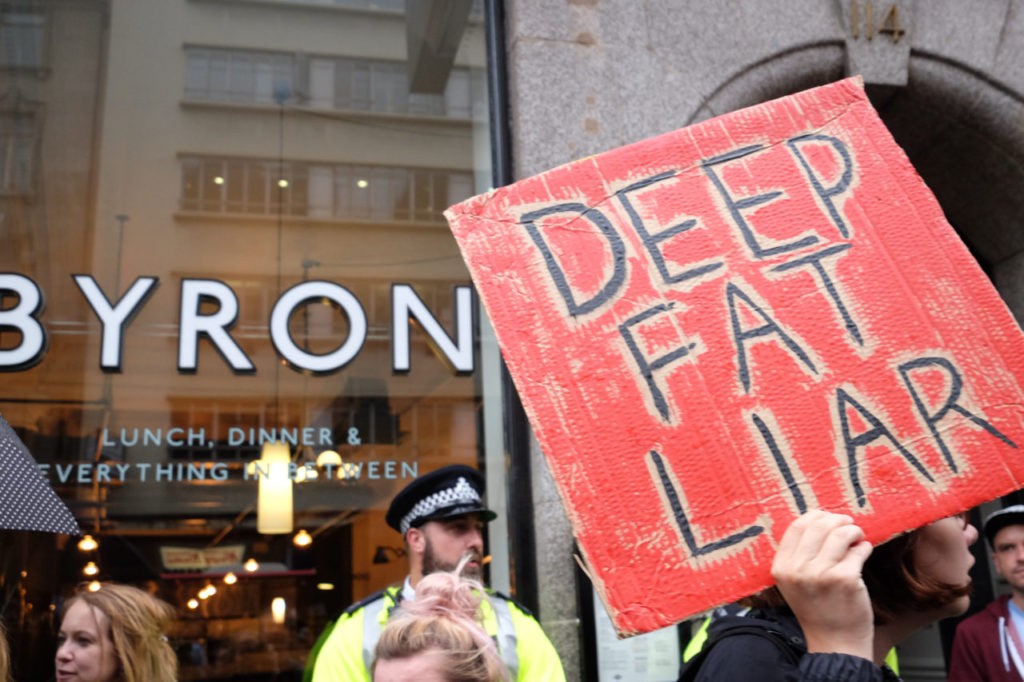 Protesters were particularly angered by reports that Byron's management was complicit in the arrests, having apparently set up false staff meetings in order to lure workers. One worker told the Daily Mail that employees were asked to arrive at work two hours early for a talk on the dangers of cooking burgers medium and rare. But when they arrived immigration officials turned up with documents containing their names and pictures, and started to interview them.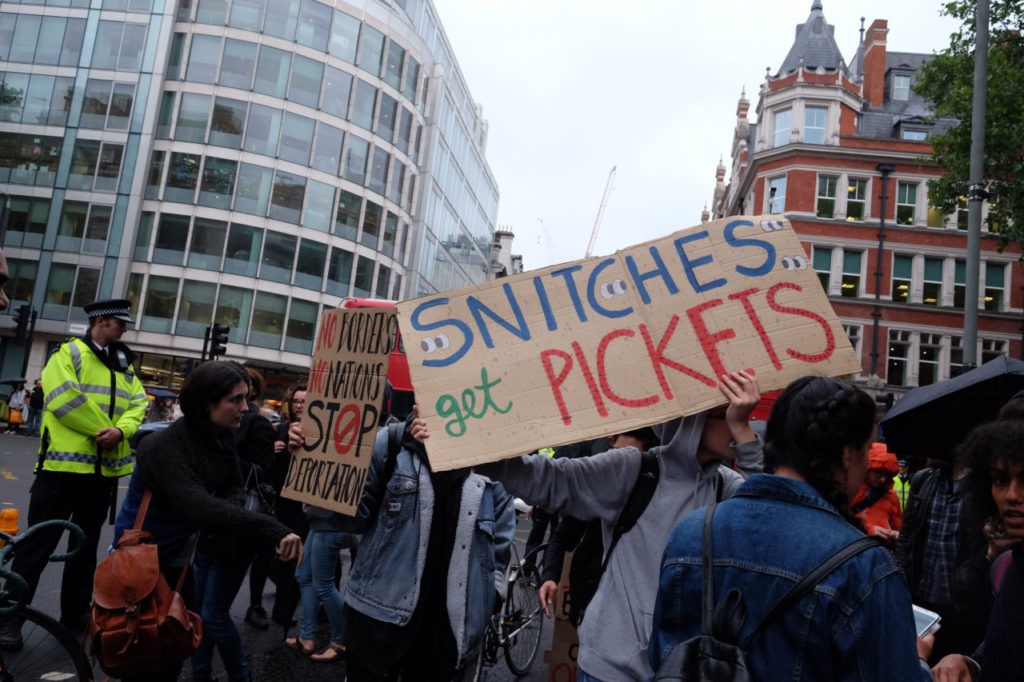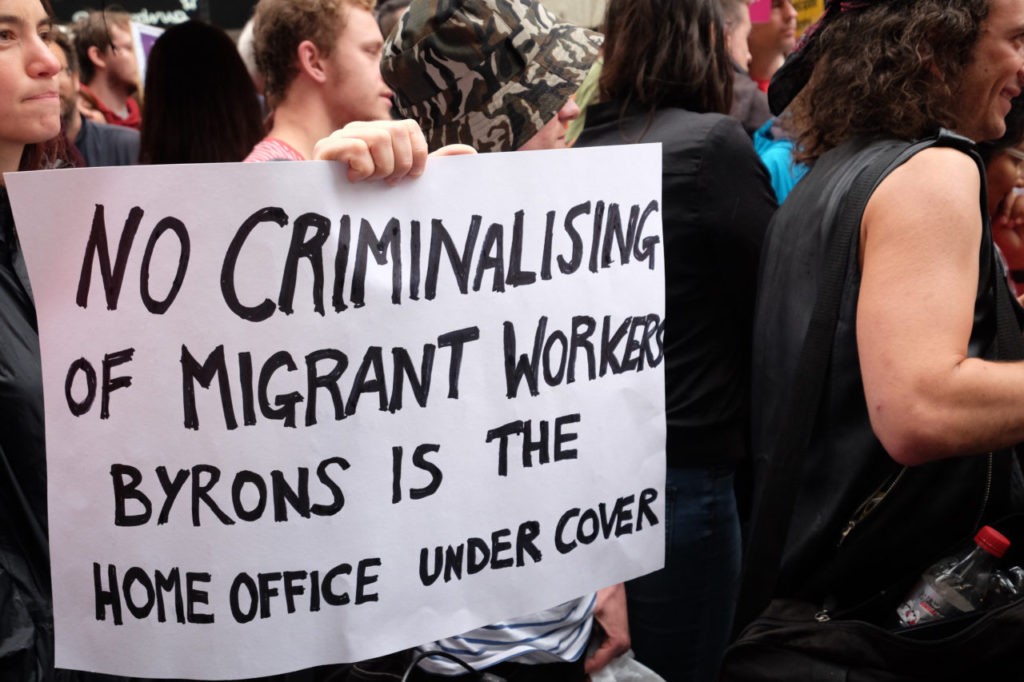 As firms face a maximum penalty of £20,000 per worker if caught hiring illegal migrants, Byron would have been in line for a potential £700,000 fine had it not complied. But pro-migration protestors have made it clear that they believe the chain acted "unethically" in co-operating with the Home Office.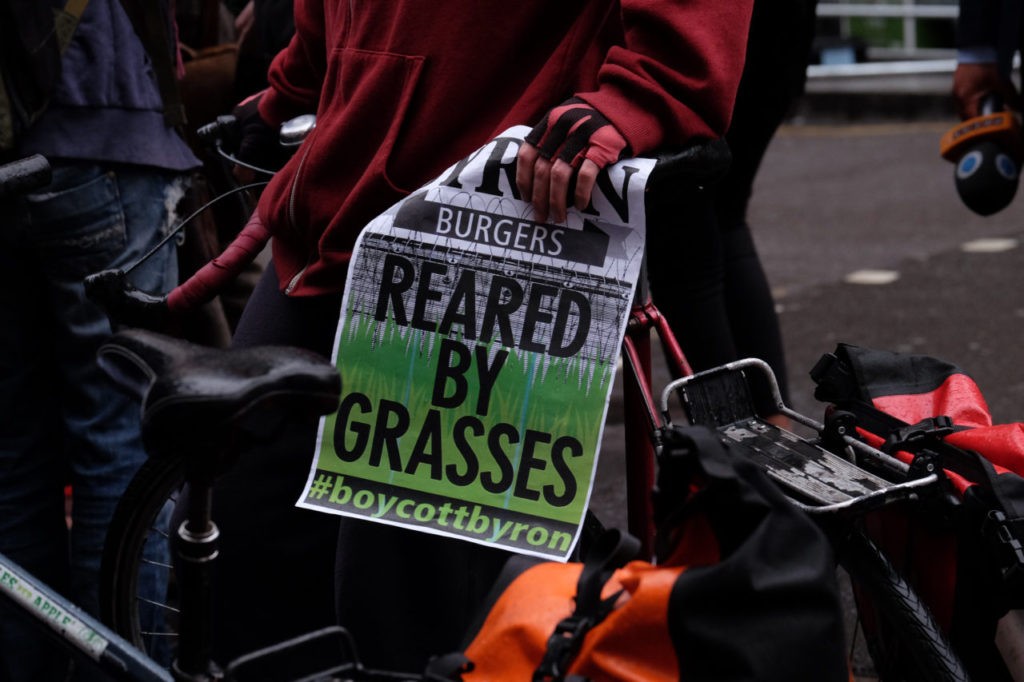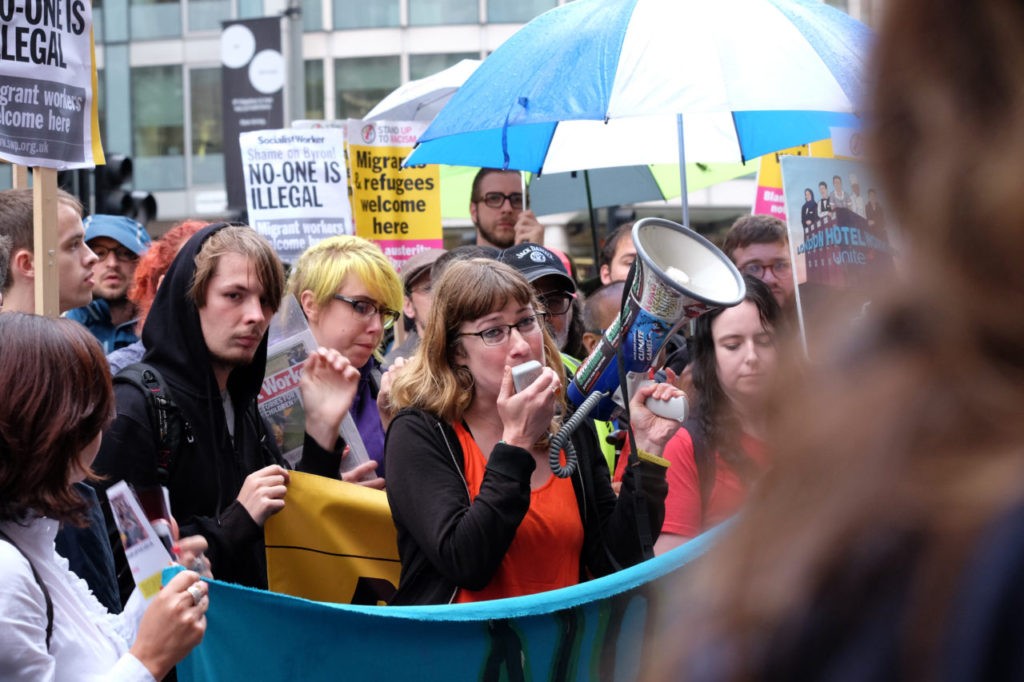 In a statement, the company said: "The Home Office recognises that Byron as an employer is fully compliant with immigration and asylum law in its employment practices, and that Byron had carried out the correct "right to work" checks on staff members, but had been shown false/counterfeit documentation."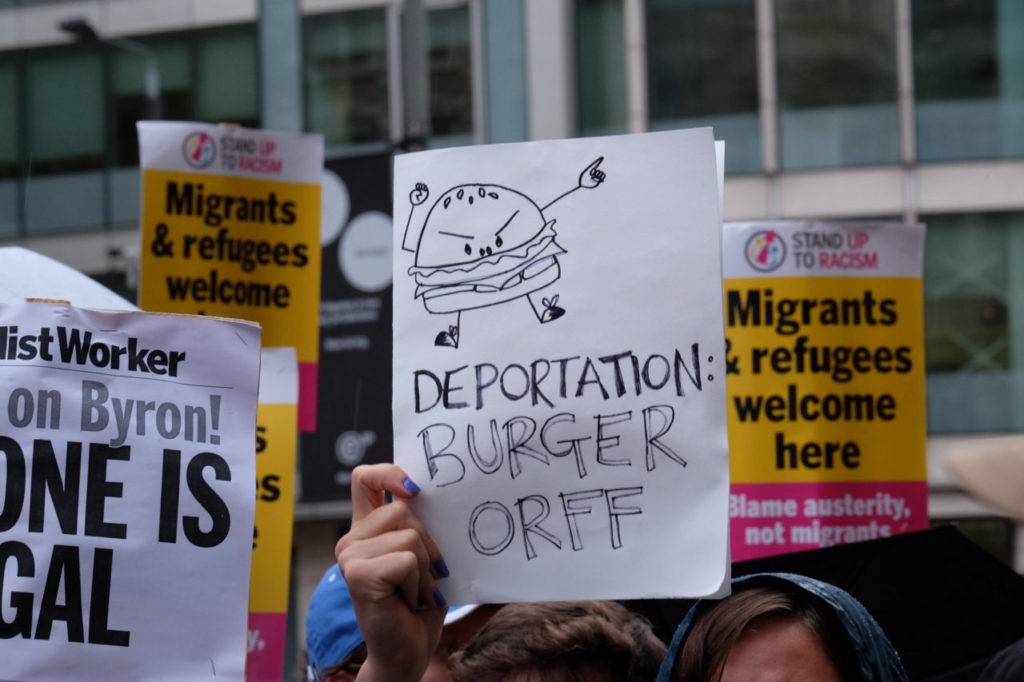 A Home Office spokesman said: "We are absolutely clear that employers who intentionally flout the law to undercut wages, cheat the taxpayer and deny legitimate workers employment opportunities will face enforcement action. Our operation was carried out with the full co-operation of the business … our investigations found Byron had done nothing to intentionally breach immigration law."
All pictures Rachel Megawhat / Breitbart London
Follow Donna Rachel Edmunds on Twitter:

Follow @Donna_R_E

or e-mail to: dedmunds@breitbart.com