Police are investigating "written death threats" made against staff at the satirical French magazine Charlie Hebdo, after their latest edition mocked the Burkini ban on French Rivera beaches.
The intimidation, which includes a bomb threat, comes less than two years after Islamist terrorist gunned down 12 staff because they had published cartoons of Islamic prophet Muhammad.
The magazine has refused to back down, publishing more images of Muhammed and their most recent front page which features a naked Muslim man and women running across a French beach.
The imaged is captioned, "The reform of Islam: Muslims, loosen up" or "Musulmans decoincez vous"
The issue was released on Wednesday, and quickly drew threats on the Facebook page of the publication with staff reported the matter to the police, Le Parisien reports.
"We filed a complaint with the police of the 13th [of Agust] about the Paris threats," Eric Portheault, co-shareholder of magazine, told the French paper. "It does not stop," said in reference to the threats.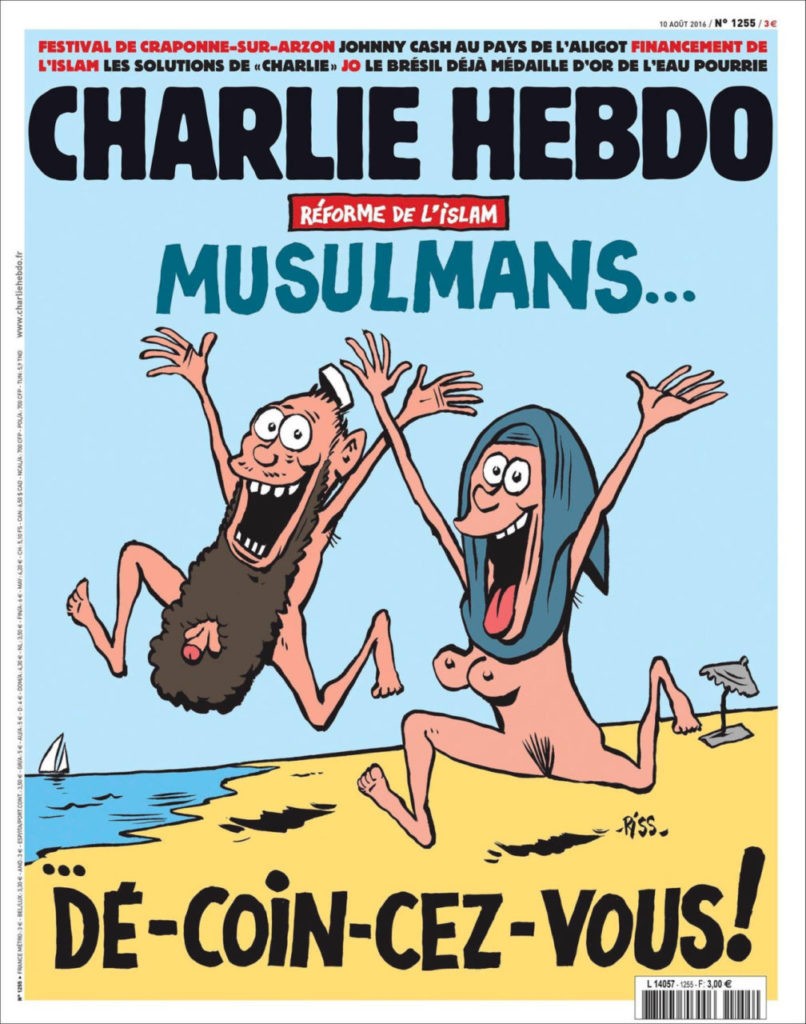 The cover is thought to mock both prudish Islamic views and the hardline stance of the mayor of Cannes, who banned the wearing of burkinis – full-body swimsuits – on the beaches of the French Riviera resort famous for its annual film festival on Thursday.
Mayor David Lisnard signed off on the ruling that "access to beaches and for swimming is banned to anyone who does not have (bathing apparel) which respects good customs and secularism," which is a founding principle of the French republic.
"Beachwear which ostentatiously displays religious affiliation, when France and places of worship are currently the target of terrorist attacks, is liable to create risks of disrupting public order (crowds, scuffles etc) which it is necessary to prevent," it says.
Thierry Migoule, head of municipal services for the town, sought to clarify the ruling's intent.
"We are not talking about banning the wearing of religious symbols on the beach … but ostentatious clothing which refers to an allegiance to terrorist movements which are at war with us," he said.
(AFP contributed to this report)