The left-wing extremist Antifa group plan to march from Vienna's busiest shopping district to the anti-mass migration Freedom Party (FPÖ) headquarters and "visit" several right-wing fraternities along the way.
The march, dubbed, "F*ck Hofer" is set for Saturday, the day before the Austrian presidential election that sees FPÖ candidate Norbert Hofer square off against ex-Green party leader Alexander Van der Bellen. The Antifa group say that they will march from the Mariahilfestrasse shopping district to the headquarters of the FPÖ hitting several "targets" along the way, reports Kronen Zeitung.
Aside from the FPÖ headquarters the extremists plan to "visit" several right-wing fraternities in the Josefstadt district known as the Burschenshaft. These fencing fraternities, which were formed by students who resisted Napoleon and played a large role in the 1848 revolutions,  are linked to the FPÖ as Norbert Hofer himself is a member of the Marko-Germania fraternity.
According to posts made to the Antifa Facebook page, which also has a map of the route the extremists plan to take, the protest will start at 2:00pm at a memorial for a Nigerian failed asylum seeker who died during deportation to Bulgaria in 1999. The group's members have declared that Mr. Hofer as president would "make a mockery of concentration camp victims".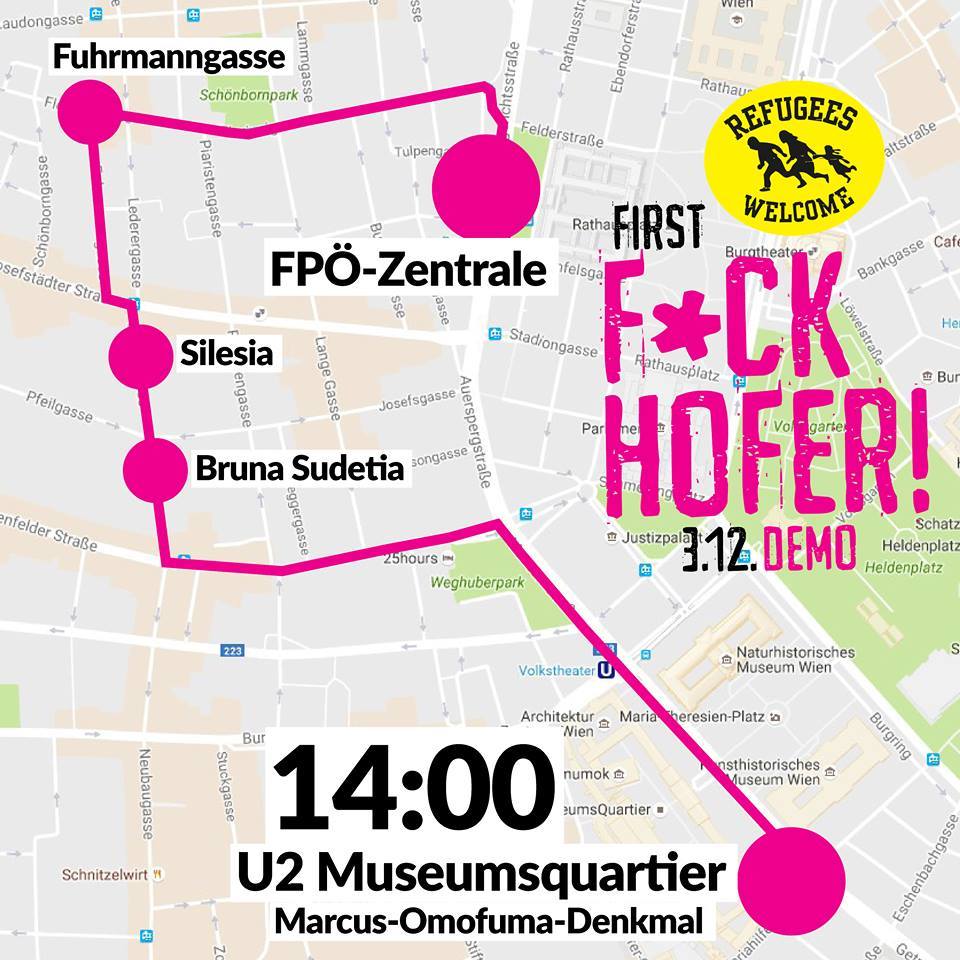 Over 200 people on Facebook have indicated that they will be present at the march and a further 800 have expressed interest in the event, but the comments have not all been positive. Some have said that the march will only drive more voters to Hofer and that a pro-Van der Bellen march would have been a better idea. "What exactly is the purpose of this demo one day before the election?" one user wrote.
Mr. Van der Bellen has attempted to distance himself from the left-wing extremists, who annually attack police at the FPÖ-sponsored Academy Ball and who more recently put a member of the hipster-right Identitarian movement in a coma after they threw bricks off a roof into a crowd during a protest.
In neighbouring Germany the Antifa, which is short for Anti-Fascist Action, movement is even more violent and police there are concerned about the growing number of crimes committed by left-wing extremists. The German branch of the extremist movement has targeted politicians of the anti-mass migration Alternative for Germany (AfD) party after releasing members' home addresses on one of their affiliated websites.
Several members of the AfD have been attacked physically by members of the extremist group and have also been the victims of property damage including having their cars set on fire.
Follow Chris Tomlinson on Twitter at @TomlinsonCJ or email at ctomlinson@breitbart.com