Leading European newspapers have reacted with incredulity to Prime Minister Theresa May's European Union (EU) speech on Tuesday, where she insisted the UK will take back control of its borders and laws after Brexit.
The speech featured prominently on front pages across the continent, with editors displaying shock and some choosing to criticise and even ridicule the decision of the British electorate that Mrs. May is now promising to implement.
German national daily Die Welt ran the headline, "Little Britain", claiming Mrs. May is "leading Great Britain into isolation" with her plan to leave the protectionist bloc and trade with the world.
What the Germans know about nation statehood can be placed into two categories:

1) Genocide
2 Suicide pic.twitter.com/uAudPN6cIh

— Raheem Kassam (@RaheemKassam) January 17, 2017
Denmark's leading broadsheet also featured Mrs. May's speech on its front, reading:  "Brits slam the door hard on EU".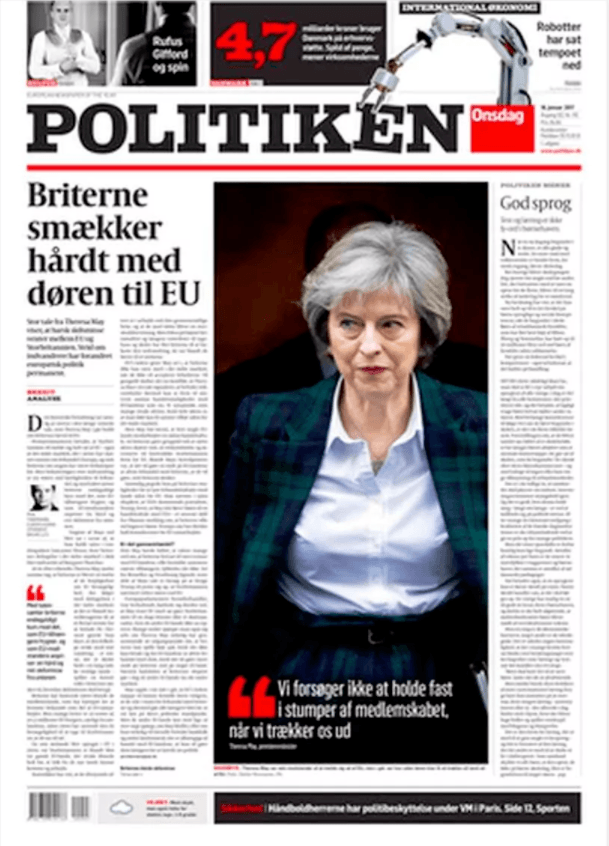 Italian daily La Repubblica led with a headline echoing the words of U.S. President-Elect Donald Trump: "Brexit, London gets its wall, 'away from the EU and the common market'".
Brexit, Londra alza il suo muro "Via da Ue e mercato comune" – La prima pagina di Repubblica di oggi https://t.co/LZaZp2FObT pic.twitter.com/5RPvoMOaFC

— la Repubblica (@repubblica) January 18, 2017
France's Liberation was more introspective about EU's predicament, suggesting that with Brexit and President-Elect Trump, Europe was facing a "sink or swim" moment.
Bonjour, voici la une du journal de ce mercredi ! pic.twitter.com/qHpZMnJZY1

— Libération (@libe) January 18, 2017
The Irish Independent quoted the notoriously anti-British EU Brexit negotiator Guy Verhofstadt, who claimed that Mrs. May was promising "an illusion".
Good morning – here is the front page of today's Irish Independent pic.twitter.com/XmuH7c5P9k

— Independent.ie (@Independent_ie) January 18, 2017
Mr. Verhofstadt said yesterday: "I think it creates an illusion that you can go out of the single market and the customs union and you can cherry pick and still have a number of advantages.
"I think this will not happen. We shall never accept a situation in which it is better to be outside the single market than be a member of the European Union."
Yesterday, Mrs. May confirmed the UK would be leaving the Single Market, after EU leaders refused to budge on the principle of open borders, but insisted she would be seeking the "greatest possible access" to it.
However, the prime minister also indicated she would be prepared to retain some sort of "associate membership" of the EU's Customs Union, possibly limiting the UK's ability to seal international trade agreements fully independently.
"We seek a new and equal partnership – between an independent, self-governing, global Britain and our friends and allies in the EU. Not partial membership of the European Union, associate membership of the European Union, or anything that leaves us half-in, half-out," Mrs. May said.
She also praised the EU, and said the Brexit vote did not "herald" a "greater unravelling of the EU" and insisted she "did not want that to happen" and wished for the EU to "succeed".