AFP — The Austrian of Egyptian origin who was shot dead over the weekend after attacking a soldier with a knife outside the Iranian ambassador's residence in Vienna had Islamist sympathies, authorities said Tuesday.
Preliminary indications suggest that the 26-year-old man "clearly had sympathies with political Islam", Michaela Kardeis, head of public security, told a news conference in Vienna.
Material seized at his home and his social media activities would be further analysed in the coming days, Kardeis said, but for now there were no more details about his background or possible motives.
The defence ministry said meanwhile that during his Austrian military service in 2012 the man was registered as a devout Muslim, giving him the right to pray five times a day and grow a beard.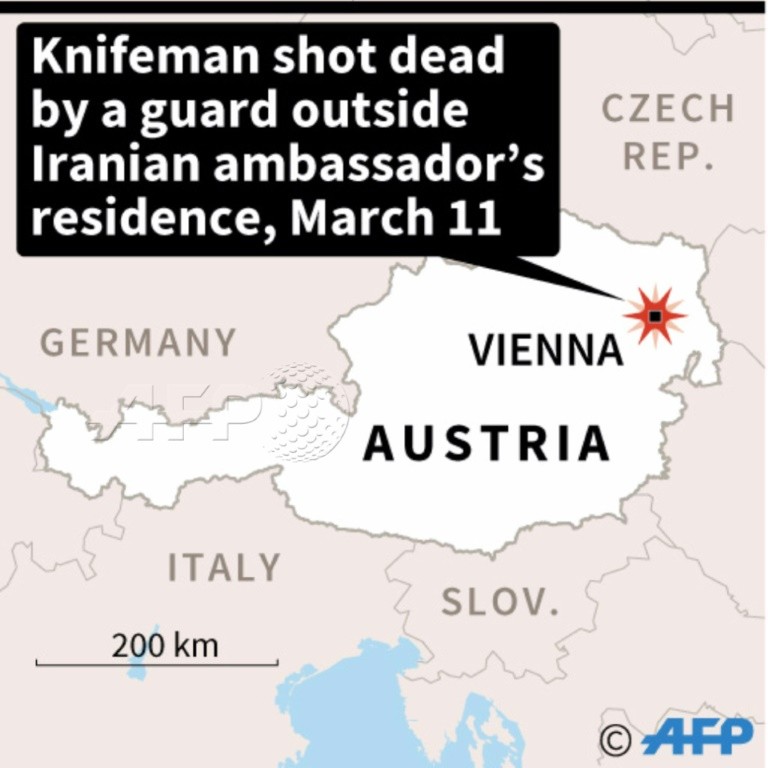 The Kurier newspaper reported that the man, who lived with his parents in a working-class area of Vienna, followed on Facebook the German Salafist preacher Pierre Vogel.
In addition the Vienna-born man was a fan of a Facebook group that agitated for the "release of Sunni prisoners in Iran", Kurier reported.
Police said on Monday that he may also have had mental health problems.
– Four shots –
The man named by police as Mohamed E. attacked the soldier outside the Iranian envoy's residence just before midnight (2300 GMT) on Sunday, stabbing him several times as they wrestled on the ground.
The soldier tried to use pepper spray to immobilise his attacker but later used his gun, firing at least four shots and killing the attacker at the scene, according to police.
The soldier escaped relatively unscathed with a wound to his upper arm. He was also suffering from shock.
Police have ordered reinforcements around all diplomatic missions in the city.
Iran is one of the main international backers of the Syrian regime, and has sent military advisers and thousands of "volunteers" to battle Islamic State extremists in both Syria and Iraq.
Last June, IS claimed responsibility for two attacks on Iran's parliament and the shrine of revolutionary leader Ayatollah Ruhollah Khomeini that killed 17 people and wounded dozens.
Iran has since tracked down and killed several suspected jihadists, and over the past few months authorities have announced the arrest of dozens of IS suspects in several regions.
Austria has been spared the spate of Islamist extremist attacks suffered in recent years by other European countries like France, Belgium, Germany and Britain.
However the small and wealthy EU member — outside the NATO military alliance and officially neutral — punches above its weight when it comes to Islamic extremists.
Last year authorities said that 300 people from 8.7-million-strong Austria had travelled to Syria since the civil war there began, one of the highest numbers per capita in the European Union.
Around half of the departees are from Austria's 30,000-strong Chechen minority, one of Europe's biggest. Many also have links to western Balkans countries.