In polling released just hours before the U.S. President is due to touch down in London, 50 per cent of Britons support Donald J. Trump's UK visit going ahead.
In contrast, only 37 percent said that it should not go ahead, with the remaining 13 percent saying "don't know", according to figures collected between the 9th and 10th of July by polling firm YouGov.
However, while most of those polled still have negative personal views of the President (with 77 percent saying they had an unfavourable opinion of him), Britons' views of the visit were described as "pragmatic".
"Whilst he wouldn't be Britain's choice of US President (only 16% would have voted for him given the chance) a plurality think that the government should try to work with him (44%, vs 39% who think they shouldn't)," youGov found.
"And the vast majority of those who think the government should be working with Donald Trump support the UK visit, regardless of their own views towards him."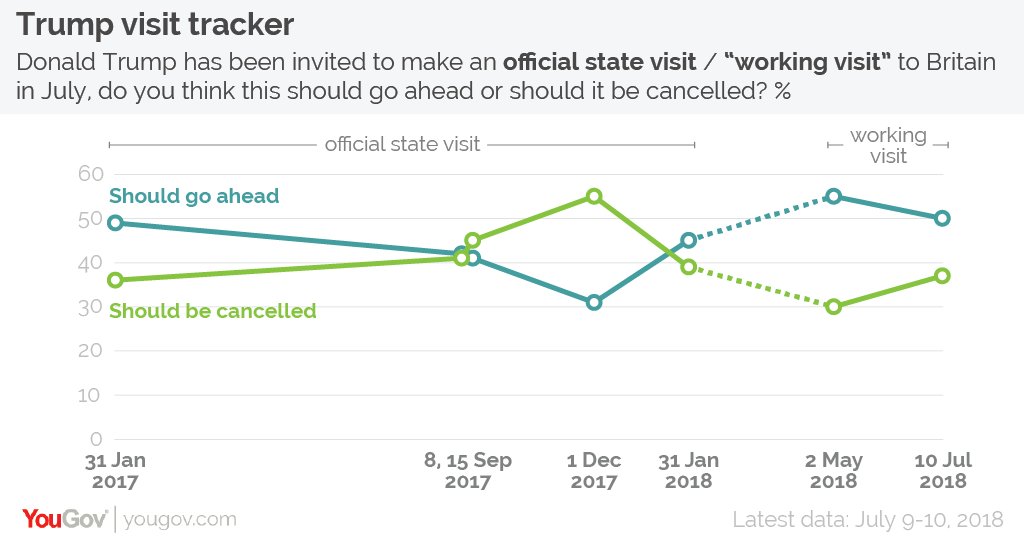 This positive working relationship with President Trump is vital for a post-Brexit trade deal — one that U.S. ambassador to the UK  Robert "Woody" Johnson warned this week was "up in the air" after Prime Minister Theresa May unveiled her vision for a 'soft' Brexit which could hamper the making of any free trade deals in the future.
And as historic allies, President Trump is keen to extend the hand of friendship to Britain — which he considers part of his heritage due to his Scottish-born mother — and he frequently expresses his love for Britain and the people.
He and his team have also repeatedly said that making a bilateral trade deal was a priority for the Trump administration.
However, media reported that the President had grown tired of Mrs May's "school mistress" tone, and in June, Mrs May involved herself in internal U.S affairs by criticising President Trump's enforcement of border controls.
London — run by leftist Mayor Sadiq Khan who has repeatedly called for the President's visit to be cancelled — is set to give the President an unwelcome reception during his visit this week, with a series of protests lined up in the capital.
UK Trump supporters say London's protesters do not reflect the views of regular Britons across the country who do support the President and value the Anglo-American relationship.
UK Media Pushes Anti-Trump Narrative with 'How to Protest Visit' Coverage https://t.co/QoiVIbpaM8

— Breitbart London (@BreitbartLondon) July 8, 2018