Four homeless Romanians have been found guilty of stealing £350 in charity donations from the Tower of London moat that was destined for The Royal British Legion, the Telegraph reports.
The four men were seen by staff and members of the public taking coins from the area in front of Traitors' Gate, which is covered by water at high tide, who raised the alarm.
They attempted to run away after passers by shouted at them to stop but were detained by Tower of London staff and army personnel then taken to a local police station by police officers where they were charged with theft.
All four pleaded guilty at Thames Magistrates' Court to taking the money at about 7pm a week last Saturday. On Tuesday they were each given a six month conditional discharge and ordered to pay victim surcharges of £16.
The homeless Romanian nationals, who have free movement to and from the UK, were named as Ieronim Cancel, 24, Albert Pruteanu, 19, Tarciziu Cancel and Istoc Ionut, both 22.
The cash was returned to the Tower on Friday by officers who met with a Torman Warder of Her Majesty's Palace and Fortress, known as a beefeater.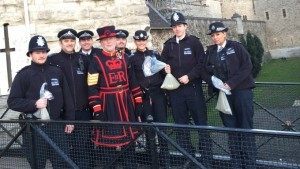 Credit: Metropolitan Police
PC Lee Juniper, from Limehouse Police Station, said: "It was a privilege to return the donated money to the Royal British Legion.
"The officers who assisted in the arrest of the four men were new recruits, on their very first day out in Tower Hamlets."