Jaffa, Israel – Palestinian social media has been abuzz with references to Hassan Nasrallah's speech in the wake of the elimination of a top Hezbollah operative earlier this week, allegedly by Israel.

 
The leader of the Lebanese Shi'ite militia came under fire for a background picture he used, which featured a map of Palestine superimposed with the portrait of Samir Kuntar, who was sent back to Lebanon after spending 29 years in Israeli jail for an attack against an Israeli family. Most of the criticism was directed at the use of the colors of the Iranian flags.
For the critics, superimposing the Iranian flag on the map of Palestine reveals Hezbollah's desire to paint the predominantly Sunni territory in Iranian Shi'ite colors.
Shehab News Agency, a pro-Hamas website, succumbed to pressure from readers and removed the picture, replacing it with a stock image of Nasrallah.
"Hezbollah wants Palestine to be yet another Iranian satellite country," a reader called Abd Alrahman commented, before his comments and the comments of other readers were erased from the website–but not before Breitbart Jerusalem saved a screengrab.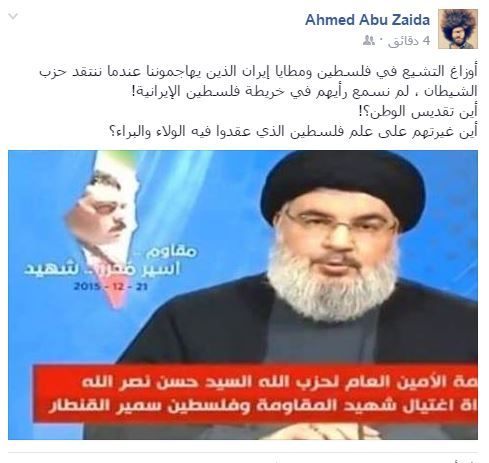 Ahmed Abu Zaid, a high-profile Egyptian Muslim Brotherhood supporter, commented on the same article and wrote that Iran's true intentions have been revealed.
"They want to spread Shi'a in Palestine," he wrote. "Those who criticize us when we speak against Iran and Hezbollah, why do they condone the notion of an Iranian Palestine? Don't they care for the violated Palestinian flag?"
Others have accused Hezbollah of trying to restore its image among Arabs and Palestinians, after it was discredited by its involvement in the Syrian civil war. Nasrallah has been accused of a cynical manipulation.
"I normally stay away from discussions that deepen the sectarian divide, but seeing the map of Palestine featuring the Iranian flag is highly provocative," wrote Ramy Abdu the director of the Euro-Mediterranean Forum in Gaza. "Our land is purely Arab Palestinian."
In his speech on Monday, Nasrallah accused Israel of killing Kuntar, who killed an Israeli man and his 4-year-old daughter in 1979. He spent almost three decades in an Israeli jail until his release in a 2008 prisoner swap deal. Nasrallah vowed to retaliate "in the time and place that we see fit."