Breitbart Jerusalem has gained insider access to an encrypted forum for Islamic State fighters and supporters, finding intense denial of the reports that Orlando terrorist shooter Omar Mateen was gay.
Also, in an exclusive interview, a top Gazan jihadist allied with IS said he is convinced the man who says he was Mateen's gay lover for two months is actually a CIA agent intent on tarnishing the shooter's reputation.
During his terrorist shooting rampage, Mateen declared allegiance to IS, while a news agency affiliated with IS reported that Mateen was one of the global terrorist group's fighters.
Users of the private forum on the Telegraph encrypted message service consist of known IS leaders, lower and mid-level IS fighters, IS supporters, and propagandists. Some members utilize their own names, while others use screen names. The forum serves as a Twitter of sorts for IS and its supporters.
The activists in the network uniformly agreed that Mateen was not gay and that the reports were planted by the U.S. government to cover for its fear of IS.
"I think the Americans tarnish our brother Omar, may Allah recognize him as a martyr, in this way to libel the entire Muslim faith," wrote jihadi Abu Muhamad Alknani. "It's a well-known tactic employed by the infidel countries to deal with the caliphate that worries them a lot."

Abu Talha wrote:
The failure of the American intelligence to track down our brother Omar, may Allah recognize him as a martyr, was very painful for them, and they couldn't deal with it in any way except blemishing his image… We have faith in our leadership who announced that our brother Omar pledged allegiance to the Caliphate and its leader, my Sheikh and the Sheikh of all of us, Abu Bakr al-Baghdadi… Don't pay attention to what the Americans say. They are reeling from that blow. They will continue to be battered like they were in Mosul, where they and their Kurdish allies were hit.

Abu Abdullah Sahmi wrote:
Let them comfort themselves and those who seek to trash Islam… Your brothers lead the army of justice, which is unfazed by these lies. Don't listen and don't pay attention to what they say because they've seen nothing yet. America and its allies feel humiliated by the failures of their armies on the ground. Despite our retreat from some of these areas, it's not a victory for them and they know it. That's why they turn on our brother, Omar.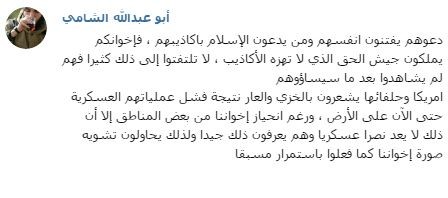 Meanwhile, Abu Al-Ayna Al-Ansari, a top Salafist jihadist leader in Gaza allied with IS ideology, told Breitbart Jerusalem in an interview that "these allegations of our brother the martyr Omar Mateen's sexual perversions are part of a smear campaign led by the infidel countries, with America chief among them."
Ansari continued:
Those who spoke to the media as ordinary people and said that they knew Omar Mateen are in fact American agents who were employed for one purpose only: to lie about their acquaintance with him in order to tarnish his name and his morals, in order to demoralize the mujahedeen and turn Arab and Muslim public opinion against them. But the fact is that they fail in this endeavor time and again, and the number of loyalists in the caliphate countries is on the rise.
Ansari claimed U.S. intelligence forced the Mateen family to say that he was mentally unstable, "for the sole purpose of covering for their failure, given that our brother the hero and martyr was interrogated twice for what they call terrorist links."
He said Mateen's father told the media the family had been pressured to change their version of the events, especially his statement that Omar carried out the attack after he was enraged by seeing two homosexual men kissing.
"It only proves that the man who claimed Mateen was his gay lover is a CIA agent," he said.
Ansari insisted again that IS operatives are gearing up for more attacks on American targets on US soil and abroad.
"Let it be clear to the American people: They will pay the price for their war against IS in Iraq and Syria. As long as they don't protest their government's policy in this field, they will continue to be legitimate targets for the Caliphate fighters."